When Michael M. Crow became the president of Arizona State University (ASU) in 2002, he unveiled a long-term plan to reimagine higher education. Crow envisioned ASU as the model for what he calls "the New American University," a public research university dedicated to "the simultaneous pursuit of excellence, broad access to quality education and meaningful societal impact."
At the same time, like most public universities, ASU faced the ongoing challenges of overcoming its capital-intensive demands for infrastructure, housing and research facilities while also finding the necessary resources to devote to education and its students. ASU began to look for private sector partnerships–particularly in student housing–that would allow the university to expand its infrastructure at a faster, more efficient rate without the burden of extensive debt.
What ASU administrators found was a student housing REIT with an ideal solution.
COMING UP ACES
After putting out a call for proposals in 2005 to build new on-campus housing, ASU selected student housing REIT American Campus Communities (NYSE: ACC), which had just become a publicly traded company. ASU and ACC already had a working relationship on off-campus projects.
"The timing of our IPO in 2004 allowed us to have the transparency of being a public company, excellent corporate governance and also the access to capital that a REIT has so that we could be the type of company the university could rely upon as a long-term partner,"explains Bill Bayless, ACC's president and CEO.
Beginning in 2006, ACC and ASU pioneered developer-equity financing through the American Campus Equity (ACE)® program. The program allows institutions to preserve their debt capacity for academic infrastructure, implement a more efficient delivery timeline of products, lower development costs and offer affordable rents.
"We've been able to help realize the student housing component of President Crow's vision," Bayless says.
AN EXPANDING PARTNERSHIP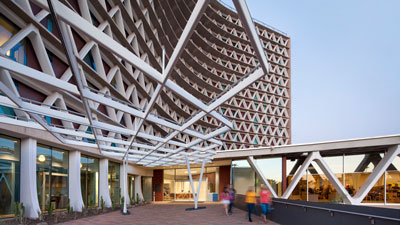 ACC finished its first on-campus project at ASU's Tempe campus, Vista del Sol, in 2008. It's an 1,866-bed, state-of-theart, apartment-style student living complex. "It was just the first example of what we've now grown into a much larger partnership with ACC," says Morgan R. Olsen, ASU's executive vice president, treasurer and chief financial officer.
In 2009, ACC completed its work on the Barrett Honors College. The Honors College Residential Complex, containing the Honors College, provides students with access to an intimate academic and residential environment similar to smaller colleges. At the same time, residents maintain access to all of the resources of the larger university.
"It was a revolutionary approach to actually invite a private company into the academic mission of an honors college," Bayless remarks.
ASU also collaborates with all of its private housing partners to ensure that new student housing fits with the culture of the campus, as well as the Southwest aesthetic and community. ACC also incorporates green building best practices to meet LEED and ASU standards. It also takes into account the perspectives of the community it serves – the students.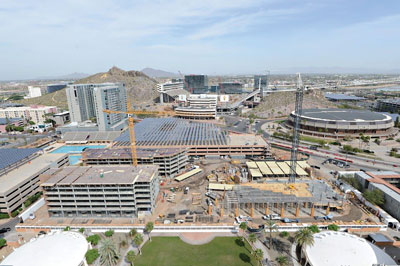 "There's a continuous conversation with our students and our residents in terms of what they need and what they'd like to see," Olsen says. "We try to infuse that into all of our projects."
This included determining the fate of an iconic campus structure in need of major renovations. Opened in 1966, Manzanita Hall, a 15-story, mid-century modern dormitory, is known for its signature triangular exterior pattern and height (at one time the tallest building in the Phoenix area). The dorm had housed generations of ASU students, but the building was in need of serious improvement. Redeveloping the site did not seem economically viable. However, given the cultural significance of Manzanita to the students and alumni alike, ASU asked ACC to undertake the challenge of redeveloping the structure.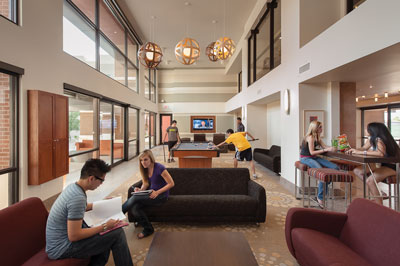 "We worked with ACC to find a way to renovate it so that we could maintain a symbolic icon that was important to so many of our students throughout the years, but bring it up to modern-day living and learning standards so that it was state of the art," says Olsen.
Manzanita Hall reopened in 2013 and includes 241 units, 816 beds and modern amenities. It has been one of the highlights of the ACE program and the ACC-ASU partnership.
ALIGNING INTERESTS
Revitalizing ASU's housing stock is consistent with Crow's idea of the New American University. He has argued that a typical research-focused university can often be restrictive in its opportunities. Crow's vision presented ASU with the challenge of adjusting its business model in order to serve more students, to produce more graduates and to contribute to the economic vitality of the state of Arizona.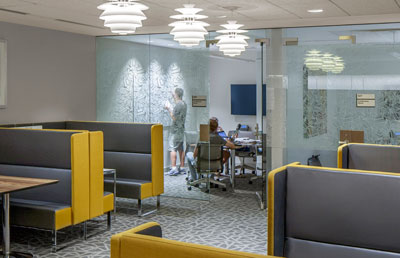 "We want to be measured and evaluated based on the people we include, rather than the people we exclude," Olsen explains. "We believe that anybody that has the ability to benefit from an ASU education ought to have that opportunity, so it's about being accessible and affordable."
Beyond the positive student reception, the success of ASU's application of the New American University concept is reflected in its growing reputation as a research institution and innovation hub. In 2015 and 2016, U.S. News and World Report named ASU the most innovative university in the country.
"We try to infuse that approach to problem-solving all the way through the institution in terms of how we teach our students, how we want them to think critically, how we want to manage the institution," Olsen explains.
The university has also expanded its enrollment. In the fall of 2002, it had 55,500 students enrolled and only 8,127 beds, housing only about 14 percent of students.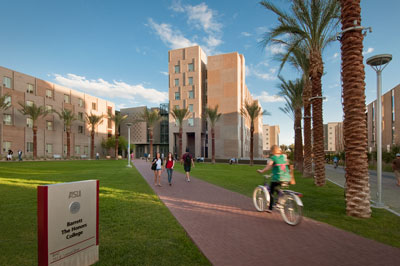 Enrollment is now at more than 93,000 students, including more than 70,000 students at its five physical campuses with 15,611 beds (roughly 22 percent) available to them. The first-year student retention rate has jumped from 76 percent to 84 percent since 2002. The sixyear graduation rate for Arizona residents is up from 57 percent that same year to about 70 percent now.
Despite being a relatively young research university, ASU has also drastically increased its sponsored research and its ability to compete with other universities for research grants and funding, thanks in part to the innovative campus.
Consequently, ASU is requiring its housing partners like ACC to be adaptive to meet the evolving needs of the institution. "One of the reasons that we've maintained this partnership with ACC is that we believe they are a leader in terms of being able to do these things in a way that is aligned with the interests of the institution, their partner," explains Olsen.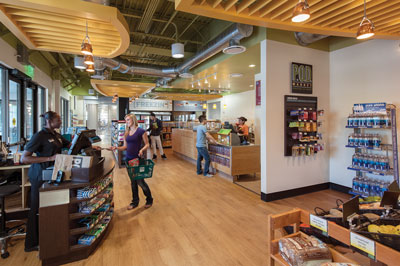 ACC is currently nearing completion on its sixth housing transaction with ASU, the Ira A. Fulton Schools of Engineering Residential College, scheduled for delivery in 2017. Their next collaboration will be the student- driven development of a Greek village to house fraternities and sororities by 2018. That will bring ACC's campus total to more than 7,500 beds and nearly a half billion dollars in development at ASU.
"It has been a phenomenal success when you look at the evolution of the partnership," Bayless says.
REITs and Universities
American Campus Communities currently houses more than 133,000 students across the country. In addition to ASU, it maintains partnerships with Texas A&M University, Princeton University and the University of California, Berkeley, to name a few.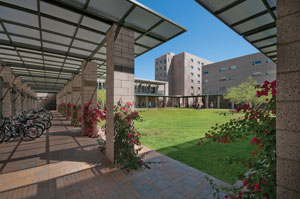 Bayless credits Crow's approach with providing credibility to student housing REIT-university partnerships. In turn, he says, REITs are delivering products on a faster, more efficient timeline. Furthermore, they're coming at a lower cost and without taxpayer dollars.
Universities can then pass the benefits along to the students in the form of more affordable rents.
"The economic benefits you derive from these transactions aren't just benefits for the developer/ owner, but also for the university and its students. It's not about having financial gain at the expense of your partner. It's about achieving everybody's mutual benefit where parents, students, the university and private ownership win together," Bayless says.
In addition to ACC, the other public student housing REIT, EdR (NYSE: EDR), owns or manages 79 communities with more than 41,000 beds serving 52 universities in 24 states.