In August, the new Wildlight Elementary School in Florida's Nassau County welcomed more than 600 students on its first day of school. The 27 acres of land for the new school were donated by Rayonier Inc. (NYSE: RYN), a timberland REIT whose ties to the county date back nearly 80 years.
The school is one of the first components of Wildlight, a 260 net-acre mixed-use development by Rayonier subsidiary Raydient Places + Properties that is shaping the future of the county. However, Kathy Burns, superintendent of schools for the Nassau County School District, says it is far from Rayonier's first investment in the local community, citing Rayonier's grants for teachers and work with the Nassau Education Foundation in its longstanding partnership with the district. She also notes that the relationship between Rayonier and the county goes well beyond corporate philanthropy. 
"Rayonier is one of the cornerstones of our community," she says.
Rayonier has established deep roots in Nassau County since first purchasing land there in 1938. 
Rayonier's presence and philanthropy in the community are an outgrowth of the company's longstanding commitment to sustainability and thoughtful stewardship of its timberland holdings.
"When you own timberland around a community, that land is going to be there in production for a long time, so we take this community as our home very seriously," says David Nunes, the company's president and CEO. 

The Genesis of a Timberland REIT
Rayonier began operations in 1926 in Shelton, Washington, as the Rainier Pulp and Paper Company. After the company listed as Rayonier on the New York Stock Exchange in 1937, it began buying up timberlands in the U.S. Southeast amid the Great Depression.
Since then, Rayonier's total holdings have grown to 2.7 million acres of land between the U.S. and New Zealand. Rayonier's timberland business operates in three regional segments, which include 1.9 million acres of timberlands in the U.S. South, roughly 400,000 acres in the Pacific Northwest and 400,000 acres in New Zealand. There is also a log trading segment serving Pacific Rim markets and a real estate segment focused on creating value by transitioning select timberland properties to higher and better uses, primarily in the U.S. South.
The move to reorganize as a REIT in 2004 was made to better reflect Rayonier's business, according to CFO Mark McHugh.
"The thought process in converting to a REIT was that at its core, Rayonier was a real estate company," he says.
The conversion to a REIT more than a decade ago improved Rayonier's access to institutional capital, which Nunes says has been instrumental in building the company into what it is today. "Rayonier has added $1.6 billion of new timberlands since 2011 by virtue of being a REIT," he says.
In the process, Rayonier has helped open up investment in timberland to investors of all classes, Nunes notes.
 "You, as an individual, would have a very hard time amassing enough capital to buy your own timberland and have it be a diversified portfolio," he says. "A REIT is a very efficient way to do that."
Science + Stewardship + Sustainability
Rayonier's strategic planning reflects the long-term nature of growing and harvesting trees and the company's commitment to sustainability and stewardship of its lands. The forest rotation cycle, which refers to the process of planting trees through their final harvest, typically runs between 22 and 28 years in the U.S. South and New Zealand. It lasts between 40 and 50 years in the Pacific Northwest. The ongoing cycle starts anew as soon as it ends.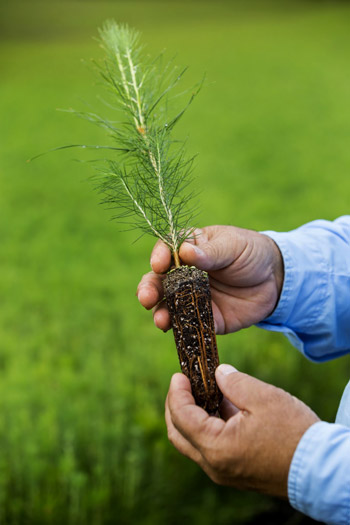 "What we do from a sustainability standpoint that may be a little different is that we are committed to a sustained yield production, which means we will be able to harvest this amount into perpetuity," Nunes notes when discussing how Rayonier goes about the process of establishing new timber stands and cultivating them until their final harvest.
Rayonier has a silviculture research team dedicated to working on improvements in tree nutrition, genetics, chemical applications and other technologies to improve productivity and combat diseases. The company voluntarily participates in the Sustainable Forestry Initiative® (SFI) to promote responsible forestry practices. SFI program participants are required to undergo annual surveillance audits by independent and accredited certification bodies. Additionally, Rayonier has adopted state-specific best management practices designed to help maintain and preserve wildlife habitat, water quality, biodiversity, species at risk and forests with exceptional conservation value.
To support its forestry activities, Rayonier employs sophisticated inventory systems and relies on up-to-date imagery and data housed in its Geographic Information Systems (GIS). The company also carries out periodic statistical sampling of timber stands and performs proprietary mathematical modeling of timber growth and yield.
"It's extremely helpful for making real-time decisions in the field. The technology has really pushed us forward, making us so much more efficient per man-hour," says forester Mark Hebert, a Rayonier resource unit leader.
Local Partner
The sustainability and stewardship evident throughout Rayonier's operations enable the company to build long-term partnerships with local businesses.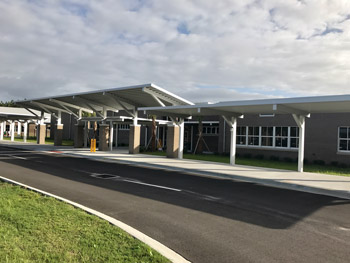 Nassau County-based logging company Conner & Conner is one example. Like many in the area, owner James K. Conner says Rayonier's continued growth and consistent presence help support the local community. He credits Rayonier as being a dependable economic engine, enabling him to sustain his business and workforce.  
"Rayonier is a great partner, and it's very consistent working with them," says Conner, a fourth-generation logger. "They help feed these mills and this community."
Hebert echoes those sentiments.
"Multiple generations of Nassau County residents have worked with Rayonier or supported its contracted logging force," he says. "Rayonier has made a significant contribution to the community, not to mention the tax revenue it generates up and down the system for the local government."
Wildlight Takes Shape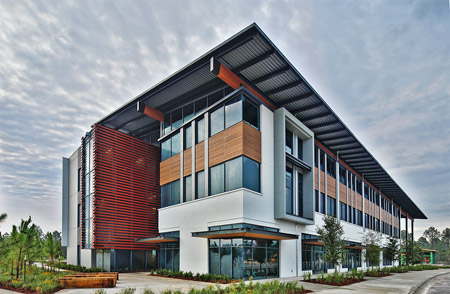 Wildlight is Rayonier's latest contribution to the county. Located 20 miles from downtown Jacksonville and adjacent to Interstate 95 and State Road A1A, Wildlight is the first-ever community development project that the company has undertaken on its own. The first phase is now under development and includes a village center that is planned to feature approximately 550,000 square feet of retail, office space and rental apartments; a regional health care and fitness center developed and operated by the University of Florida; approximately 600 single-family homes; more than 300 acres of parks and open space connected by miles of walkways and trails; and a gigabyte speed communications network developed by AT&T and Comcast. Rayonier's new corporate headquarters is also located within the development.
"We're trying to have a community that is set up as a true work-live-play community," Nunes says. "We're trying to help grow this local economy."
Rayonier executives point to Wildlight as a tangible example of the company's constant efforts to find the best use for its lands. Rayonier is building the development in the middle of one of its timberland properties, expecting to capitalize on its proximity to major roadways and population centers.
Historically, Rayonier would partner with a third-party developer on such a project. In this case, though, that seemed inconsistent with the company's long-term vision for the area, according to McHugh.
"Our landholding was so significant here that we wanted to create that catalyst for growth in this region," he says. "So it's very important for us to really control the nature of that growth, to control the aesthetic created with that growth."
For Burns, the ongoing growth of Rayonier in the area is welcome news.
"It has changed the lives and the economic situations of the families in our communities throughout Nassau County." 
The Life of a Rayonier Tree
Sustainable forestry is an endless cycle of harvest and renewal. The fresh clearing left by a harvest creates a blank canvas for the land managers to assess and plan the new forest, deciding on the species of trees to plant and the number of trees per acre.
Site preparation entails managing remaining debris, amending the soil and preparing for planting. Then, a site-specific vegetation control is usually prescribed to optimize the future growing conditions. Finally, a crew plants the seedlings grown by Rayonier in its internal nursery according to carefully researched specifications.
Years three to five typically involve a fertilization to maximize the growth rate potential in southern forest soils that are commonly nutrient deficient.
"At this point, we have set the stand up for success," explains Hebert. "Now we'll monitor it closely, only intervening when necessary."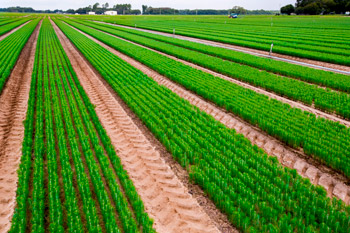 During years 10 to 15, land managers may opt to do a commercial thinning, which involves removing up to half the trees on a stand, reducing the number of trees per acre, and leaving the remaining trees with additional space and sunlight to grow quickly. "It's an important treatment for some stands and a market-based decision," says Hebert.
This is followed by another round of fertilization in years 11 to 16. The rest is protecting the trees from bugs, disease and fire, accompanied by a lot of watching and waiting. The trees are ready for harvest around 22 to 28 years in the southern footprint.
"Even before harvest, the planning process for the next cycle is ongoing," Hebert says.