For Ryman Hospitality Properties, Inc. (NYSE: RHP), less is more.
The Nashville-based lodging REIT's chief assets are four upscale resorts and convention centers—each with more than 1,000 rooms. Perhaps the best known is Gaylord Opryland Resort & Convention Center in Nashville, one of the world's largest hotels, which is celebrating its 40th birthday this year. 
The company became a REIT at the end of 2012, making it a relative newcomer to the industry. But what is now Ryman is the product of twists and turns since its incorporation in 1956. What was then the Gaylord Broadcasting Company snapped up the ailing Opryland assets for $250 million in the 1980s, a reason the current portfolio includes two Nashville landmarks – the restored landmark Ryman Auditorium and the famous Grand Ole Opry – as well as 650 AM WSM, the Opry's radio home. 
"It was a hodgepodge of very different businesses," recalls Colin Reed, the company's chairman and chief executive officer. Now, "we sit in a very interesting sweet spot."
The company, through a joint-venture investment, is hoping for a new hit when it debuts Colorado's largest combined hotel and convention center next year. It is also working to capitalize on the mainstreaming of country music with brand extensions centered around the Grand Ole Opry moniker, "one of the most recognized entertainment brands in the United States" that can boost "revenues and cash flow with relatively little capital investment," according to financial filings. 
REIT Success
Since becoming a REIT, Ryman has primarily focused on four supersized convention hotels, as well as two smaller-scale overflow hotels that are managed by Marriott.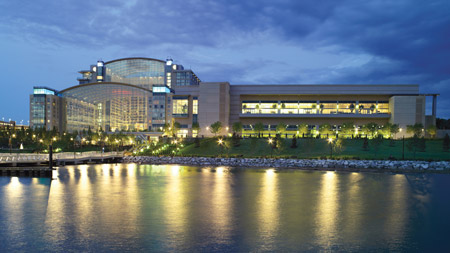 Ryman owns four of the nine largest U.S. convention hotels, each offering more than 400,000 square feet of meeting space. Those would be hard to build today due to high land and construction costs, long lead times and in-depth planning processes. In addition to Nashville, it operates conference resorts near Orlando, Dallas and Washington, D.C.
"It's a unique company," says Chris Woronka, an analyst with Deutsche Bank. "If there's an investor trying to play the group part of the market, Ryman is pretty much a pure play on group business."
Marriott added loyal brand customers to augment the lucrative group bookings attracted by Ryman's hotels while boosting the smaller-ticket leisure travelers more likely to fill rooms on weekends and holidays.
At the end of 2016, share prices of Ryman stock had soared 290 percent in five years, compared with roughly 76 percent for the FTSE Nareit Equity 
REITs Index. Ryman also had the highest total shareholder return among hospitality REITs in the three- and five-year periods ending in '16. 
"They certainly have some positive attributes going for them, including limited new competition in their hotel category as well as an attractive dividend," says C. Patrick Scholes, a lodging, leisure and gaming equity analyst with SunTrust Robinson Humphrey Inc. who has covered the company's various iterations for nearly 15 years.
Heart in Nashville
Ryman views its legacy entertainment assets as a way to leverage the popularity of country music to increase shareholder returns and also to bolster room bookings. "These two businesses sync well together," Reed said. "They're demand inducers to each other."
Much of Ryman's story centers on Nashville, a Southern city long known for birthing the modern country music phenomenon. It is there that country music was made famous in the early part of the 20th century, and the city has consistently drawn hordes of tourists who have long rested at what is now the sprawling Gaylord Opryland Resort & Convention Center. The facility, known for its signature glass atriums, covers 172 acres with nearly 3,000 rooms, some of which feature balconies overlooking lush and tropical landscaping. It has 640,000 square feet of meeting and exhibit space, and it even boasts a manmade river with boat tours.
Updating hotel rooms is a necessary investment in an age when guests' pictures can be shared in a snap, so all rooms in the hotel are revamped every eight-to-10 years to remain up to date and fresh.
Ryman's strategy includes giving visitors plenty of reasons to stick around Nashville and to bring family and friends along. Earlier this year, it broke ground on SoundWaves, a $90 million luxury indoor/outdoor water park that includes adult features to go along with staples typically meant for a younger audience. SoundWaves renderings show a more sophisticated atmosphere with dedicated indoor and outdoor recreation zones for adults, young children and families, as well as dining options and private cabana rentals. It is slated to open in the fall of 2018.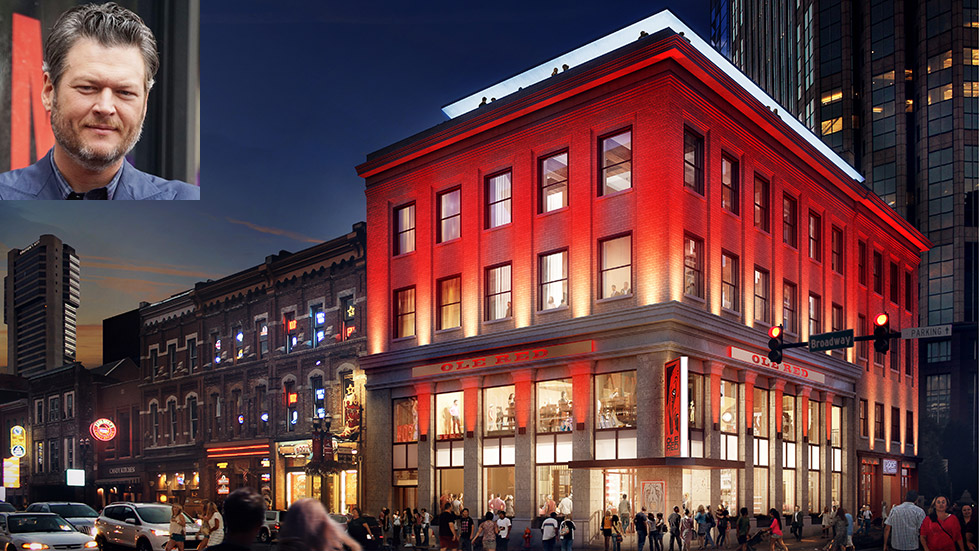 In building on its position as a leader in Nashville's country-themed entertainment, the company teamed with star recording artist Blake Shelton to launch a new lifestyle brand, Ole Red. Anchored by a $20 million multi-level entertainment venue in Nashville's core, Ole Red nods to the Grand Ole Opry and Shelton's "Ol' Red" hit song. It is part of a "strategy to create digital content, retail and entertainment venues that celebrate the country lifestyle and resonate with country music's rapidly growing consumer base of more than 100 million people across the United States," according to Ryman. 
To support its growth on the entertainment side of the business, Ryman has also made investments in internal capabilities through its corporate team and added new board members with expertise in the technology, media and entertainment industries.
Ambitious Developments 
Even more ambitious is the Opry City Stage set in New York City's Times Square. Dubbed "country music's new place to play," the neon-filled, four-level complex is the first in what Ryman hopes will be a concept that can be replicated in other tourist-heavy markets. Working with joint-venture partner SPK Hospitality Group LLC, Ryman seems to be taking a page from the successful Hard Rock Café playbook, a concept that has spread globally. Opry City Stage is expected to open at the end of 2017.
Ryman is also undertaking a joint venture with RIDA Development Corp. and Ares Management, L.P. to build the Gaylord Rockies Resort & Convention Center, an $800 million development under construction about 10 minutes from Denver International Airport. It will have the signature expansive atrium, 1,500 guest rooms and total meeting, exhibit and pre-function space of approximately 485,000 square feet, putting it among the largest in Colorado and in the nation. A 2018 opening is planned.
Woronka said he could see several more large hotels built in cities possibly including Atlanta, Phoenix or Chicago. "I don't think they're ever going to have 25 or 30 big-box hotels. But coming from a base of four-soon-to-be-five, there are definitely markets where the product could work," Woronka said, adding: "The company has come a long way. This was originally just a company that owned one big hotel and some assets in Nashville and now they're a major player in the group market."