In September, Nareit hosted its inaugural Dividends Through Diversity Forum, focused on strategies related to the recruitment, inclusion, and advancement of women in REITs. Female leadership development expert Tammy Heermann, who has worked for global consulting firm Lee Hecht Harrison (LHH) and its predecessor organization Knightsbridge since 2006, was the keynote speaker.
Where did your passion for female leadership come from?
It began as a pet project for me over 10 years ago when our firm began working as a leadership development partner with an organization focused on empowering women. I heard story after story of the challenges women faced both personally and in the workplace.
Over that time, I also lived the journey myself, and I think that was the most powerful part. I too was struggling to get promoted into more senior roles, to start a family, and to survive in a dual-working household. That's how I became so passionate about not only helping the women themselves, but the organizations too.
Why is it important for companies to develop a leadership pipeline for women?
As organizations really started investing in placing more women in senior roles, they would focus at the top. They'd promote or hire some women for the C-suite or board, but then one woman leaves or retires, and their numbers are shot. And when they look down into the organization they see few females ready in the pipeline.
Organizations are starting to realize that they have to invest lower into the organization and take a longer-term approach. That's where this whole pipeline concept comes in and why it's so important for gender diversity.
What do you tell organizations that are just beginning to create a pipeline for female leadership?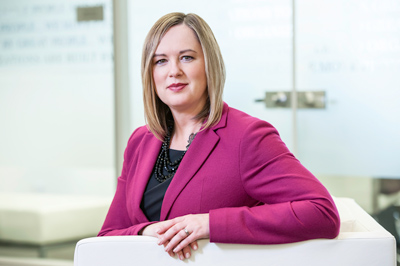 When I talk to C-suite leaders, the first thing I say is: "If you don't feel that this is a business issue now, you're going to be surprised one day very quickly." The pressure that customers, consumers, government, and society are now placing has made this a key business imperative. This isn't an HR discussion, nor is it a women's issue—this is a business conversation.
What's one tip for managers committed to developing female leaders?
Companies can have rules or policies, but it's the managers who make the decisions daily that are so important. Through LHH research, we identified 10 behaviors of what we call "female champion managers."
One example: these managers created opportunities to network that were inclusive of interests and schedules. They knew that building relationships with their team—really getting to know their team members and understanding their career plans and desires—was important enough to do during work hours. Whether that's coffees or lunches or carved-out chats—they did that more deliberately than others. (To read about the other consistent behaviors of champion managers, see Heermann's 2017 research study "Elevating Women in Leadership," available on Lee Hecht Harrison's website.)
Sign me up for a FREE print subscription of REIT magazine.