Before I begin my term as Nareit's 2019 chair, I'd like to thank my predecessor, Tom Baltimore, for his extraordinary leadership and dedication over the past year. Tom's crowning achievement is making sure Steve Wechsler will continue to be Nareit CEO for five additional years.
Tom and a host of other past Nareit chairs have built Nareit into a highly effective representative for our industry—an industry that has more than proven its long-term value to the U.S. economy, the investment marketplace, and to local communities across the country. The tax law that was passed was a positive for our industry, accomplished with the leadership of Steve Wechsler.
In the last decade alone, the REIT market has grown in market capitalization, assets, diversity, and geographic reach. The creation of a headline real estate sector populated mainly by REITs in the leading industry classification standards underscores the growing importance of REIT-based real estate investment in the equities marketplace.
Our industry continues to expand and evolve, due in large part to the adaptability, forethought, and expertise of REIT management teams. Take the shopping mall for example, where the evolution underway is notable. Shopping malls are becoming places to live, work, and play. The shrinking of anchor space is the catalyst and opportunity to redevelop these assets at attractive yields to create town centers. The impact has been positive to retail tenant sales. There is a retail renaissance.
The REIT industry continues to transform. Economic and demographic changes have created demand for all types of real estate space. REITs have emerged in new sectors providing the capital and professional management skills essential to expanding industries.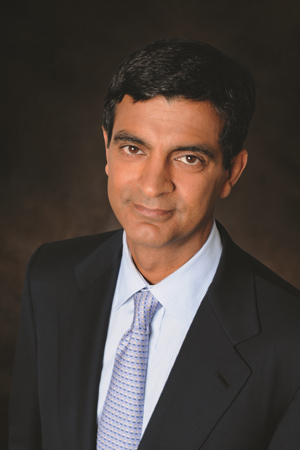 A prime example of this new wave of REITs is found in the rapid growth of tower and data center REITs to support our increasingly wireless world. The infrastructure these REITs provide is essential to facilitate mobile communications and to meet the insatiable demand for data storage and transmission. And now, these real estate companies are playing a vital role in facilitating the adoption of the next generation of wireless technology.
I am confident that REITs across all sectors will continue to adapt and thrive while providing the essential real estate America needs.
I am grateful for the opportunity to play a part in helping to steer Nareit and the REIT community to an even more promising future and continuing to move our industry's evolution ever forward. I look forward to serving as Nareit chair this coming year as we continue to pursue and promote the REIT approach to real estate investment.

Sandeep Mathrani
2019 Nareit Chair
CEO, Brookfield Properties Retail
Vice Chairman, Brookfield Properties