Retail REITs aim to stay ahead of consumer trends.
10/29/2018 | by
When a Macy's was shuttered two years ago at a shopping center in suburban Philadelphia, it marked the end of an era. For decades, the store had been an anchor of Suburban Square, a retail complex situated in Ardmore, Pennsylvania, a town along the affluent suburban corridor known as the Main Line. The art deco, limestone-clad building, constructed in 1930 for the region's bygone department store chain Strawbridge & Clothier—bought by Macy's in 2005—was once the big draw. Yet, by the middle of this decade shoppers were mostly skipping Macy's, patronizing "newer" establishments such as Apple, Trader Joe's, Starbucks, and Sephora. 
Flash-forward to this year, when the building reopened after a complete renovation by its owner, Kimco Realty Corp. (NYSE: KIM). The old Macy's building now includes an 80,000 square foot full-service fitness facility, and a West Elm home furnishing store. In a twist, Kimco worked with Life Time Athletic, the fitness operator, to convert the top floor of the old department store into a coworking space. Life Time is using the fitness facilities as a lure for office rentals. The office space sold out before it opened, and fitness enthusiasts have been flocking to the building, bringing in a whole new set of traffic to the complex at all hours of the day. 
"People look at the shopping center and see it as really well-located real estate that already is a gathering place," says Conor Flynn, CEO of Kimco. "Then you can add all these different uses to compliment what is already existing. So, the adaptability of our assets is really what is critical to drive the demand from all these different sources, not just retail."
The New Normal
Kimco's remake of an old department store reflects how REITs are adjusting to the new normal in retail real estate, which faces structural changes in consumer demand and the increasing use of e-commerce and mobile technology. Their success not only depends on shifting malls and shopping centers toward the most successful retailers and creating more of a consumer experience, but also to being able to convert parts of their sites to other uses. That includes nontraditional tenants such as gyms, urgent care centers, and retail incubators, and more extreme solutions, such as conversion to offices and apartments. 
While e-commerce retailers have siphoned off sales from some types of retailers, that hasn't changed the reality that people still want to go out. For all the talk about e-commerce hurting retail, it's really the "old-fashioned" concepts of location and diverse tenant mixes that still drive sales, according to retail REIT executives.
"The best grocers and best retailers are not standing still," says Hap Stein, chairman and CEO of Regency Centers Corp. (NYSE: REG). "They're focused on meeting the evolving needs of today's consumer by allowing customers to choose how and where and when they shop, and physical store presence is going to remain a critically important channel."
Take T.J. Maxx, for example—the largest tenant for Kimco and Weingarten Realty Investors (NYSE: WRI). The retailer regularly connects with its customers via email and its mobile app, sending them alerts on new arrivals of everything from leather handbags to cashmere-blended scarfs. The approach creates "a treasure hunt mentality," where people are coming back because the merchandise changes over so quickly, Flynn says.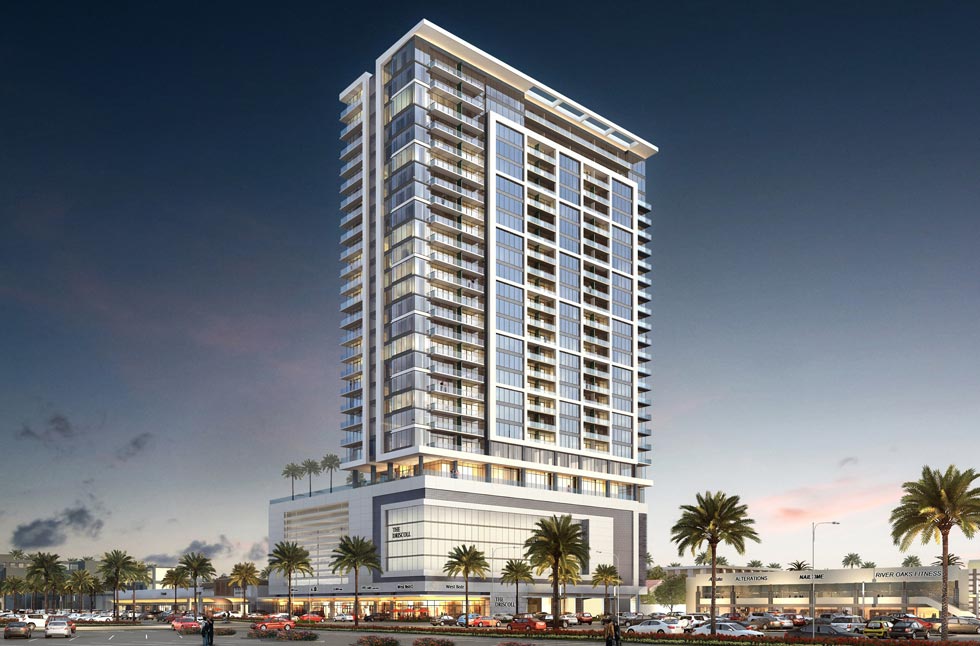 T.J. Maxx, like other retailers, has been focusing on creating an experience for its customers where they don't just go to a mall to shop. As longtime retailers such as Sears, Kmart, JCPenney, and Macy's continue to close stores, they have been replaced in part by restaurants and entertainment. Gyms such as Orangetheory Fitness and Planet Fitness, and coworking spaces such as Life Time Work, draw new types of consumers. 
Malls have moved toward providing more entertainment options. The internet has been blamed for this, but it's more about the merchandise mix, notes Melina Cordero, head of retail research for the Americas at CBRE. About 50 percent of the gross leasable area (GLA) in the average regional mall is still devoted to department stores, and 58 percent of the inline space is apparel, according to the firm. "That's a problem, because those are two of the slowest growing categories in retail, and among the highest for e-commerce growth," she says. 
"The mall is not an architectural or online problem," she adds. "It's very much a merchandise issue. The merchandise mix is one of the biggest things that needs to change." 
In this vein, REITs are investing to revamp their malls. PREIT (NYSE: PEI) and Macerich Co. (NYSE: MAC) are redeveloping what was a dated, declining mall in downtown Philadelphia. Dubbed "Fashion District Philadelphia," the 650,000 square-foot project is scheduled to be finished by September 2019 at an estimated cost of $420 million, and will feature trendy retailers such as H&M, Forever 21, and Ulta Cosmetics. Retail discounters Century 21 and Burlington Stores have already opened at the site. 
Also central to the mall will be its food and entertainment options. One tenant will be City Winery, a New York-based chain of wine bars featuring music concerts. The food lineup will also include Dallas BBQ, another New York-based restaurant. The mall will also feature an AMC Theatres multiplex, and a bowling alley. And in a bid to offer convenience to the community, retailers on the ground floor of the mall will open to the streets.
"You have a new model of the mall that's being uncovered," says Joe Coradino, chairman and CEO of PREIT. "We see it as style, dining, entertainment, arts, and culture." 
Internet Opens Shop
The new model also involves the rise of omnichannel retailing, where retailers offer customers the option of buying online or in store. Apple was a pioneer with this. Now retail REITs are also catering to a growing class of internet retailers setting up shop in brick-and-mortar locations. Amazon has opened stores, as have Bonobos, Warby Parker, and Rent the Runway.
"They are creating experiential places to visit," says Bob O'Brien, partner and global real estate sector leader at Deloitte. "They are part of building a brand. It's not necessarily generating sales at that location. It's really creating a connection to the brand and brand loyalty. Sales [can] generate potentially later, online."
While digitally-native tenants, or those that originate online, do not yet occupy a meaningful percentage of mall GLA, they seem to be playing an increasingly important role in the centers where they are migrating, says Green Street Advisors analyst DJ Busch in a recent report. "Aside from contributing to occupancy and a fresh tenant roster, these retailers are perhaps helping to pull in customers that have been disproportionately shopping online." The malls that stand out as having the highest presence of digitally-native retailers are "typically the highest performing A++ centers that have recently undergone large renovations," he writes.
And brick-and-mortar retailers are going omnichannel too. Grocers, for example, have experimented with ways to service consumers with click-and-collect, a feature that allows shoppers to pick up groceries at designated areas in the store's parking lot. 
"We are clearly at the point where part of the shopping journey involves our phone, iPad, or laptop to research a potential purchase," Coradino adds. "If the customer wants to see, feel, and touch the merchandise, they go to a store. Or they purchase online and are willing to pick it up in store—either case it's a positive for us." 
Choice of retailer mix is critical. Regency has even branded its efforts as "Fresh Look," an initiative that identifies the best mix of operators that are going to drive traffic in a given trade area. "It places an emphasis on merchandising, of having the most relevant of our users in each category," Stein says. 
In some trade areas, the best coffee shop for traffic is Dunkin Donuts; in others it's Starbucks or a local organic coffee shop, Stein notes. Yet new tenants also need to come with a trendy appeal. Flower Child, a fast-casual restaurant featuring fresh ingredients, opened in August at Regency's Arapahoe Shopping Center in Boulder, Colorado. Freezing Cow, a Midwest chain of rolled ice cream shops, recently opened at Regency's Bluebonnet Village Shopping Center in Baton Rouge, Louisiana. "These better restaurants are going to drive traffic," Stein says. 
Going Mixed-Use
In the race to offer more appealing locations, retail real estate owners and operators have also looked to turning their sites into mixed-use locations. It fits into a broader trend of people wanting more convenience in their lives, where ride shares take the place of cars, concierge services deliver information, and lounge areas offer places to relax. "These are people who want a live-work-play lifestyle, with good walkability," says Drew Alexander, president and CEO of Weingarten Realty (NYSE: WRI). 
Apartments are also being added to retail sites as part of a way to develop new revenue streams. Weingarten is constructing a 30-story luxury apartment building at its River Oaks Shopping Center in Houston, a property it has owned for nearly 50 years. Demolition work for the tower began in July, with completion scheduled for 2021. The apartments are aimed to appeal to empty nesters. Weingarten is also developing mixed-use projects with apartments in Alexandria and Arlington in Virginia, and it has partnered with homebuilder Lennar to construct its Whittaker site in Seattle. 
Retail REITs have plenty of real estate to work with, especially if they build upwards. "A lot of the beauty of our shopping centers is that they have big parking fields that we can densify," Alexander says. "In some respects, we are warehousing land." 
Flynn estimates 75 to 80 percent of Kimco's land is comprised of parking lots. The REIT is raising ceiling heights on garages it builds, giving them more flexibility down the road, as it prepares for the possibility of plummeting parking needs as ride sharing increases and self-driving cars become a reality. 
"Adaptability is critical for the long-term success of our shopping centers," Flynn says. "That has been where we have been working tirelessly to entitle a lot of our assets to lending themselves to adding apartments, to adding density over the long term."
In some instances, REITs are converting most of a mall to other assets. Macerich has partnered with Hudson Pacific Properties Inc. (NYSE: HPP) to redevelop Westside Pavilion—a mall in Los Angeles where a Macy's closed in March—into mostly offices. Due to the influx of tech companies to the city, office space is in big demand. Macerich will control the retail portion of the site, which will represent about 20 percent of the space when it opens in 2021. 
Continued Evolution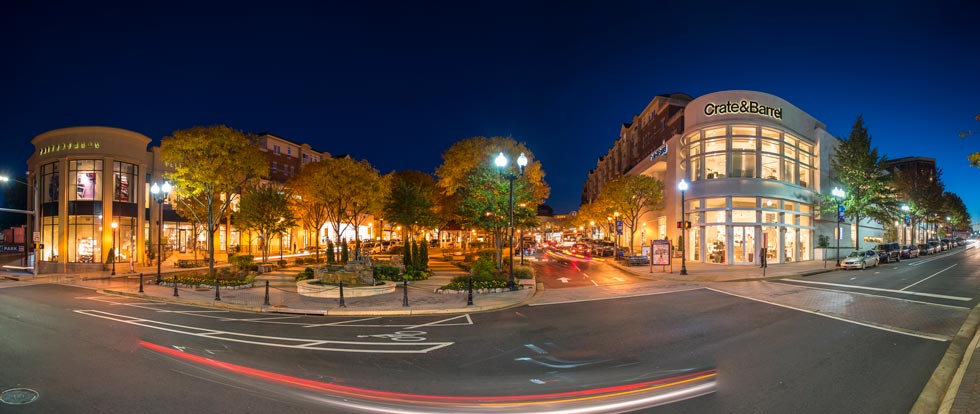 Coworking is also moving into retail. Similar to Kimco's efforts to create the Life Time Work space, mall operators are also looking at the potential of converting some of their GLA to office use. 
Macerich, for example, recently announced a national partnership with Industrious, a premium workplace operator that caters to small businesses and larger companies. Industrious will operate coworking locations at select Macerich properties, which offer upscale retailers such as Apple, lululemon, Sephora, Tesla, and Nordstrom. The first location is scheduled to open in January at Scottsdale Fashion Square in Arizona. 
Retail REITs are also bringing in a cultural touch to their facilities. At Regency's Market Common Clarendon in Arlington, Virginia, a professional art gallery run by the Artists Alliance opened in September. The space, dubbed "Gallery Clarendon," has exhibits and classes, and can also be rented out for special events. Meanwhile, PREIT will include $1 million in commissioned art installations at Fashion District Philadelphia. 
REITs are also experimenting with making their spaces more accessible to micro-retailers. PREIT has partnered with the Enterprise Center, a Philadelphia nonprofit that incubates minority entrepreneurs, to encourage promotion of products unique to the city. Simon Property Group Inc. (NYSE: SPG) last year introduced "The Edit," a shared space that offers a rotating selection of diverse new brands at the Roosevelt Field mall in Garden City, New York.
"Mall owners are lowering the barriers that have traditionally hindered start-up retailers from setting quality space in a center," Busch says. In addition, they are offering short-term, flexible leases and investing in tech-savvy startups that could turn into successful retailers or bring new technologies to malls, he adds.
Regardless of all the adaptation, in the end, it still comes down to the old principle of location. REITs need to still be in the best places. Some retail centers will fade away and others will be considered essential spots for retailers, Stein says. "There are the must-have locations, where retailers can be with other, better retailers, where there is strong purchasing power and they can conveniently service the customer."