PS Business Parks provides industrial, flex, and office space for a diverse customer base.
11/07/2019 | by
In today's industrial real estate world, where ceiling height is soaring and buildings stretch longer than football fields, supersize leases draw plenty of attention. But for PS Business Parks, Inc. (NYSE: PSB), bigger isn't necessarily better.
The Glendale, California-based REIT caters to smaller businesses, with nearly 5,000 customers, many of whom are local and regional businesses looking to expand and grow on their own terms. The average unit size is approximately 5,000 square feet in its nearly 28 million square-foot portfolio made up of multi-tenant industrial, flexible, and office space. In addition, PS Business Parks provides larger tenants, including the U.S. government, Luminex Corp., and Lockheed Martin Corp., with more localized, specific space needs. 
Part of the company's success comes from carefully selecting a limited selection of target markets. PS Business Parks operates in 12 markets across six states that boast high barriers to entry, allowing the assets to continue to grow in desirability and value. 
"It's an adage that successful real estate is about location, location, location, and we prove this by outperforming in top markets because of our outstanding team of real estate professionals who lease and manage our assets," says CEO Maria Hawthorne.
Some of its submarkets have seen astounding success thanks to fortuitous timing of acquisitions. Silicon Valley has benefitted from Facebook and other tech titans since PS Business Parks entered that market, while its Seattle portfolio has benefited from Microsoft's re-commitment to the region. Its Virginia and Maryland portfolios are boosted by the government, and likely soon by Amazon's second headquarters. PS Business Parks is also dipping its toe into apartment development on some of its most valuable land, an intriguing play at a time when infill and mixed-use developments are all the rage as younger workers eschew long commutes.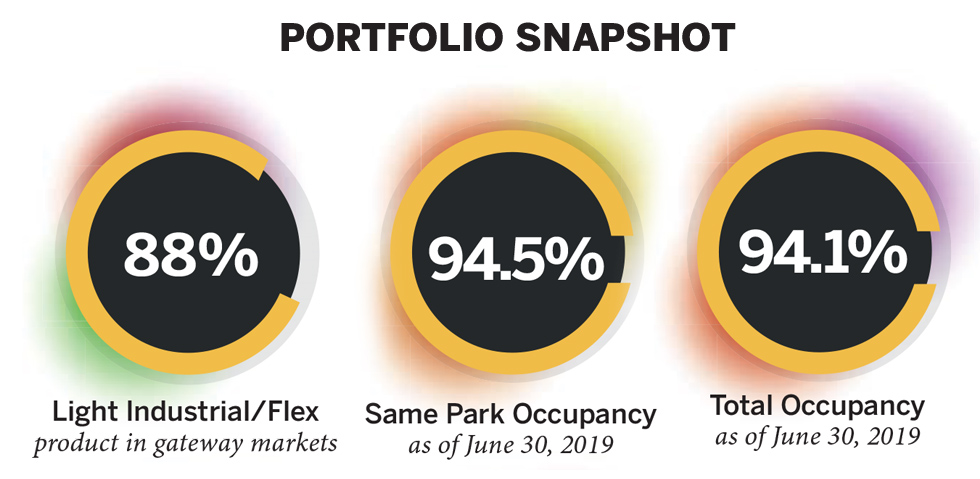 Company Veteran
Hawthorne joined what is now PS Business Parks in an administrative position shortly after earning a degree in international relations from Pomona College. She has spent more than three decades with the company and its predecessors, with varied roles including property operations, chief administrative officer, and president, allowing her to learn the business from the proverbial ground up. 
She was named CEO and a board member on July 1, 2016, capping a succession process put in motion by chairman Ron Havner, Jr., to groom her for the role after Joe Russell, then CEO, was tapped to lead Public Storage (NYSE: PSA), the largest shareholder in PS Business Parks. Havner, himself a former CEO of PS Business Parks and CEO of Public Storage from 2002 to 2018, cheered the succession, having known and worked with Hawthorne for 33 years.
"She impressed me then, and over the years, working with her she evolved into one of the smartest, most dynamic and focused executives I have ever worked with," he says. "She is a leader amongst leaders."
Wall Street also gave kudos to the promotion of Hawthorne—who is known for building and mentoring teams, championing women, and leading complicated initiatives such as the company's entrance into the Florida market in 2003.
PS Business Parks paid $215 million to acquire the Miami International Commerce Center, a 3.4 million square foot industrial park. At $60 per square foot, the price was a fraction of what the asset is worth today. 
Craig Mailman, director of real estate equity research with KeyBanc Capital Markets, says Hawthorne has "done a nice job with the transition. This is a well-run company." Green Street Advisors is also complimentary of both the executive and her execution. "She's a really good operator," says Eric Frankel, the lead analyst covering the industrial, self-storage, and tower sectors at Green Street. 
"Her history at [the company] signifies that."
PS Business Parks says it uses a "better mousetrap" to operate a portfolio that includes roughly 66% industrial, 22% flex (which combines the benefits of office and warehouse), and 12% office properties , based on rentable square footage. Flex is "notoriously difficult, cyclical, and leasing-intensive where most REITs have struggled," the firm notes in a client note. "PS Business Parks has flourished due to a combination of superior geographic concentration and a strong leasing platform."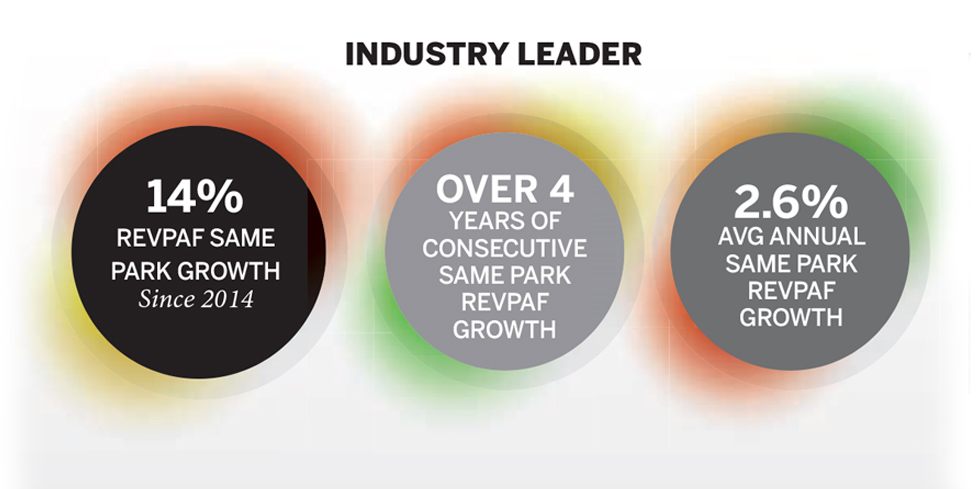 New 'Lease' on Space
According to Hawthorne, part of the company's success comes from its customer-friendly leasing process. The company's website is full of information on each property, complete with photos, videos, and specific leasing contacts. The leasing professionals are localized so they know the properties intimately and, when it comes to leases, they're far simpler when compared to the stacks of paperwork some landlords would require. 
"We have an in-house team of 30 market experts who execute approximately 2,000 lease transactions per year," she says. "We had to figure out a way to streamline this sort of production. We're very proud that we were the first commercial real estate company that implemented a fully electronic leasing process that includes e-signatures." 
That helped keep customers such as ECS, a Washington, D.C. company that provides high-end mission-critical solutions to the government, for more than 15 years. ECS currently occupies 81,000 square feet of office space on Prosperity Avenue in Fairfax, Virginia, and recently inked a deal for an additional 40,000 square feet, says ECS President George Wilson.
Wilson said that PS Business Parks understands that as businesses grow, they "always have too much or too little space." The landlord has been particularly helpful with ECS, which has seen double-digit percent growth in each of the last six years. "They've been easy to work with," he says. "They seem to understand the business aspects of what we're trying to accomplish." ECS recently had a senator visit for a town hall and PS Business Parks sped up scheduled landscaping to help beautify the site. "It's that kind of small stuff and customer service that sets them apart," Wilson adds. 
Another selling point is the ability to house office and warehouse space at the same location, a "rare find," according to longtime customer Dial Engineering, which has space in the Culver City Business Park in Culver City, California.
Chip off the Bigger Block
PS Business Parks' roots can be traced back to Public Storage, which organized it in 1986 as a division within the self-storage leader.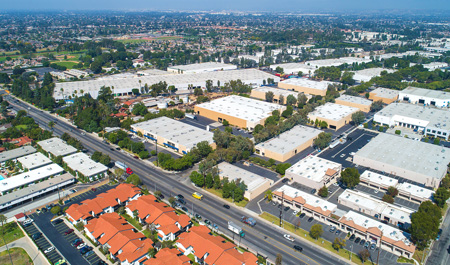 "We had some great pieces of property, but there were some zoning and planning commissions that wouldn't let us build self-storage facilities on these prime pieces of real estate without some kind of buffer," according to Wayne Hughes, the founder of Public Storage, who is quoted on PS Business' website. "In the early 1980s, we put up other types of businesses on these properties, in front of our mini-warehouse structures."
These developments included retail properties, industrial parks, and garden office complexes. These different properties proved so successful for Public Storage that it spun off the PS Business Parks division as a separate public company with a portfolio of about 5 million square feet in early 1998. 
Since then, the square footage has grown by 460% and the stock has performed well. The company's funds from operations have grown 50.1% since 2012.
"They have a really strong track record," says Frankel, noting that the company has one of the REIT industry's lowest-risk balance sheets with little debt. "They've been a good steward for their shareholders."
The company is also paying attention to environmental responsibility and diversity and inclusion, factors that are increasingly important to investors. All new developments are silver LEED certified, native plants are used to help conserve water, and the company works with Waste Management on recycling. When it comes to workplace diversity, 50% of the company's employees are female with 44% of those in a supervisory role, while 44% of employees are non-white, with 33% in a supervisory role. 
"Our company is entrepreneurial in nature and our people have a lot of autonomy. This makes integrity and ethics critical components of our success," Hawthorne says. "In addition, we believe the diversity of our management team and board leads to better business decisions that come from valuable insights and fresh perspectives."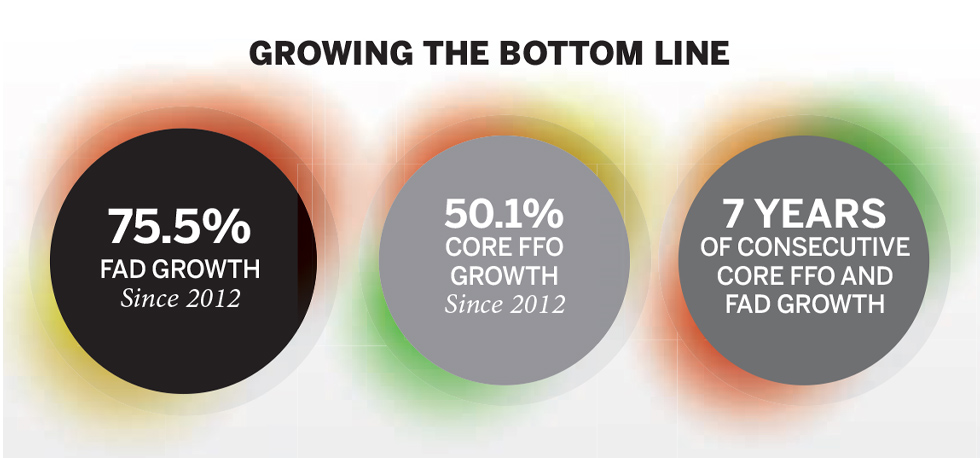 The Current Portfolio
Today, the company focuses on its holdings in its 12 markets that have consistently averaged about 94% occupied, with the largest tenants including: business services companies (19.5% of the customer base); warehouse, distribution, transportation, and logistics (12.3%); and computer hardware, software, and related services (11.1%). Other tenants range from health services to educational services. 
Among the company's top markets are Northern and Southern California, Northern Virginia, Florida, and Maryland. Cities in the company's portfolio include Austin, Texas, Dallas, and Seattle.
It would be nearly impossible to acquire such a well-located portfolio with such infill opportunity today. "The key to their success has been their geographic presence. They just have an extraordinarily well-located portfolio," Green Street's Frankel says. "The land underneath their buildings is worth a lot more than it was 20 years ago, even relative to other REITs."
Venturing Beyond the Core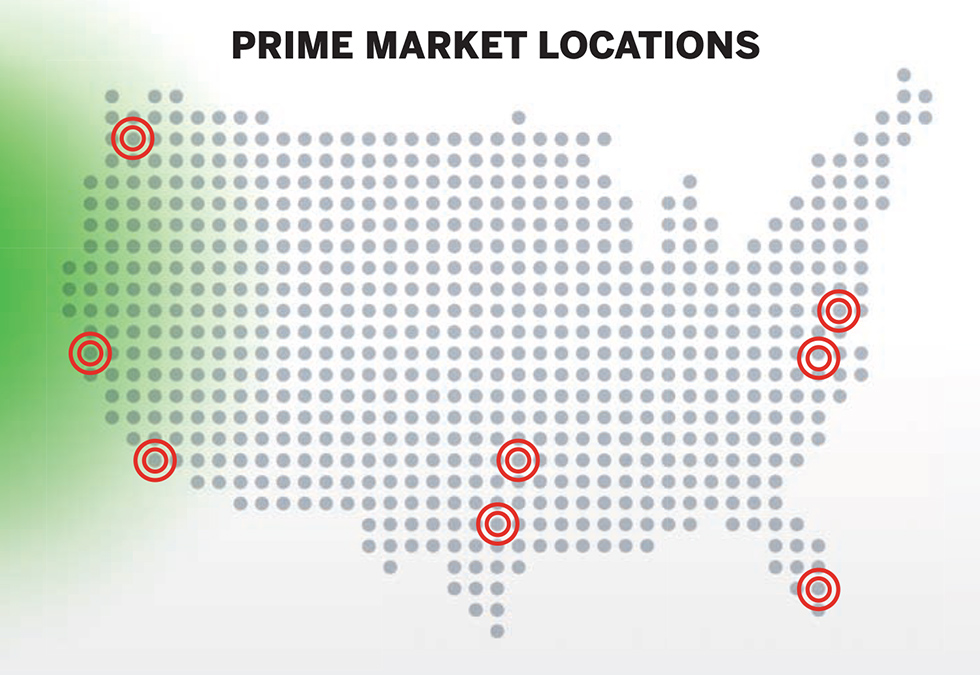 Indeed, swaths of the land under PS Business Parks may have been less desirable or considered out of the way decades ago, but growth and the increasing appeal of infill has made its property far more valuable—and some of it more useful as something else. Take Virginia, where PS Business Parks holds a 95% joint venture interest in Highgate at the Mile, an apartment community that opened about two years ago. The average rent tops $2,000 per month and the development, which includes a wine bar, a hotel-style concierge, a dog spa, and a 24-hour fitness studio, is about 95% occupied. Development of a second phase, Brentford at the Mile, is expected to commence early next year. 
When asked about any chance for retirement, Hawthorne said she's not going anywhere because she's eager to see what's next for her longtime employer. "PS Business Parks is a company with a bias for action. We maintain a strong and conservative balance sheet and we always take a long-term perspective on growing the company," she said. 
"This is part of our DNA and I have always been proud to be a part of this organization. I'm especially honored to be leading it during our third decade as a public enterprise."