As wireless technology moves toward its fifth generation, Crown Castle CEO Jay Brown sees an opportunity for REITs to lead a national digital transformation. 
11/05/2019 | by
Jay Brown has a natural curiosity about how things work. He listens to The Tim Ferriss Show and Revisionist History by Malcolm Gladwell, two podcasts that dig into business issues and challenge long-held beliefs. 
"It's really helpful in a business that is surrounded by innovation," Brown says, referencing his role as president and CEO of Crown Castle International Corp. (NYSE: CCI). "Learning about what else is happening in other areas of the world and in other businesses and industries is critical." 
With nearly $80 billion of enterprise value and about $6 billion per year in annual revenues, Crown Castle is a leader of innovation in the communications infrastructure business.
"We're not a wireless provider, nor are we a content provider," Brown is careful to note. "Our business is primarily communications infrastructure , and we enable the connectivity that wireless carriers provide to their customers."
As the wireless space evolves toward increased options for consumers and much faster speeds, Brown says the customers that Crown Castle serves are constantly innovating and improving the scale of the networks, and that the REIT thrives on being at the cutting edge of what that innovation looks like. 
With 25 years of experience under its belt, Crown Castle is an S&P 500 company with a workforce approaching 6,000 employees. Yet Brown says a strong company culture is one of the REIT's most important differentiators. "It's our employees who have really enabled us to be successful," he says. 
Brown also notes that accountability is an essential piece of how leadership measures its success in business. He says the REIT does not want to simply tell a feel-good story, but rather truly be accountable for what it sets out to do. 
"Accountability means that we act with integrity in all of the things that we do, whether we're dealing with the local community or the way we treat each other internally," he says.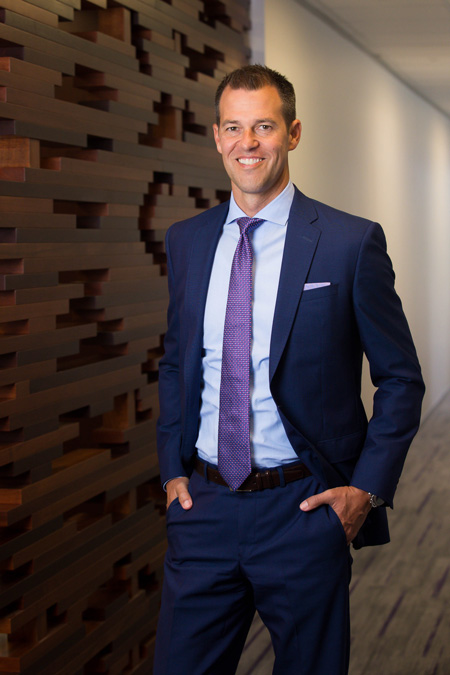 Brown recently spoke with REIT magazine about the changing use of cell phones, the future of artificial intelligence, and why he tries to make a friend in every conversation. 
How does Crown Castle's business operate on a day-to-day basis?
We're the largest provider of shared communications infrastructure in the U.S., and we have a combination of towers, small cells, and fiber. 
The way that we make money is we share that infrastructure across multiple customers at the same time, allowing our customers to achieve a much lower cost of deployment on the infrastructure because it's shared. We're the capital provider, and they are able to share it and optimize it. This drives down the cost to the consumer by reducing the costs to the content providers and the wireless providers. 
On the tower side, we have a little over 40,000 towers. In the U.S., there are about 91,000 tenants installed on those towers. About 70% of our towers are in the top 100 markets in the U.S., so we're predominantly in the most densely populated areas of the country. We also have about 65,000 small cells deployed in the major U.S. markets.
On the fiber side, we have about 75,000 route miles of fiber. We have a meaningful presence in 23 of the top 25 markets in the U.S. We're currently in about 32,000 buildings, and we're connected to about 900 data centers. The combination of those three assets are really the backbone for both wireless communications and the communications from large enterprises and government health care facilities, universities, and financial institutions that are transmitting traffic out of those locations. 
What was the appeal of joining a company like Crown Castle?
When I first joined Crown Castle about 20 years ago, roughly 25% of the U.S. population owned a cell phone—it was the very early days of wireless. What I found exciting about the company was the role that it played in the deployment of wireless technologies. I saw a long-term opportunity around the importance the infrastructure would play in the deployment of wireless services for consumers. I knew it was a business that was situated with a really strong tailwind of future growth, and that has certainly played out over the two decades that I've been here.
It must have been very exciting to be working at a company like Crown Castle during these last 20 years when things have changed so much.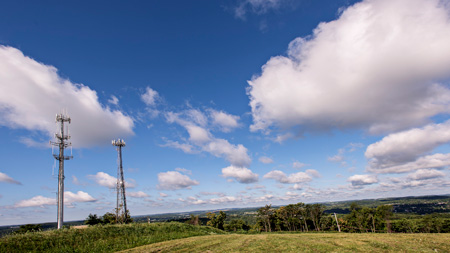 In 1999, the only use of a wireless phone was for talking, and today that makes up such a very small percentage of the overall wireless traffic. It's almost entirely comprised of data traffic today. It has been a real transformation to watch these devices go from something that we use traditionally as phones and move toward becoming 'devices' that are used for the transmitting of data.
It makes you wonder where we'll be in 20 years from now.
I think one of the exciting things that's coming in the near term is the move towards 5G, which is going to mean a significantly faster experience for anyone using the device. It will reduce the amount of latency in the network, which is how long it takes for the network to respond to an action. Whether it's pulling down data or transmitting data, 5G will reduce the amount of time that it takes for that transmission and nearly make it instantaneous. This the key aspect as we move from 4G to 5G: Everything will be nearly instantaneous. 
The other thing that 5G enables is far more devices per cell site than what we have in a 4G environment. Today as consumers, we can look down at our devices and see that we have four or five bars of coverage, and we still get the spinning wheel or the inability to connect to the network. Sometimes that can be a function of all the traffic that has piled up on the network or in the pipeline, and the network is full in essence.
The other way that it can happen is when so many people are connected, all of the connections have been used up. 5G enables 10,000 times more connections per base station, enabling a lot more connected devices, which is what we'll likely see in the world over the coming decades. According to Cisco, in the U.S. there will b 4.6 billion networked devices and 13.6 networked devices per capita by 2022. 
What do you think will be the biggest impact on business as 5G takes hold? 
One of the fascinating parts about running the business is watching all of the various components of the economy that are impacted by 5G. Whether it's real estate, health care, sports, or any number of other industries, there are so many facets that will be deeply impacted as we move to an environment where data can be transmitted at faster speeds over mobile and wireless devices than they can even be transmitted today over wired networks. It's going to be really interesting to see the impact that has on various industries with regard to things like virtual and augmented reality. And of course, how something like artificial intelligence is enabled and able to be used in ways that really are not practical today given the latency and speed of the network.
Have you had any mentors throughout your career?
The two CEOs who preceded me at Crown Castle, John Kelly from 2001-2008 and Ben Moreland from 2008-2016, have been terrific mentors in my life. I had the privilege of watching both of them, and they were just superb. They were thoughtful, they were economic in their thinking, and they did a great job of caring for employees. During my time as CFO working for Ben Moreland, he set a pattern of what it looks like to be a great CEO. I would consider both of them friends and mentors.
Is there any advice you've received in your career that you've hung on to?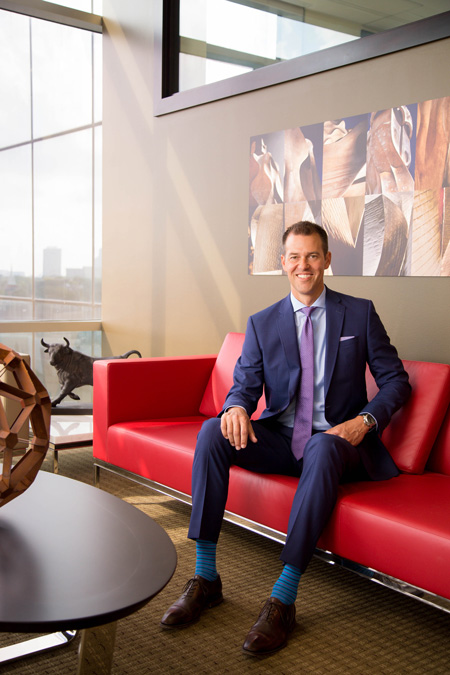 My favorite career advices is: In every conversation, look to make a friend.
Is that something you live by in your career?
I certainly try to. I think it's a great way to approach a conversation, regardless of who that conversation is with. There are lots of opportunities in business to find ways to ensure both parties walk away winners. When you aim toward making a friend, that naturally occurs. Any kind of long-term partnership is going to go through challenges, so building a friendship there in addition to the business relationship is helpful in navigating difficult times.
Do you have any hobbies that you engage in outside of work?
I work out five times a week early in the morning. I find that's a great way to clear my head to think and be ready to come into the office and work, so I do that religiously. I also really enjoy reading. I read a lot of management books and I like to take away an idea or a thought perspective from other thoughtful leaders who are running businesses or doing research on businesses. 
What are Crown Castle's goals over the next five to 10 years? 
We see our opportunity in being able to lead the digital transformation for the U.S. as we move toward 5G. It's going to be a significant amount of growth for us, so we want to be thoughtful about how we help lead that growth and deliver for our customers. We want that growth to translate to a financial goal. Our long-term goal is to grow the dividend 7% to 8% annually. That's how we'll measure our long-term success for shareholders.
What about your goals as CEO?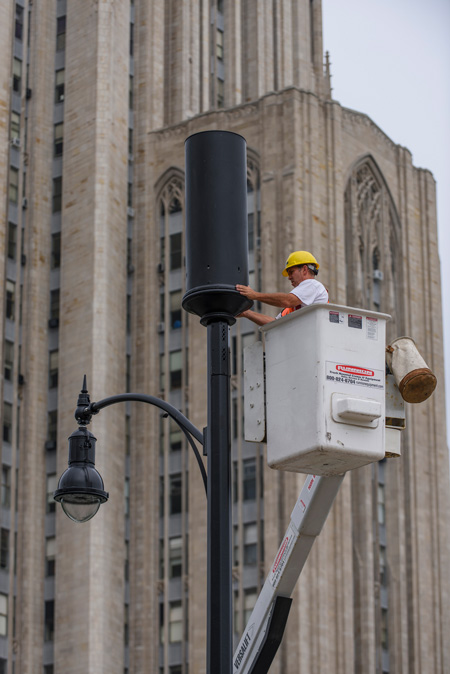 First and foremost, I want us to continue to deliver low-cost and efficient ways for our customers to deploy their infrastructure. It's critical that we're able to do that at a breakneck speed. Being able to be really fast for our customers and deliver their needs at a very attractive cost is key as they're sharing the infrastructure. 
My second goal is internally focused on maintaining and enhancing our company culture. I think our company culture is one of the reasons why we've been so successful over a long period of time. And as the business has grown, both in terms of its scale and the number of locations, we continue to work hard at maintaining this culture that has been a critical success factor for Crown Castle over a long period of time. 
A goal of a strong company culture ties back to your point about making a friend in every conversation. Do you think it matters to employees if their company devotes time to improving its culture?
Ultimately all businesses are made successful by the people who work in them, and every significant decision that happens in the business is made by an individual. As we think about our decision-making model at Crown Castle, we want decisions to be made by people who are as close to the customer as possible with the most amount of context for making that decision. One of the ways that you help employees make those decisions day-in and day-out for customers is to ensure that you have a culture that helps everybody understand the goal. 
To measure our own decision-making processes, we decided we want to be real, accountable, and be and think like owners. Being real means that we're honest, forthright, and direct about how we're doing. To be accountable, we're going to measure ourselves against our targets and goals. To be and think like owners, the decisions that we make always have shareholder returns in mind, so we want to be thoughtful about how we invest their money.
Those three components really make up our culture and are critical to ensuring we are making the right kind of decisions for our customers. That makes Crown Castle a great place to work because it's transparent, people are empowered to make good decisions, and they know the measuring stick.