Infrastructure REIT Crown Castle International aims to enhance the United States' wireless networks.
09/19/2014 | by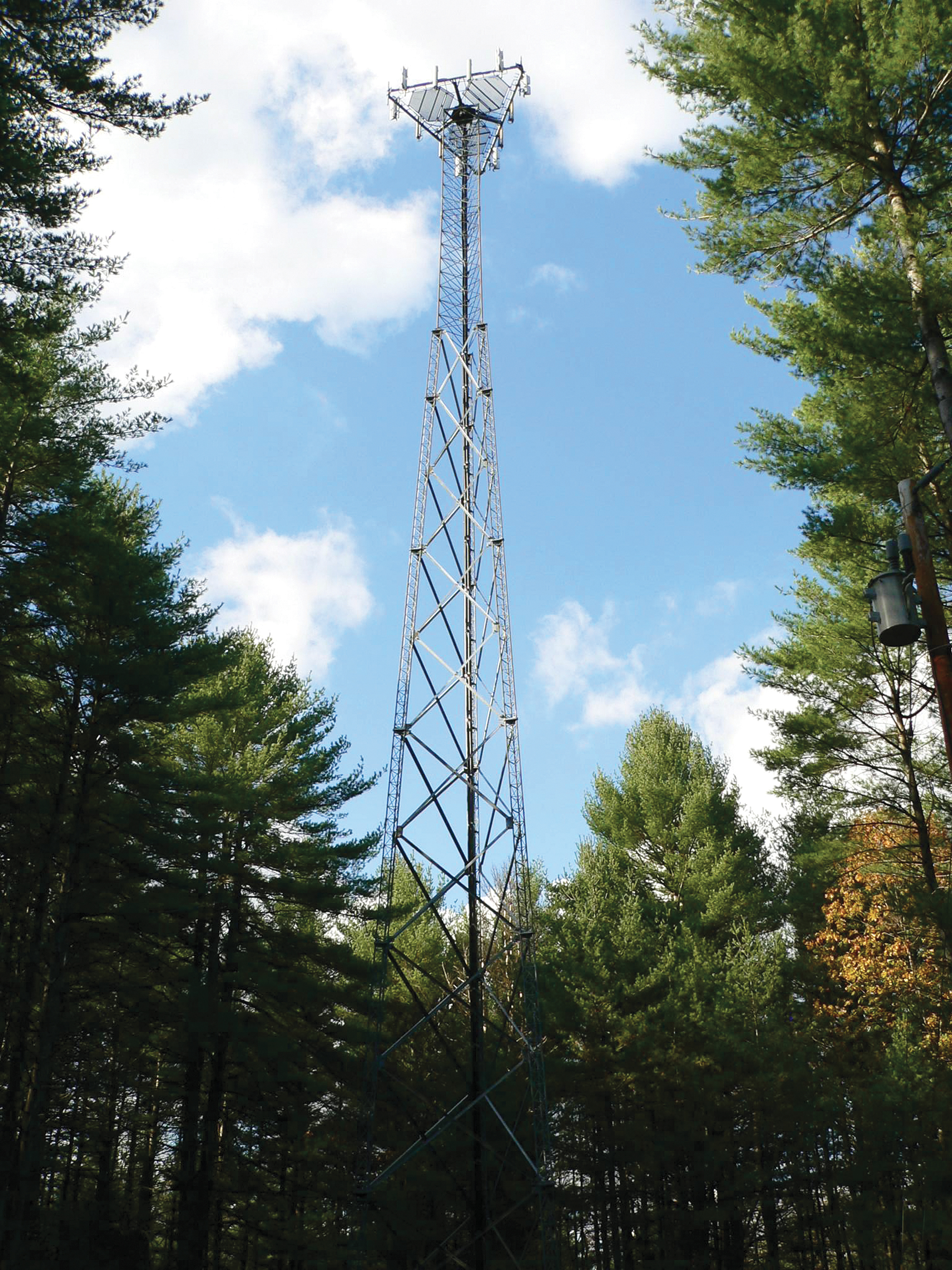 In the REIT world, Crown Castle International Corp. (NYSE: CCI) is a new kid on the block. The Houston-based company was founded in 1994 and went public in 1998 but didn't begin operating as a stock exchange-listed Equity REIT until the beginning of this year.
Despite its newcomer status among REITs, Crown Castle is a heavyweight in a sector where, according to some analysts, the long-term growth outlook is as good as it gets in the real estate business.
"The secular growth trends in the tower industry are very impressive compared to most traditional types of real estate," says Jim Sullivan, a managing director at real estate research firm Green Street Advisors. "The demand story for cell towers is as good a story as there is in the real estate business."
The company is the largest owner of cell phone towers in the United States, with a portfolio of some 40,000 towers with a high concentration in the 100-largest markets. Crown Castle had adjusted funds from operations of nearly $1.3 billion in 2013, up more than 40 percent from the prior year, and is now the fourth-largest U.S. REIT, based on its equity market capitalization of nearly $27 billion as of August.
The company leases space on its tower facilities to wireless carriers, which this year will spend more than $34 billion to upgrade their networks and are expected to spend a similar amount in 2015, according to Crown Castle. These wireless "superhighways" handle the voice and abundant data needs of today's bevy of mobile devices, from smartphones to tablets to notebooks.
"When we were building out this company, we thought we were building out networks supporting mobile phone service. We had no idea back then we were building the broadband Internet of the 2000s," says Ben Moreland, Crown Castle's president and chief executive officer.
Plenty of Room to Roam
Many of the towers now owned by Crown Castle and its competitors were built between the mid-1980s and mid-'90s by wireless carriers responding to the growing demand for cell phone service, according to Ric Prentiss, director of telecommunications services research at Raymond James. Back then, the towers were used exclusively by the individual carriers that developed them, even though the facilities can typically accommodate the equipment of multiple carriers.
In the 1980s and through the mid-'90s, each operator was building its own "stick" at a cost of hundreds of thousands of dollars, according to Prentiss. "It was as if you built an office building and occupied only the top floor," he adds.
By the late 1990s, local municipal officials, responding to a backlash in many areas against the proliferation of towers, had grown reluctant to grant permits for new towers. Strong demand for towers among wireless carriers and the difficulties associated with development created a niche for Crown Castle and other independent tower companies, Prentiss says.
By amassing towers through acquisitions, typically structured as sale-leaseback deals, and adding "tenants" to existing sites, Crown Castle allowed carriers to enhance their wireless networks quickly and cost effectively. The company continues to do so today as carriers generally enter into non-cancellable leases spanning 10 to 15 years. The typical lease contains an escalation clause of 3 percent per year and renewal options, which can be exercised in increments of time that may extend out more than 20 years, according to the company.
Tenants who want to add equipment to existing installations amend their leases and pay more rent. Leasing amendments by carriers upgrading their networks have been a big driver of revenue growth for tower companies in recent years, according to Green Street.
Demand Remains Upwardly Mobile
Carriers are now turning their attention to filling gaps in their coverage by leasing space at additional tower sites.
According to a report by research firm Nielsen, the amount of Internet use on mobile devices has surpassed Internet use on personal computers. In the United States alone, mobile data usage is expected to swell to 2,700 petabytes per month in 2018, an eightfold increase from 338 petabytes per month in 2013, according to Cisco Systems Inc. estimates. A petabyte is roughly 1,000 times as large as a terabyte and could store some 500 billion pages of text, according to published reports.
"When you have the Internet in your pocket, people will find new uses for mobile devices and use them more frequently than they would desktop computers. That has been the underpinning of our growth since the first generation iPhone was rolled out in 2007," says Moreland, who joined Crown Castle in 1999 and became CEO in 2008.
Since tower companies don't incur meaningfully higher operating costs by adding tenants to existing towers, the addition of new tenants is a powerful driver of organic growth, analysts say. Crown Castle has tripled the yield on towers it has owned for more than 10 years largely by adding new tenants. The yield on costs for such towers has grown from between 4 percent to about 15 percent, according to the company.
In the second quarter of 2014, Crown Castle's total site rental revenues increased 21 percent over the prior-year period.
Organic site rental revenue, or same-tower rental revenue, rose by 9 percent before non-renewals, driven primarily by new leasing activity among the four largest U.S. carriers – AT&T Inc., Verizon Communications Inc., Sprint Corp. and T-Mobile U.S. Inc. – and annual contract escalators.
"The real revenue driver in our business is the initial sale leaseback with a large carrier and the organic growth associated with leasing those facilities to additional carriers over time," Moreland explains. "We provide essential infrastructure to wireless carriers, but do it in such a way that it is more cost effective for us to own and operate the facilities and to lease to carriers only what they need, rather than having them own the facility on their balance sheets."
Betting Domestically
Crown Castle and fellow tower REIT American Tower Corp. (NYSE: AMT) are the two largest players in the market. American Tower has a smaller footprint in the United States than Crown Castle but a larger international presence. Outside of the United States, Crown Castle operates in only one market, Australia, where it is the largest independent tower company with a portfolio of about 1,800 towers.
Crown Castle, according to Moreland, is the only publicly traded tower company with "a laser focus on the U.S. market." The firm has spent nearly $9 billion on acquisitions in the United States in the last two years. It acquired more than 7,000 towers from T-Mobile in 2012, and last year the company bought nearly 10,000 towers from AT&T. The acquisitions doubled the size of the company's portfolio.
In 2012, Crown Castle also acquired NextG Networks, the largest provider of outdoor distributed antenna systems (DAS), from private equity firm Madison Dearborn Partners. The systems are essentially networks of small antennas, often secured to telephone and light poles, connected by fiber to hubs that facilitate wireless communications services for multiple carriers.
DAS and other so-called small cell technologies are often deployed in areas where it's not feasible to erect towers, such as in Manhattan, San Francisco and other dense urban markets. In the second quarter of this year, revenue from Crown Castle's small cell business surged by 26 percent, although it represented only 6 percent of total revenues.
"We have made a very large financial and operational strategic bet on the United States," Moreland says. "Our recent acquisitions have been the largest in our company's history, in terms of a concentrated period of investment."
Crown Castle expects its recent acquisitions to drive its growth over the next decade, according to Moreland. The company funded the acquisitions through a combination of debt and equity. It raised $4 billion in an equity offering late last year.
Bigger Piece of the Wireless Pie
With its recent AT&T and T-Mobile tower acquisitions, Crown Castle is following a familiar strategy: seeking to boost the yield on those assets by adding tenants that are not currently resident on the towers. Each of the towers has an average of 1.7 tenants, compared with an average of 2.8 tenants per tower at facilities that Crown Castle has owned more than 10 years, according to the company.
In the United States, the tower business is already a highly consolidated market. According to Green Street, the three largest players—Crown Castle, American Tower and SBA Communications Corp.—already own about 70 percent of all towers in the country. Yet, Moreland says the vast size of the U.S. market and the spending power of American consumers provide a compelling argument for Crown Castle's domestic focus, not to mention the political, currency and other risks associated with emerging markets.
CROWN CASTLE INTERNATIONAL AT A GLANCE

Tel: 1-877-486-9377

Website: www.crowncastle.com

Management Team:

W. Benjamin Moreland President & CEO

James D. Young COO

Jay A. Brown SVP, CFO & Treasurer

E. Blake Hawk EVP & General Counsel

Patrick Slowey SVP of Sales & Chief Commercial Officer

Phil Kelley SVP, Corporate Developmentand Strategy
In the United States, wireless carriers generate revenue of about $190 billion yearly, and the overall level of network investment is higher in the U.S. than in other markets, he says. The average annual revenue per wireless subscriber in the United States is about $600, according to Crown Castle. That compares to about $400 in yearly revenue per subscriber in certain other developed markets and roughly $130 per subscriber in a select number of emerging markets.
Although the public resistance to new towers poses a challenge in terms of development, it also poses a natural barrier to entry, Moreland notes.
"Municipalities value wireless service as an amenity for their communities, but they want to control the proliferation of towers," he says. "That creates value for us because it promotes the sharing of facilities."
Mergers create some headwinds for tower companies as carriers seek to eliminate some redundancies. The remaining carriers are typically more efficient and profitable, and they are better able to raise capital, which bodes well for their ability to invest in their networks, Moreland comments.
"Over time, we have added revenue per site even as the pool of carriers has shrunk, and that's largely because the pie is getting bigger," Moreland says. "The pool of carriers has gotten smaller, but each network has had to support a growing list of subscribers and data services."
Limits to Growth?
Thanks to the robust level of carrier spending, Crown Castle has enjoyed stronger growth than some blue-chip REITs in other asset classes. Yet, its stock has traded at a somewhat lower multiple of AFFO per share. Moreland says he expects that to change as REIT investors gain a greater understanding of the tower business and the company's stability and long-term growth potential.
Despite the strong outlook for the tower sector, investors need to consider the risks associated with technological obsolescence, says Sullivan of Green Street. Towers are still the most efficient and cost-effective method for carriers to transmit a cell signal, but there is always a chance that in the long run, technological innovation will render towers obsolete or result in less need for them, according to Sullivan.
"Thirty years from now, will we need cell towers or all the ones we currently have? That is a really hard question for REIT investors to answer. It is the issue that causes the most concern when you talk to REIT investors about the cell tower business," he says.
Moreland is well aware of such concerns. He says the company closely monitors the development of new technology and that towers remain far superior to other options, including satellites, when it comes to transmitting radio waves efficiently and cost effectively. What's more, wireless carriers now enter into much lengthier leases than they did just five years ago because they are eager to secure tower sites for the long term, he adds. The eye-popping growth in data consumption by mobile devices has led to a push among carriers to space equipment closer together over broader geographic areas, and that boosts demand for tower sites, according to Crown Castle.
"Carriers believe in the long-term viability of terrestrial towers as evidenced by the long-term lease commitments that are industry standard. They are very focused on retaining access to tower sites," Moreland says. Technologically, "there is nothing on the horizon that takes the place of the terrestrial network."