Westfield focuses on flagship stores in flagship assets.
09/10/2015 | by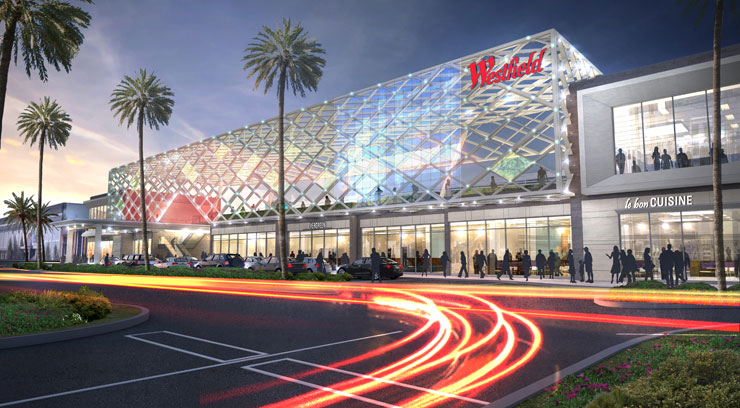 Australian businessman Frank Lowy recognized in the 1950s that the future of retail lay in shopping malls, leading him to found Westfield Group. Fast forward to 2015, and his son Peter Lowy, co-CEO of Westfield Corporation (ASX: WFD), sees similar opportunities to change the face of retail.
Lowy, who serves as co-CEO with his brother Steven, actually views the confluence of the global economic downturn and the rise of online shopping as an opportunity for Westfield to strengthen its portfolio of malls and pilot innovative uses of technology to enhance shoppers' experiences.
"The mall business has been changing, with the bigger, stronger, larger malls with the highest volume growing faster than the average malls," Lowy says. "The financial crisis and the Internet have changed the nature of the retail business, changed how people shop and changed how much they spend, so our business strategy is to evolve with the business. Retailers today know demand is greatest in flagship stores in flagship assets."
Splitting the Continents
Westfield Group started by investing only in Australia. It expanded into the United States in the 1970s before moving into New Zealand in the 1990s and the United Kingdom in the 2000s.
In 2013, Westfield Group announced a split within the company, separating the Australian and New Zealand business from the company's investments in the U.S. and the U.K. The Australian and New Zealand shopping mall firm is now known as the Scentre Group. Frank Lowy is the chairman of the board of directors of Scentre. Steven Lowy is also a board member. Westfield Corp. owns the assets in the U.S. and U.K.
"Westfield has a history of restructuring," says Adrian Dark, vice president of REITs at Citi Research. According to Dark, the latest restructuring better allows for the companies to be compared with similar firms in similar markets. (Westfield has yet to decide whether the company will continue to be listed on the Australian Stock Exchange and recently told shareholders that it will "continue to investigate the appropriate location for its longer-term listing.")
The decision to split Westfield Group into two geographically separate entities generated shareholder consternation at first, but the demerger resulted in better-than-expected returns and a new entrepreneurial strategy for the U.S. and European shopping mall owner. Westfield Group had already spun off about half of its Australian business in 2010, but Lowy says the company still lagged behind its U.S. retail REIT peers because the Australian REIT market took longer to recover than the U.S. market following the financial crisis. He says the real value of Westfield's underlying assets wasn't reflected in its valuation.
"Westfield owned properties in so many different jurisdictions that we actually had diseconomies of scale instead of economies of scale," Lowy says. "In Australia, we had a stable, steady business that gave our investors solid returns, but outside of Australia, we were a development company. Separating the two companies made them both more efficient and generated a better valuation. It's also easier to allocate capital to them separately."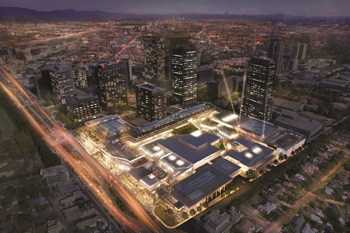 Dark says that Westfield and Scentre's stocks have outperformed the average returns on the Australian Stock Exchange since the demerger. 
In May, Frank Lowy, who now serves as chairman of both Westfield and Scentre, told shareholders that "since the new companies were created in June 2014, the market capitalization of Westfield Corporation and Scentre Group has grown to more than $41 billion, representing $12 billion of value creation for the securityholders from both entities who participated in the restructure."  
"Notably, the respective management teams have demonstrated an ability to focus on maximizing value with strategies tailored to their respective portfolios," says Stephen Rich, director of Australian equities and real estate research for Credit-Suisse.
Peter Lowy initially planned to leave day-to-day management of Westfield while remaining on its board, but the company grew substantially within months after the demerger.
"We had $11 billion in development spending, so because of this growth and the complexity of the new company, the board decided it would be best for me stay on as co-CEO with my brother Steven," Lowy says. "Honestly, we thought there might not be enough work for both of us when the company was split, but now we're excited to be part of this rapid growth phase. After the financial crisis, everything was frankly a bit of a slog, but now it feels like a breath of fresh air to be working with a smaller company. We can be more entrepreneurial than when we were bigger."
"Peter's recommitment to the group effectively re-doubles the CEO capacity," Rich says.
Bifurcation in the Mall Business
Besides splitting off from the Australian business, Dark says Westfield's strategy is to improve its portfolio quality over time by focusing on flagship properties and eliminating weaker performing assets. Westfield had 69 malls in the U.S. in 2007 and has now shrunk that portfolio down to 38 malls. The company has operated in the U.K. since 2000 and owns two high-end retail centers in London.
"We invest in assets with huge demand and look at the market differently than we used to," Lowy says. "Eventually, we'll have 30 or so assets, but they will be worth more than when we owned more malls. That's very different from the U.S. retail REITs. We've gone further in spinning off our other assets and are completely focused on iconic malls with massive sales. We get a better return from our higher-quality assets, so we've sold the malls we owned in places like Cleveland and St. Louis."
Westfield At A Glance

Address: GPO Box 4004, Sydney NSW 2001
Phone: (+612) 9358 7877
Website: www.westfieldcorp.com
Management Team:
Peter Lowy, Co-CEO
Steven Lowy, Co-CEO
Michael Gutman, President & COO
Elliott Rusanow, CFO
Greg Miles, COO-U.S.
Peter Miller, COO-U.K./Europe
According to Westfield's 2015 shareholder report, the company had $28.5 billion of assets under management and an $11.4 billion development program at the close of 2014. Seventy-seven percent of Westfield's portfolio is invested in flagship assets, with 23 percent in regional centers.
Additionally, Westfield's shopping malls in London are valued at £3 billion each, according to Lowy. He says the company's Century City mall in Los Angeles and the World Trade Center mall in New York City will be valued at $2 billion each, noting that Westfield World Trade Center is fully leased.
"We look at all the major cities in the world to look at the marketplace, but our growth has come primarily from repositioning existing malls," Lowy says. "We created growth within our portfolio and we invested 40 percent of our asset base before we started on some of the new developments."
Among Westfield's current projects is Century City, where the existing 880,000-square-foot shopping center is being modernized and expanded by approximately 400,000 square feet into a destination retail site in west Los Angeles. At Westfield Valley Fair in Silicon Valley, the company's $600 million investment will increase available space for luxury retailers, entertainment and dining options. 
At Westfield London, a £600 million investment will expand the current upscale shopping center into Europe's largest shopping center. Westfield London, which opened in 2008, was recently ranked the number one shopping center in the U.K. by the Javelin Group. The center is 100 percent leased. The Village at Westfield London, designed by architect Michael Gabellini, clusters 40 British and international luxury stores into one section of the center. An undulating glass roof covers the entire shopping center, which also includes an event space, a gym, a library, a 17-screen movie theatre and a total of 361 retailers. 
Westfield Stratford City in East London, adjacent to the Olympic Park, a £1.8 billion investment, is part of the largest urban regeneration project ever undertaken in the U.K. The center includes 1.9 million square feet of retail and leisure space, three hotels and 1.1 million square feet of office space. Future expansion will add new homes and more office space. Currently there are 345 retailers at Westfield Stratford City. 
The €1.4 billion Westfield Milan will include the first Galeries Lafayette department store in Italy and bring high-tech innovations, luxury retailers and tourism to the site.
"Shopping centers around the world are starting to resemble each other more," Lowy says. "We're leading the way by combining the overseas model of having more restaurants and food shops in the mall along with the U.S. emphasis on clothing and other retail shops." 
Rich says he expects Westfield's future expansion into new locations to be a function of a specific project or opportunity where the company has a competitive advantage, such as global leasing or development or design and construction expertise.
"We're a different company than some other mall owners in that we have in-house architects, in-house builders and contractors, and an in-house design studio, which makes us a fully integrated company," Lowy notes. 
The Tech Effect
In addition to the company's vertically integrated structure, Westfield has been at the forefront of embracing technology, Rich says.
"We have a range of responses to the rise of online shopping, including establishing our 'incubator lab' in San Francisco, known as Westfield Labs," Lowy says. "We're focused on integrating social and mobile and digital services for customers into their shopping experience. For instance, we have WiFi and GPS-controlled parking so that you can charge your parking fee to your smart phone. We have apps for customers to help them find events at the mall. We've partnered with DeLiv so that customers can buy something in the mall and have it delivered to their home the same day."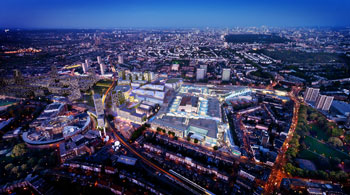 One of Westfield's pilot programs, known as "Dine on Time," has been launched at Westfield San Francisco Centre. It enables customers to order food from restaurants within the center with an iPhone app, online or via a mobile website for a scheduled pick-up time or for bike delivery to their work, home or even a location inside the mall.
Dark says the long-term effect of these innovative pilot programs remains to be seen.
Westfield is "responding well to both the threat of technology in retail and the opportunity," Dark observes. "But shopping centers are a large, long-term investment, so it's difficult to be nimble in that business, and it could take time to see the full impact of Westfield's actions."  
Future Challenges
Westfield's adaptability has allowed the company to profit in spite of the challenges to retailers.
"The world has totally changed, and retailers have fought back against Internet-only shopping," Lowy remarks. "Now, retailers know they need a very good web presence and a very good physical presence to succeed."
The next potential challenge for Westfield and others in the retail sector could be a hike in interest rates, but Lowy says he expects little negative impact from an increase in rates.
"Our balance sheet is fixed with long-term debt at an average of 3.1 percent for 9.6 years, so rising interest rates will affect our company as little as possible," Lowy says. "Also, if interest rates rise because business is better and income growth is better, then that should offset any potential negative impact of rising rates."
In fact, an increase in interest rates because of an improving economy would suggest a positive background for the retail sector, Dark says.
"Our view is that Westfield should continue to benefit from its strategy focusing on flagship assets and innovative use of technology," he says. "The outlook is good from a business perspective." 
Westfield's streamlined portfolio and attention to inventiveness should bode well for its future performance.
"Clearly, evolution has become ingrained into a group with a greater than 50-year track record of responding to challenges and adapting to opportunities," Rich says. 
Michele Lerner is a regular contributor to REIT magazine.