Paul Dalla Lana steers NorthWest Healthcare Properties toward international growth.
10/03/2016 | by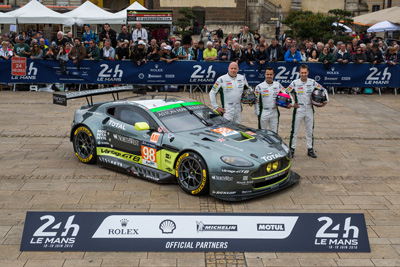 Paul Dalla Lana, CEO of Toronto-based NorthWest Healthcare Properties REIT (TSX: NWH.UN), sees a synergy between his passion for auto racing and the strategy that the company is pursuing the consolidation of global health care real estate.
"Auto racing follows the international themes of our business by taking me around the world to gateway markets with key partners," Dalla Lana says. Dalla Lana races with the Aston Martin Racing team in the FIA World Endurance Championship, a year-long event that features nine races, including the legendary 24-hours of Le Mans, across four continents.
When he's not competing behind the wheel, Dalla Lana is steering North-West Healthcare toward an expanded presence in the medical office building (MOB) and hospital segments of health care real estate in Canada, Brazil, Germany, Australia and New Zealand.
According to Dalla Lana, since 2010 the company has been one of the largest buyers of health care real estate outside of the United States, "and we're just getting going." The company has a fully integrated management team on the ground in each of its overseas markets.
Scale and Simplicity Dalla Lana founded NorthWest Healthcare in 2004 to focus on the Canadian MOB market. The company went public in 2010. Shortly thereafter, Dalla Lana also formed NorthWest International Healthcare Properties REIT to focus on assets outside Canada, later merging the two companies in 2015.
The rationale behind the merger was the increasing desire from the capital markets to see scale and simplicity in the corporate structure, along with new avenues for accretive growth, Dalla Lana says.
"We're starting to see the fruits of those labors pay off now," Dalla Lana says. He adds that the merger has involved an "intense year" of explaining the benefits of the health care asset class, a "new story" for Canadian investors, in addition to the benefits of international diversification.
The company also identified three key priorities for the merger: portfolio rebalancing, balance sheet optimization and integration of operations. "We're nearing the finish line on these merger initiatives and very much focused on new growth opportunities going forward," Dalla Lana says.
AT A GLANCE

ADDRESS:
284 King Street East, Suite 100
Toronto, Ontario, M5A 1K4
PHONE: 416.366.8300
WEBSITE:
www.nwhp.ca
MANAGEMENT TEAM:
Paul Dalla Lana
CEO
Vincent Cozzi
President and COO
Teresa Neto
CFO
Mike Brady
Executive Vice President,
General Counsel and Secretary
Diverse Growth Prospects
Dalla Lana explains that in Canada's health care real estate market, virtually all health services are government funded. That leads to slightly lower growth, but more stability. On the other hand, NorthWest's chosen foreign markets, with their public-private health care regimes, offer "more dynamic opportunities for health care real estate investment as a result.
Looking broadly at its overseas operations, Dalla Lana contends that these markets are five to 10 years behind their U.S. counterparts. Valuations are "very attractive," and industry consolidators on the operating side are looking for capital partners, he says. Underpinning that is a growing demand for a range of options in health care services.
According to Frederic Blondeau, an analyst at Dundee Capital Markets. "To my knowledge, at the moment, no publicly listed vehicle anywhere within the global marketplace offers such a comprehensive, diverse exposure to multiple health care markets, other than NorthWest."
Moreover, Blondeau says, listed health care real estate entities are largely concentrated in the U.S. and are often focused exclusively on the U.S. market. They also typically trade at much higher valuation levels than NorthWest, he adds.
Matt Kornack, an analyst at National Bank Financial, underscores the benefits of global diversification for NorthWest: "The international aspect of this business makes more sense than investing in a pure-play Canadian entity."
Brazil: Big Opportunity
While Brazil has faced a challenging macroeconomic environment in recent years, Dalla Lana says that the microenvironment in health care is "very interesting." He points out that just below 50 percent of Brazil's 200 million-plus population is enrolled in the private health care system, "a system that is probably in the very, very early days of consolidation and modernization."
Brazil also saw legislative changes in early 2015 that removed foreign capital restrictions on owning health care operators. That has led to an inflow of private equity capital into the operating side of the business, Dalla Lana says, "which is spurring industry consolidation and creating industry champions. For us, that's the prerequisite to invest."
Although currency fluctuations have driven volatility in Brazil, long-term opportunities to acquire high-quality assets with top operators have compensatedNorthWest for that risk, according to Dalla Lana.
Kornack notes that "a lot of smart investors view Brazil as an opportunity, and it's on sale today." He stresses that NorthWest is "one of the only guys playing in the Brazilian market.
Offering Fuels Growth
In April and July 2016, NorthWest raised $190 million in two public financings. The company intends to use part of the proceeds to fund a portion of the acquisition of two hospitals in Sao Paulo and Brasilia occupied by Rede D'Or, the leading private hospital operator in Brazil.
Part of the remaining funds will also be used to finance NorthWest's investments in Australia and New Zealand. In June, the company announced the acquisition of Generation Healthcare Management Pty Limited, the external investment manager for Generation Healthcare REIT. GHC is the only Australian-listed health care real estate owner, operator and developer.
Funds were also used to support an offering by NorthWest's New Zealand subsidiary, Vital Healthcare Property Trust, an investment trust that invests in health and medical-related properties in New Zealand and Australia.
In April, NorthWest also completed the acquisition of the Mehrower Allee Complex – a MOB property in a densely populated neighborhood of Berlin. The acquisition increased the REIT's portfolio to seven assets in Berlin and 21 in Germany as a whole.
As for Canada, Dalla Lana says the focus is on selectively adding new-generation MOB developments to the portfolio.
Total assets of NorthWest's global platform are just south of $3 billion. At this time, Dalla Lana does not see expanding into new markets.
"We see a lot of runway in existing markets," he says.
Share Price Discount
Meanwhile, Dalla Lana says that despite a 25 percent increase over the past 12 months, the company's current share price still trades at a discount to net asset value. This local market trend is a common lament among Canadian REIT CEOs, but one that he is optimistic about. With increasing investor understanding of the business and continued execution on its plan, he believes NorthWest's share price will continue to improve.
NorthWest is approaching a market capitalization of $756 million, or roughly a billion dollars Canadian, Dalla Lana points out. "We see that as a very clear destination as a minimum threshold for greater institutional investment and general liquidity," he says.
"We're very conscious about where we spend our time and energy. We certainly do not want to line up head-to-head with very well-capitalized, lower-cost competitors to compete exclusively on price," he says. "We have to be very focused on how we do things, such as leveraging our local relationships and in-country presence to deliver tailored real estate solutions to our current and potential partners."