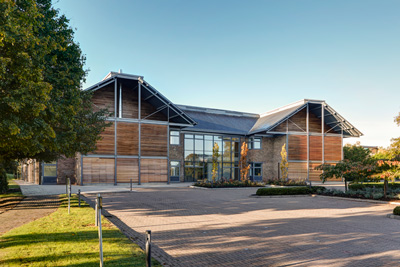 Once the site of a Royal Air Force (RAF) base during World War II, the vision for Kings Hill, an 800-acre mixed-use development located less than an hour from London by rail in Kent, has shifted over time.
The Kent County Council acquired the site in the 1970s, and in 1989 it teamed with Liberty Property Trust UK Ltd., a subsidiary of Pennsylvania-based Liberty Property Trust (NYSE: LPT), to develop a U.S.-style business park. The original goal was stimulating local economic growth, but greater demand for housing in the area led the developers to change course towards a mixed-use development. 
Mark Dance, Kent County Council's Cabinet Member for Economic Development and member representative for Kings Hill, gives credit to the public-private partnership with Liberty Property Trust for adapting the vision. It's "a true success story, where the benefits of public sector involvement mixed with the dynamics of the private sector blend to ensure both delivery of quality and value," he says. "This is proven by both the lasting and continued commitment to the relationship by both parties."
FLEXIBLE BUSINESS PARK SOLUTIONS
Kings Hill was Liberty's first and signature U.K. venture, built on its experience with U.S. markets. More than 300 international and local businesses, including tenants such as Barclays, Cabot Financial, Kimberly-Clark and Rolex, hold offices at Kings Hill. Roughly 5,000 employees are located across 800,000 square feet of office space. Caroline Binns, Liberty's associate director of marketing and leasing at Kings Hill, describes it as "a diverse tenant mix, which makes us less vulnerable to dotcoms."
Liberty continuously repositions spaces, leasing to new businesses and allowing existing tenants to move throughout the office park to adjust to changing needs. This model is rare for the U.K. and offers options ranging from cost-effective flex architecture to high-end, multistory spaces and versatile office villages.
Mark Bates, CEO and co-founder of RDT Ltd., a data-driven insurance software company, is one of Kings Hills' growth stories. In 1991, Bates and his small team of a dozen employees needed a home, and fast.
There were other places we could have taken, but we thought that [Kings Hill] was flexible to growth, and it looked like it was going to mature. And that's what it has done," says Bates.
Nearly 20 years later, Bates' company has graduated through the business park as the company has expanded. RDT quickly outgrew its original 5,000 square-foot office space, and it has both expanded and relocated within the business park. The firm now employs roughly 130 people, with close to 10 percent living at Kings Hill. Overall, roughly 15 percent of Kings Hill residents work on site.
Good to Know

Website: Kings-Hill.com
Located southeast of London in Kent
Land purchased by Kent County Council in 1971 from Ministry of Defence for £475,000
Masterplanned as an integrated business and residential community
"Liberty has been a really good partner. It's always been very accommodating, very pragmatic," says Bates. "Had we been anywhere else, we would have been stuck or had to move." 
("A landlord that doesn't listen and adapt to the needs of a growing, successful company isn't thinking long term," Binns notes.)
Bates, who hails from Bromley in the neighboring county, has also noticed Kings Hill's impact on the larger community: "The whole area has grown significantly since we've been here. The community has a positive view of it, and people know about Kings Hill."
"It's been really positive for our business, the ability to recruit better," Bates adds.
RESIDENTIAL COMMUNITY
Kings Hill resident Cristina Brown first moved there in 2000 with her husband and two children. "I wanted to come to a place where I could bring up my family— where there was going to be lovely things in the environment: beautiful houses, parks, pathways and schools," Brown says.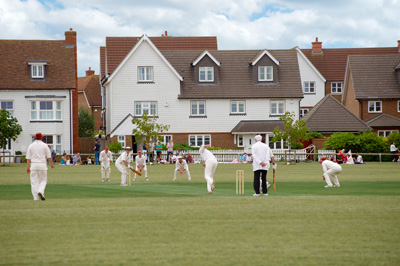 Like Bates, Brown is a Kent native and has noticed the impact on the surrounding community. The area "now has more coffee shops, restaurants, gift shops and things to do. We like to keep it local and support local businesses in the villages."
Brown's family has moved multiple times within the Kings Hill community, common for residents as their families grow or look to experience a new neighborhood within the development.
"I knew no one here when I moved, but I've made lovely friendships with my neighbors, including one of my best friends," she says. "There's a strong sense of belonging. I've been here 16 years, and it's very popular here with families… It brings people together."
CULTURAL STRATEGY AND PLACEMAKING
Liberty added texture to the landscape by filling in the once-flat airfield and designing neighborhoods in different densities and architectural styles. The development includes ecologically-friendly features like wildflower areas to encourage bees, allotments for residents to grow their own vegetables and preserved natural woodlands linked by walkable pathways. Liberty invested in durable, stylish brick block paving and oversees the landscaping to help tie together the neighborhoods while maintaining variety.
About 80 percent of Kings Hill's 2,750 homes are owner-occupied, and the remaining 20 percent a mix of affordable and social housing that includes homes for rent or shared equity.
Unlike the U.K.'s "Garden City" movement, Kings Hill, according to Binns, sees itself as a "garden village." Its smaller scope allows for controlled development, with an emphasis on personal community and placemaking, an approach to design that emphasizes local assets and character.
Placemaking clearly influenced Liberty's cultural strategy at Kings Hill. At the heart of the town center stands the refurbished RAF airfield control tower. The listed Art Deco space includes a cultural center with historic photos, commissioned art work and memorials commemorating the officers who served out of the RAF base during World War II.
"If you have an interesting history, something site-specific, you should use it," Binns says. "We've seen an outpouring of pride and a sense of belonging here. That's what you need to create a sense of place."
Liberty also commissioned public art throughout Kings Hill, including more than 10 full-scale sculptures advised by Futurecity creative consultants. A curator was appointed to select artwork available for purchase to be exhibited in the lobbies of office buildings.
"We're interested in creating environments that enhance people lives, and actually it enhances the bottom line," Binns says of the emphasis on public art. 
Liberty Square and the surrounding area includes convenience-oriented retail options, such as Costa Coffee, Waitrose and ASDA supermarkets, The Spitfire public house, two fitness centers, the Kings Hill Sports Park, a cricket Club, a medical center, and an 18-hole championship golf course. "Designing the housing around a natural English feature like a cricket ground again adds interest and value to homes and communities," Binns comments.
THE FUTURE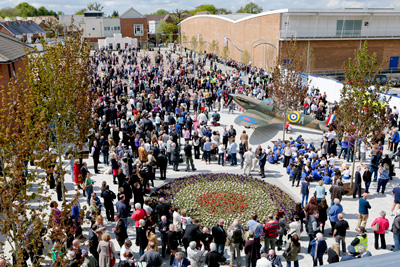 Since 1989, the area around Kings Hill has seen improvements to infrastructure, additional housing and local job creation. A report published by the Royal Institution of Chartered Surveyors (RICS) in February 2016 found that "a key outcome of research carried out on the [Kings Hill] development was that residents felt a strong sense of community and attachment to Kings Hill as part of their identity." Liberty made placemaking "a genuine priority," according to the report.
What About Brexit?

"So far, so good, and all deals we were managing pre-Brexit are now either signed or still moving toward completion post-Brexit." -Andrew Blevins, Managing Director, Liberty Property Trust UK
In 2005, Liberty sold an 80 percent interest of the Kings Hill business park to the private equity firm Doughty Hanson. It maintained a 20 percent ownership stake in the office buildings and kept an asset management role. In 2016, CBRE facilitated the sale of Doughty Hanson's majority share to Harbert Management Corporation, a U.S. private equity firm, with Liberty staying on to continue its management role and 20 percent ownership of the business park. Meanwhile, Liberty and the Kent County Council remain development partners in the ongoing delivery of the wider community, including future expansion of the business park, a new residential neighborhood and supporting amenities.
The next phase of development will include a public park and a new residential neighborhood featuring an additional 635 homes. A third primary school has just been built. Planned rail infrastructure upgrades in 2018 will also improve Kings Hill's accessibility to the city of London's financial district.
If history is any indication, the enhancements should pay dividends for Kings Hill. Taking into account the already high desirability of the Kent area, RICS found that average commercial values in Kings Hill were roughly 40 percent above the national average.
Ultimately, according to Dance, Liberty's involvement with Kent in developing Kings Hill demonstrates how such partnerships "can really enhance the implementation of a successful community."