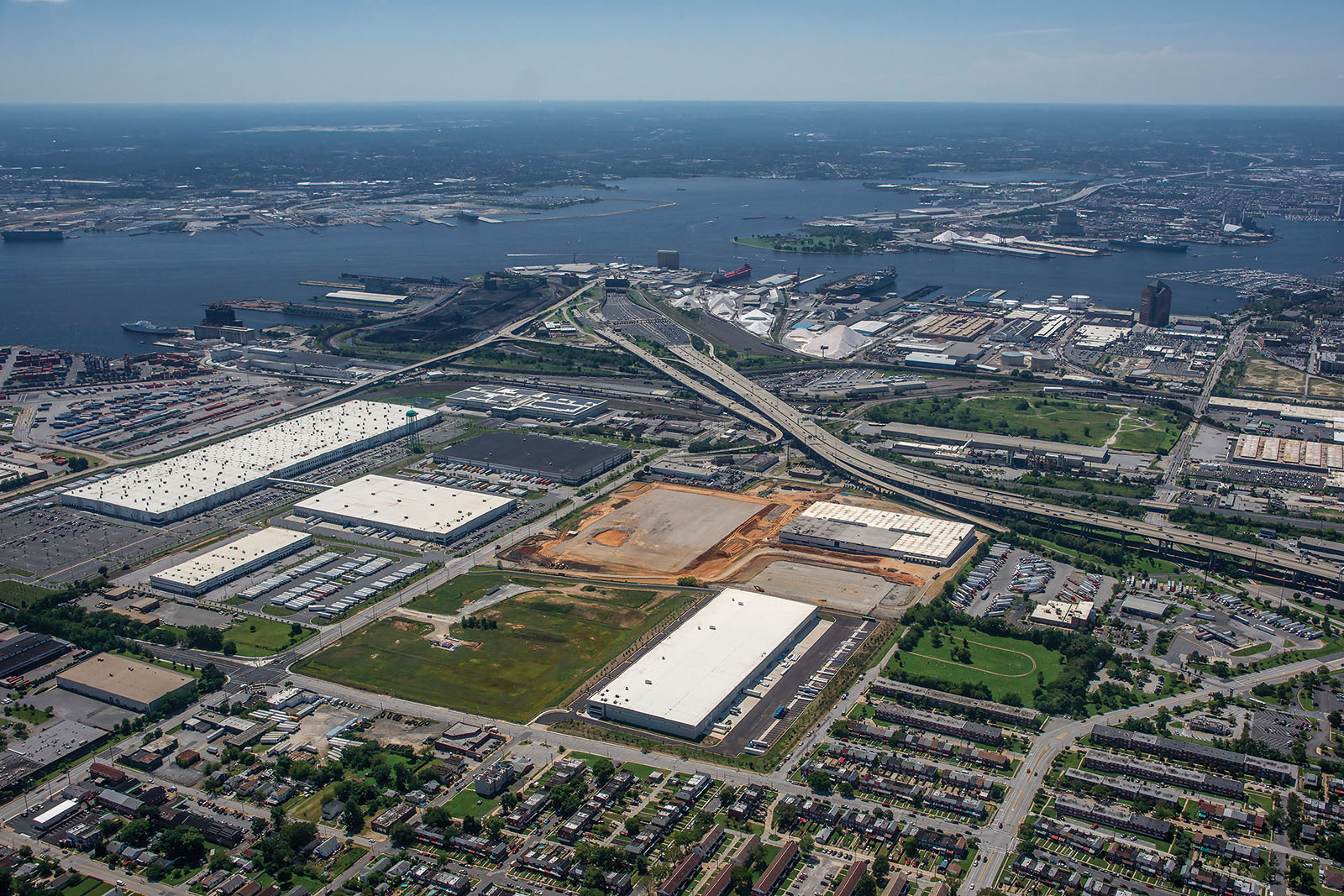 In 2005, widespread changes in the automotive industry led the General Motors Company (GM) to undergo a complete overhaul, closing multiple plants, including its Linden Assembly Plant in New Jersey and Baltimore Assembly Plant in Maryland. Both factories had operated continuously since the 1930s and played important roles in the economies of the local communities.
While employment numbers at both plants had dwindled significantly from those at the height of domestic auto production in the 1960s, the closures put more than 1,500 people out of work in the Linden area and more than 2,000 in Baltimore — a huge hit to both communities. The decades of auto manufacturing had also created severe environmental damage to properties, making it a challenge for the municipalities and any potential buyer seeking to redevelop the sites.
"Once the auto manufacturing left, the facilities were found to be outdated and functionally obsolete. As a result, they were closed and had no use in their existing condition," says Jim Connor, CEO of Duke Realty Corp. (NYSE: DRE), the Indianapolis-based REIT that purchased the former GM sites shortly after their closings.
"Both old General Motors plants were about 3 million square feet and they looked like typical auto assembly plants – a hodge-podge of buildings of different heights basically stuck together with smokestacks, power tanks and every other thing you can imagine. The sites were both an eyesore and a setback to the Baltimore and Linden areas because of the job losses."
However, Duke Realty, with its long history of executing large-scale redevelopment projects, saw the opportunity to do more than just refurbish a couple of old auto plants.
Proximity to Ports, Untapped Potential
The location of the Linden, New Jersey site in a Tier 1 industrial location made its appeal from an investment standpoint clear.
"We thought it was a great infill site in the heart of New Jersey with great access to the New York metro area," Connor says. "It was also fairly close to the Port of New York and New Jersey."
The plan for Legacy Commerce Center: redevelop a billion-and-a-half square feet of industrial space to fill with good jobs, use New Jersey union labor for infrastructure improvements and create tax revenue that would benefit the municipality. The site included roughly 60 acres for industrial use with a small retail component, which is still awaiting development in a joint venture.
During the planning stages, Duke also developed a "strong working partnership" with the city officials in Linden. "There were different programs that were available to help spur development," Connor says. "[The city] helped us through the entitlement process with a great attitude and approach."
In the case of the Baltimore location, Duke had more space to work with, roughly 2.3 million square feet of untapped potential for its Chesapeake Commerce Center.
"What we liked about the Baltimore market was that there was a strong industrial demand in the greater Mid-Atlantic markets supporting that Baltimore-Washington Corridor, and we liked the proximity to the Port of Baltimore," Connor says. The proximity less than a mile from the port presented "great potential for import and export activity: people that service the port, people that bring material into and out of the port."
While the sale was private, the city offered some input in the process. "We were notified by General Motors that they would be issuing an RFP so while we couldn't weigh in on it officially, we explained that we wanted it to stay an industrial-type property and that we didn't want it to become residential," explains Kim Clark, executive vice president of the Baltimore Development Corporation, with whom Duke communicated during the process. "GM was in complete agreement. It was amazing and surprising how smoothly that process actually went."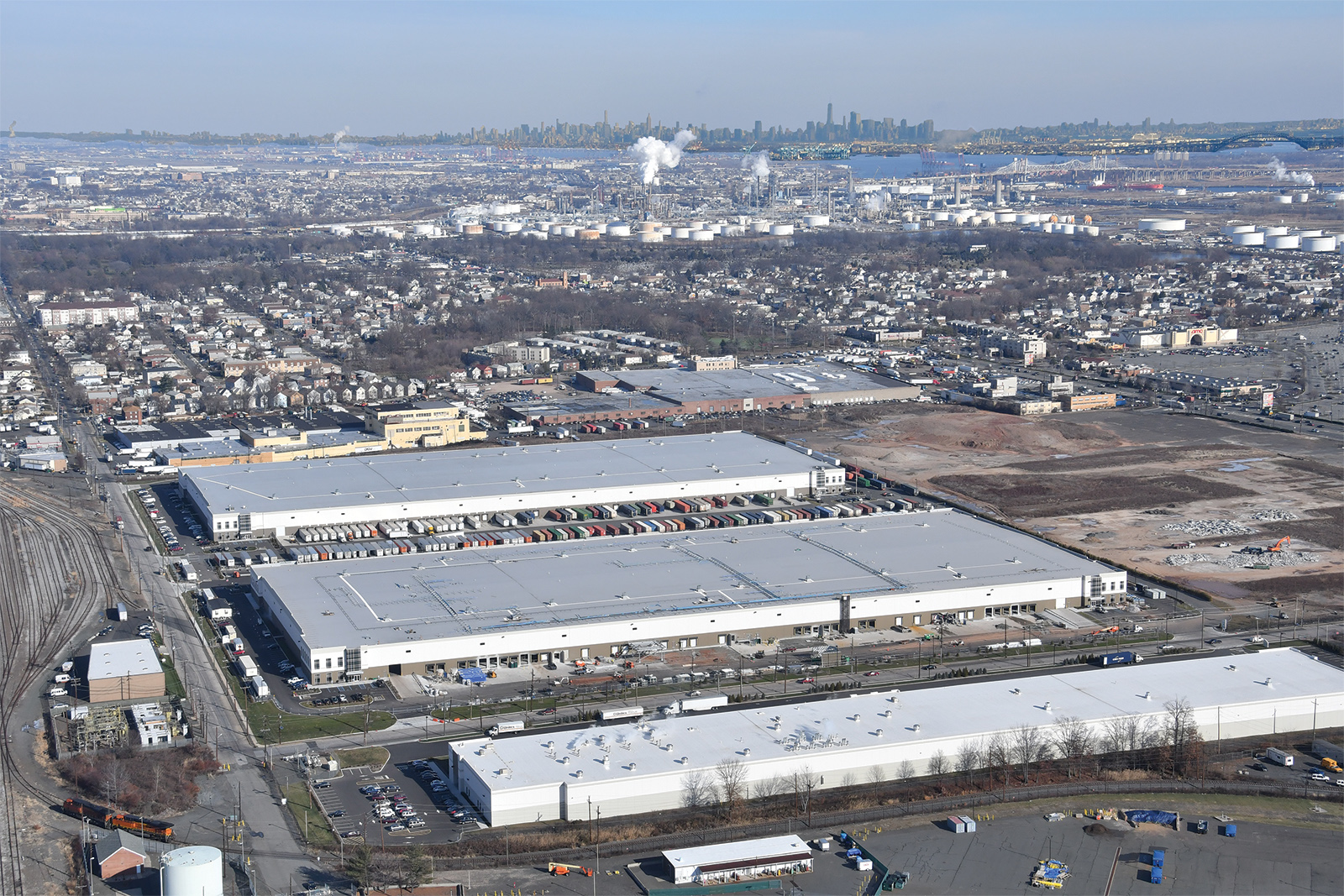 The Baltimore site was also located in an Enterprise Zone and Focus Area. Both qualifications offer tax credits to encourage investment in distressed areas and aid businesses in reducing their real property, personal property and income tax bills.
"Our team had great long-term vision and a high degree of comfort that we could take on the demolition of the plant and the environmental alleviation to take it through its complete entitlement," Connor says. The sites also presented opportunities for long-term jobs and short-term construction jobs for infrastructure improvements.
Environmental Alleviation
But before Duke Realty could realize this vision, it had to work with local municipalities to undertake the extensive environmental cleanup necessary at each site.
"In Linden, we met with the mayor, staff and different folks in the community to share our vision and it was met very positively," Duke Realty's Jeff Palmquist, senior vice president for the northeast region, says. "They helped us tremendously navigating and were a great partner because of environmental challenges and contaminants." Duke also worked closely with the New Jersey Department of Environmental Protection. "They actually worked with the U.S. EPA and Duke to streamline the approval process and oversight."
Duke opened the first of the three Class A buildings at Legacy Commerce Center in 2014 at 801 W. Linden Avenue, just minutes from the New Jersey Turnpike/I-95.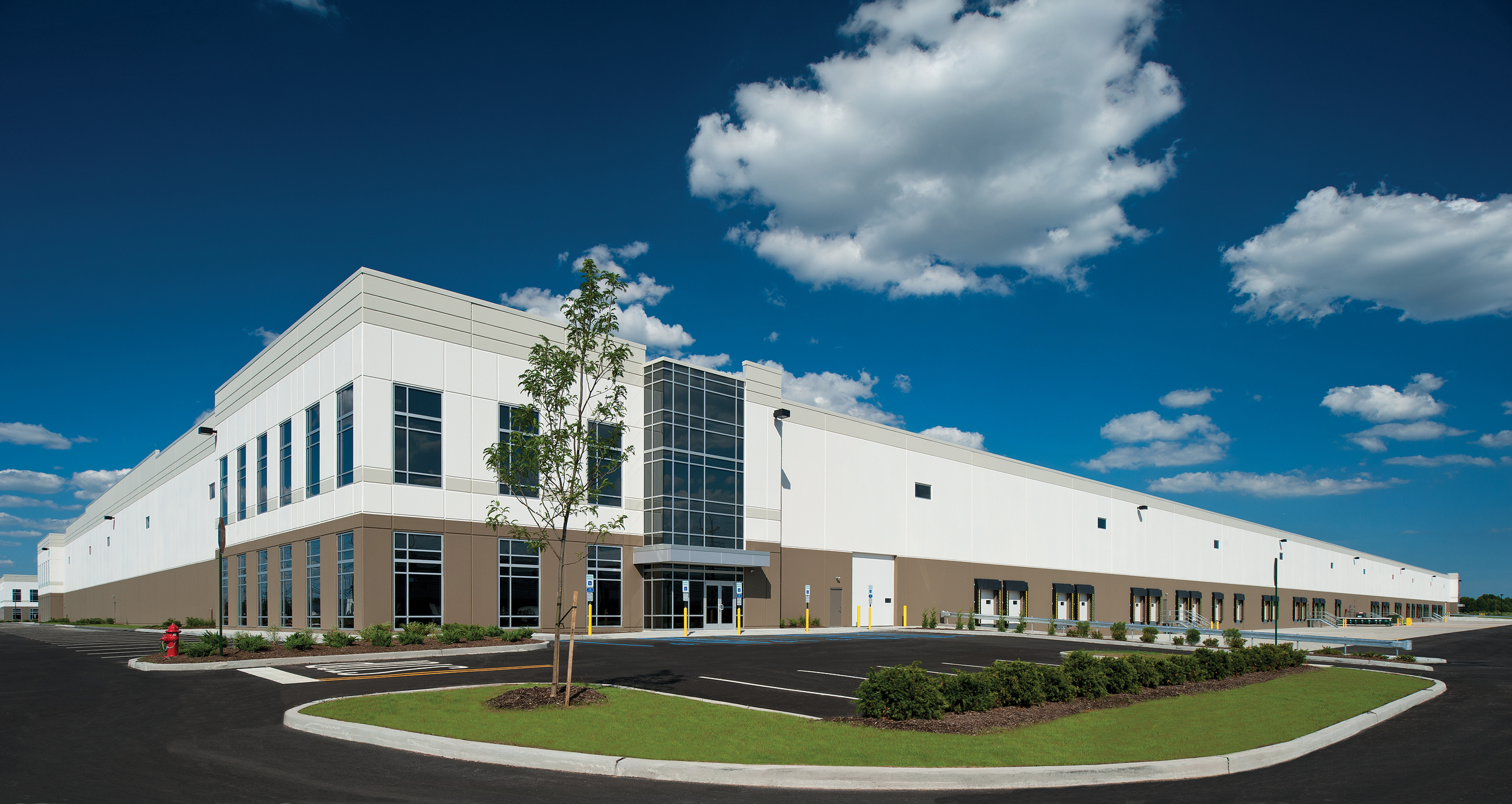 The plans for Chesapeake Commerce Center involved working with a much larger municipality in Baltimore. "The biggest challenge was the environmental condition, but Duke Realty did a great job with the cleanup and recycling materials from the old facility," explains Clark.
Taking down the external buildings turned out to be the easy part. Discovering what was underneath the buildings proved more problematic. "When you think about a General Motors manufacturing plant, it had sections where the floors were three feet thick of concrete with pits that went down 20 feet that supported equipment, machinery, chemicals and oil," Connor says.
After demolition, part of Duke's recycling process included taking much of the existing paving – concrete and blacktop – and grinding it up on site to use in the new construction of the base, floors, and parking lots.
"When we set about to develop it, we committed to doing it as environmentally responsibly as we could," says Connor. The vast majority of the building components were recyclable. "About 98 percent in Baltimore of the building materials, of the non-hazardous and non-environmentally contaminated materials, were recycled on site and used within the project. That's 98,000 tons of materials recycled on the site that didn't have to go into landfills."
The first Chesapeake Commerce LEED-certified building opened in 2008. The industrial park also included 2,200 newly planted trees in addition to other landscaping.
Improving Infrastructure & Municipal Participation
There were also specific transportation concerns and accessibility issues at the Baltimore site. "We continue to have a lot of conversations about infrastructure and access because in the case of both of these parks, we have thousands of employees coming and going every day," Connor says.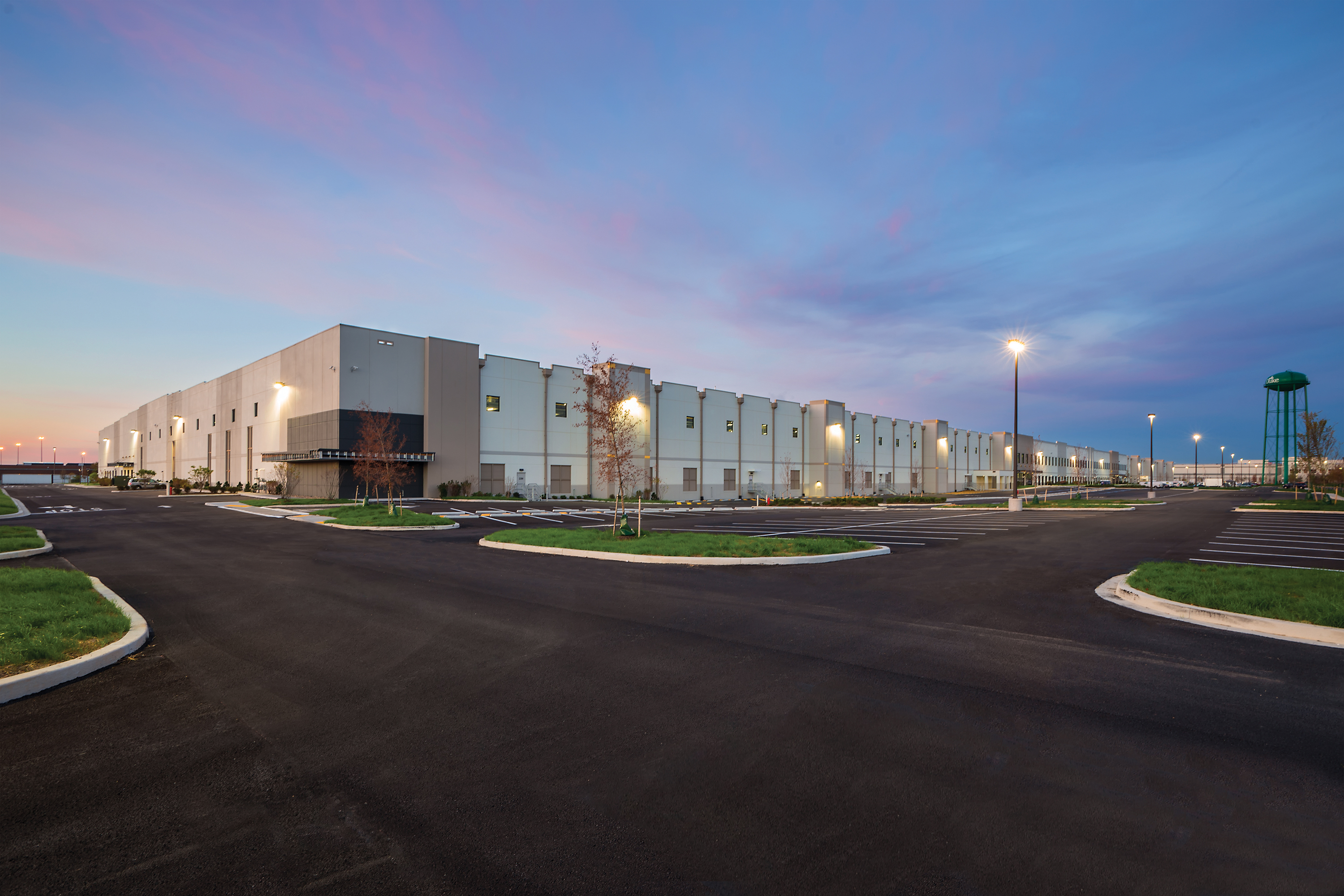 Legacy Commerce easily handled the parking requirements for its three buildings, but the Baltimore site required additional parking and meeting public transportation concerns. "It turned out, given the traffic patterns we had to put in some additional sidewalks and crosswalks for the employees who use public transportation. The city was great at working with the regional transportation department to put in more bus stops and work to help us meet the public safety requirements," Connor says.
"Another challenge was the interstate system," Clark says. "The city used some of its Highway User Revenue funds to redo a ramp off of I-95 to enable better, easier access to the site for large trucks and to completely redo Broening Highway."
The roadway was in "deplorable condition" due to the heavy traffic it had seen over the years. "While there was no official partnership, we felt that the public participation was in Baltimore using its transportation dollars to redo the whole interstate roadway system to improve access," Clark says.
"We had a good working relationship with the City of Baltimore. Cooperation between us, the city, and the tenants helped bring about best possible outcomes for our tenants and for the citizens," Palmquist adds.
Embracing E-Commerce, Employment Gains
The combination of state-of-the-art distribution facilities and ideal locations made the process of finding new tenants relatively easy.
"We have a very good mix of tenants, all consumer product-based and servicing the population," explains Palmquist. Linden is just over 20 miles from New York City. "A lot of tenants in this area are either e-commerce focused or servicing the 30 million-plus people in the population base of northern New Jersey and New York."
The tenants include popular e-commerce companies like home goods seller Wayfair and ingredient-and-recipe meal kit service Blue Apron. Unitex, a leading medical textile rental service provider and Southern Wine and Spirits, a major alcohol distributor, along with local companies C&C Cola and Palace Imports also occupy Legacy Commerce. "The city of Linden has an employment assistance program for local residents, and we've had our tenants work with the city to hire local residents," Palmquist says.
Baltimore's Chesapeake Commerce Center made headlines in 2014 when it welcomed e-commerce giant Amazon to the park, along with a host of new employment opportunities. Duke had previously developed a strong working relationship with Amazon and had built several buildings for the company across the country. Amazon occupies two buildings totaling about 1.4 million square feet in Baltimore.
"Having Amazon onboard was everything we could have dreamed of happening on that site," Clark says. "Duke was just terrific in making that happen. We now have a more modern industrial facility that's employing a lot of the local community and it's just been such a boon for the community."
Chesapeake also features global plastic manufacturer Berry Plastics and the corporate headquarters for Johns Hopkins Home Care Group and Blueprint Robotics, a state-of-the-art computer-aided design and home fabrication company.
"We are strategically adjacent to the Seagirt Terminal in the Port of Baltimore, so it gives the tenants sought after access to the port," Palmquist says. "Because there is an office space component of the warehouse facilities, there is a variety of jobs available including those in middle and upper management."
Right Down Main Street
Fast-forward to today and Legacy Commerce Center is 100 percent leased. Chesapeake Commerce Center is roughly 100 percent leased, with one last site slated for development later this year. Compared to the 1,700 employees at the time of GM closing, Legacy now has more than 2,000 employees. With the boost from Amazon, Chesapeake numbers have doubled from the final GM days to more than 5,000 employees.
Investment-wise, both Legacy and Chesapeake Commerce Centers have performed well, according to Connor. They are also two projects consistent with Duke Realty's overall strategy.
"We are an industrial bulk warehouse company with a long-term ownership perspective. These projects are right down main street for us," Connor says. "When companies think about the difficulties of doing environmentally and socially responsible buildings, it can be done. These are two great success stories."