Brixmor's reinvigoration of its open-air shopping center portfolio is creating its best leasing environment to date. 
09/18/2018 | by
Two years spent focused on driving intrinsic growth at Brixmor Property Group (NYSE: BRX) are bearing fruit, as the company's efforts to untap the potential within its portfolio are being reflected in its best-ever leasing outlook.
With a portfolio of more than 475 retail centers, Brixmor is one of the nation's leading owners and operators of open-air shopping centers partnering with more than 5,000 national, regional, and local tenants.
Projections for future growth are strong. James Taylor, Jr., who has served as Brixmor president and CEO since May 2016, says that demand within the open-air segment is growing, as retailers look to build store count and get closer to their customers. That's being seen in Brixmor's current leasing numbers, and Taylor believes it will continue to be reflected in its leasing numbers going forward. 
"We are sitting on one of the most robust forward pipelines that we've had as a company, and the gap between the spaces that we have leased and what we're billing is as large as it's ever been," Taylor says. "In fact, we're signing leases [in July 2018] that don't commence until 2020. So, as we sign those leases, we're getting better and better visibility on our future growth as retailers are lining up their future plans."
At the end of the day, Brixmor's product to investors is a sustainable and growing dividend, the CEO says: "When an investor buys Brixmor, that's ultimately what they get, supported by a great portfolio of real estate that has a lot of growth potential." Taylor says Brixmor is "uniquely positioned to deliver upon that product because of our great locations, the strong tenant relationships we have, and the low in-place rents that allow us to drive accretive reinvestment in our properties."
More than the Sum of its Parts
Brixmor is a legacy company comprised of several different entities, including Heritage, New Plan Excel, and Kramont—all shopping center companies that got rolled up in transactions made by Centro Properties Group U.S. from 2004 to 2007. A Blackstone affiliate acquired Centro in 2011, at which time Centro changed its name to Brixmor Property Group. Blackstone rationalized the Brixmor portfolio, while also making improvements in systems, before taking the company public in 2013. Blackstone sold its remaining stake in Brixmor in 2016.
"We became a company with significant scale, one of the largest, if not the largest, shopping center companies with a truly national portfolio, across 80 different markets, with a portfolio size that at the time was probably close to 700 assets," Taylor says. 
Upon joining the company, Taylor says he set about positioning Brixmor for what he thought was a unique opportunity across the shopping center space—to drive intrinsic growth through better leasing, more aggressive reinvestment in the properties, as well as more aggressive capital recycling. Since the company's initial public offering (IPO) in 2013, the portfolio had been relatively static at about 530 properties. After coming onboard, Taylor says Brixmor reduced the total number of assets to about 480, taking advantage of the strength of the private capital bid for community and grocery-anchored centers, and exiting those markets and assets where there was limited growth potential. The company recycled the proceeds into its existing portfolio with the goal of making its centers more vibrant and more relevant to the communities they serve. 
"The average age of our center is about 35 years old, the real estate is well-located and the rents are relatively low," Taylor says. "So, these centers generally provide an opportunity to not only lease the property at higher rents as older leases expire, but also to accretively reinvest in those properties to produce sustainable growth."
Five-Pronged Strategy
Taylor explains how Brixmor's current strategy has proceeded along five fronts: attracting better tenants and rents; repositioning and redeveloping properties; capital recycling; improving operations; and ensuring maximum balance sheet liquidity and flexibility. 
From a leasing perspective, Brixmor continues to focus on attracting better tenants and higher rents. The company is also making sure that it's growing its relationship and market share with tenants who continue to thrive in today's environment by being relevant to the consumer, Taylor says. "When you look at our top tenant list, you can see who those tenants are."
Using that same demand to guide the repositioning and redevelopment of the properties is key. For example, Brixmor took back several Sports Authority boxes as part of their bankruptcy and has released and repositioned those assets with new uses like fitness, home specialty grocer, and value apparel. This has resulted in a positive impact on the balance of the center. 
"The small-shop tenants who rely on the anchor to drive the traffic see better outcomes, and we're able to drive better growth in the rents and improve the tenancy in our small shops as well," Taylor says. "When we do that, we create long-term value for ourselves and for the community, and drive greater productivity of the tenants who are in that center, which allows us to grow rent."
Capital recycling, meanwhile, recognizes implicitly that the decision to hold an asset is an investment decision.
"For certain assets, we don't have the ability to drive good sustainable growth, and in that circumstance, we capitalize on the stronger private market bid for the income associated with these centers," which helps continue to fund redevelopment, Taylor says. "It also helps us make accretive acquisitions in markets that we already have a significant presence. Our capital recycling strategy is really driven towards making our existing assets better and clustering our investments in markets that we like long term." Brixmor expects to complete more than $750 million in dispositions this year.
In Ann Arbor, Michigan, for example, Brixmor acquired Arborland at the beginning of 2017 to complement the presence that it already had in that market. It did the same thing in Escondido, California, where it purchased a center directly across the street from an asset that it owned. 
Continuing to improve operations—to make sure that centers are well-kept, well-run, and attractive places for tenants to do business and for communities to gather—remains essential, Taylor says. 
Compelling Redevelopment
While the REIT has made several acquisitions over the years, its focus currently is more on the redevelopment side. When Taylor started, the company's redevelopment and reinvestment pipeline was basically zero. Today it sits close to $300 million, and is a key element of its growth going forward.
"Currently, where cap rates are, it's more attractive for us to invest in redevelopment than outright acquisitions, but over time we'll turn on that acquisitions spigot more as it relates to the capital recycling part of the strategy," Taylor says. "It's in redevelopment that we are creating value for shareholders today."
For example, the company remerchandised and expanded the former GattiTown Pizza in Frisco, Texas, at Preston Ridge, a regional power center, with a Saks OFF 5TH and Nordstrom Rack. It added a new pedestrian plaza to heighten the sense of community and spent $14.2 million in net projected costs. 
Then there's the ongoing redevelopment of a former A&P in Mamaroneck, New York, with a 12,000-square-foot CVS and a 13,000-square-foot North Shore Farms. The company is also demolishing an adjacent 5,000-square-foot residential building to accommodate construction of more retail. Shopping center upgrades include landscaping, storm water upgrades, parking lot enhancements, and the addition of LED lighting.
At its Wynnewood Village property in the Dallas market, Brixmor is razing an old office building and constructing an LA Fitness and Maya Cinemas that the REIT believes will thrive in the under-served submarket. "The first phase will begin the transformation of a tired shopping center into a vibrant hub of this very dense community," Taylor says.
Ross Smotrich, senior equity analyst at Barclays, explains that what Brixmor management has done effectively over the last two years is assess its portfolio and ramp up both the strategic and tactical moves that it needs as a landlord in this evolving retail environment.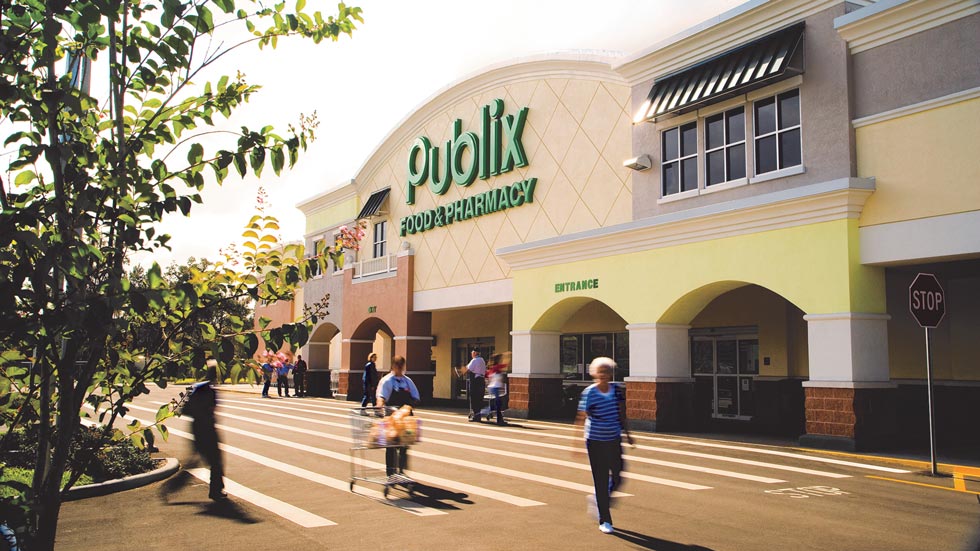 "A good management team [or] good retail real estate company understands that distinction and manages their portfolio to lighten up on the assets that are going to struggle and concentrates efforts on those that will be relevant," he says. "You have to have a vision, the financial capability and ability to move the needle, and I think Taylor and his team fit that description."
Location Matters
From an investment standpoint, Brixmor focuses on markets where it has an existing presence. It has benefitted by already having a national platform with significant concentrations in the Northeast and Midwest, as well as in Florida, Texas, and California.
"There are certain markets where we see great long-term fundamentals and certainly markets that have high education levels that are particularly attractive to retailers," Taylor says. "However, you've got to go further into the real estate itself and determine whether you have the opportunity to drive intrinsic growth in the rents." 
Samir Khanal, a REIT analyst at Evercore ISI, says the firm upgraded Brixmor's stock in June to outperform, given that the company had higher visibility of same store net operating income (NOI) growth for 2019.
"We are positive on the stock as management still expects to achieve 3 to 4 percent same-store NOI growth, including redevelopment, in 2019 … We believe Brixmor has greater visibility to achieve that number assuming there are no major tenant bankruptcies or restructurings over the next 12 months," he says.
Community-Minded Focus
Taylor says a worthwhile property is one that's connected and relevant to the community it serves.
Centers needs to be vibrant and thriving, with a good mix of retailers that generate sales, Taylor says. "The assets of which I'm most proud oftentimes have a great mix of national retailers, like some of our top tenants, but also key local retailers whom I call the local anchors, like Chickie's & Pete's at Marlton, in New Jersey, where we brought a local sports bar concept that's a phenomenon, and became another anchor for the center, driving more traffic and creating more vitality."
Taylor understands the country isn't lacking for shopping centers. But he does see the need for better shopping centers and ones that are more compelling to the extent that the center truly connects with the community that it serves and has retailers that are relevant.
"So, in some markets that'll mean that you'll target a Kroger or Publix as your anchors and in other markets you'll target a Sprouts or Trader Joe's specialty grocer, or you might even target a Fresco y Más or an H Mart, a more ethnic grocery," Taylor says. "There are certain concepts that work in some markets and don't work in others, but what's key is that you match that local community with merchants that they consider relevant."
One thing Taylor has his eye on are the digitally-adept retailers who are increasingly understanding the importance of brick-and-mortar retail.
"You see them expanding into stores in physical locations as a way to differentiate themselves from other purely web-oriented businesses, and I think that's an exciting trend," he says. "I don't see them necessarily taking large boxes, but I see them taking many of the small-shop opportunities that we have in our portfolio."