Every day, REITs impact communities in a variety of ways, from strategic development and place-making to creating jobs and adding to the local tax base. In some cases, REITs are even helping to save lives.
"REITs are major contributors to the communities in which they operate by nature of owning the buildings and operating where people work, live, and shop" explains Jenny Bean, senior vice president of human resources for Duke Realty Corp. (NYSE: DRE). "But our contribution shouldn't stop there."
"The fabric of our society and economy is strengthened when we work together to engage with our communities and lend a helping hand to those in need," says Bean, who has helped spearhead the company's social engagement. Duke Realty has fostered relationships with organizations like the American Red Cross, with whom it has partnered since 2017. In June, Duke Realty was formally named an American Red Cross Disaster Responder member, thanks to its ongoing support as one of the largest supporters nationwide of the organization's annual disaster program.
Duke Realty joins fellow REIT AvalonBay Communities Inc. (NYSE: AVB) in this capacity. Disaster Responder members provide donations that allow the Red Cross to both immediately respond to events and prepare for disasters in advance by securing shelter locations across the U.S., purchasing food and emergency supplies, warehousing materials in strategic locations, pursuing next-generation technology, and providing a volunteer network.
Strategic Giving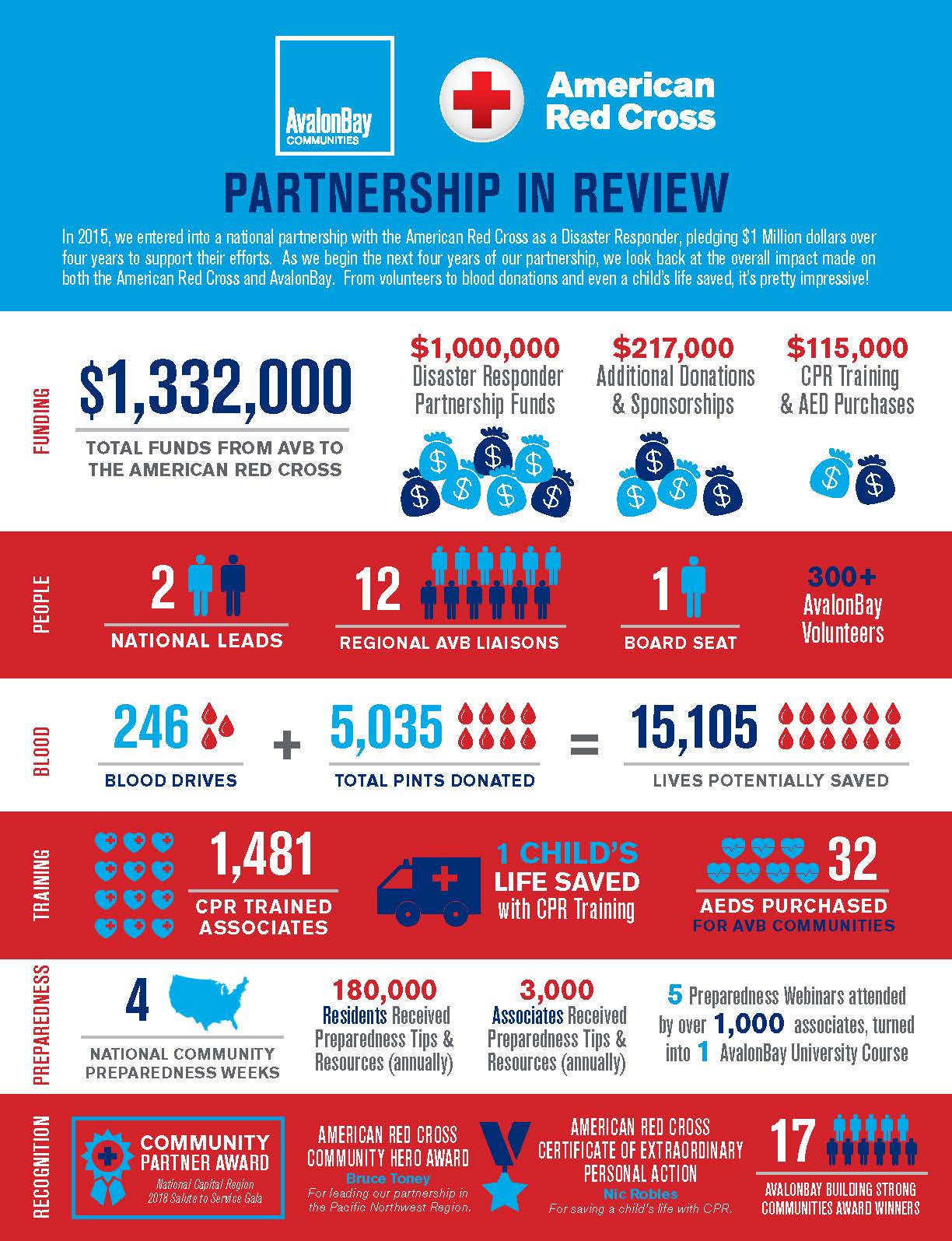 AvalonBay elevated its social impact by launching its "Building Strong Communities" philanthropy program in 2015.
"We wanted to become more strategic with our giving efforts," says Christine McElhinney, AvalonBay's senior manager of corporate responsibility, "so we selected three focus areas: affordable housing, support for at-risk populations, and community preparedness/disaster relief." Through the latter initiative, AvalonBay forged a national partnership with the American Red Cross in 2015.
Each year, the American Red Cross immediately responds to close to 70,000 disasters around the country, providing not only food, shelter, and clothing, but also offering comfort and care to help those affected by a disaster during their time of greatest need. According to the organization, members of their Annual Disaster Giving Program (ADGP) and Disaster Responder Program pre-invest in disaster relief, ensuring the Red Cross can preposition supplies, secure shelters, maintain vehicles, and train volunteers nationwide, so they're ready to respond, day or night.
Since becoming a Disaster Responder member, AvalonBay has donated $1.25 million toward the Red Cross's immediate response efforts in the wake of disasters such as Hurricanes Harvey and Irma. Along with their associates and residents, they have participated in the annual "Community Preparedness Week" and donated more than $300,000 in support of local events, CPR training, disaster relief campaigns, and automated external defibrillators (AEDs) used to help those experiencing sudden cardiac arrest. These community and regional efforts have included more than 275 blood drives totaling 5,600 pints of donated blood. "Each pint of blood could help save up to three lives, so our blood donations to-date could potentially help save 16,800 lives," McElhinney says.
Natural Fit
"Disasters"—growing in scale and frequency—encompass everything from apartment fires to natural catastrophes to attacks such as the Boston Marathon bombing, which occurred steps from an AvalonBay community. They greatly impact real estate, so the connection between REITs and disaster relief campaigns is a natural fit.
"As a REIT and owner/operator of communities that many people call home, it is important to AvalonBay to ensure that our residents and associates are prepared for emergencies and disasters," McElhinney says. "Partnering with the Red Cross not only strengthens our national and local relationships ahead of an emergency or disaster, but it also allows us access to preparedness resources and information for our 3,000 associates and 145,000 residents," she adds.
Partnerships with the American Red Cross also present REIT associates with real, hands-on volunteering and civic engagement opportunities. Volunteers comprise more than 90% of the disaster workforce, allowing the organization to respond to nearly 70,000 disasters every year, most of them home and apartment fires. The organization provides free disaster training—both online and in-person—to all its volunteers.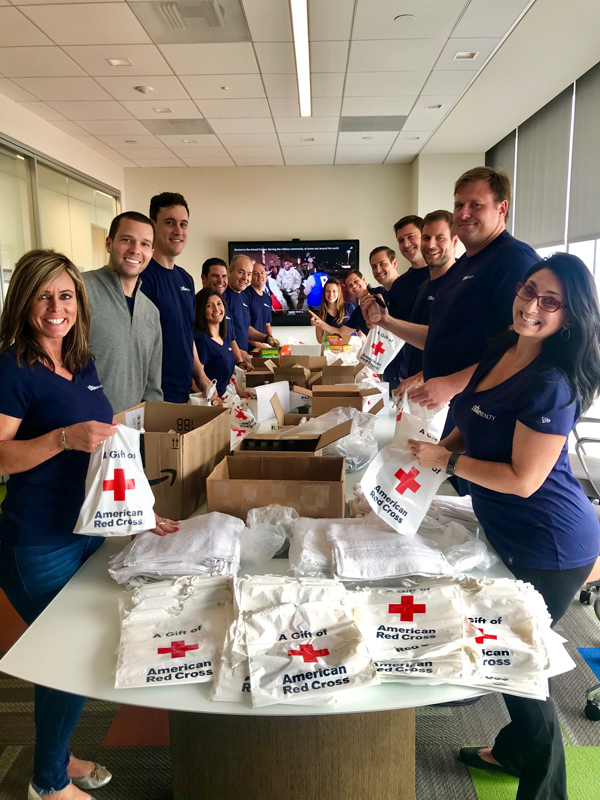 "[Duke Realty] felt it was important to team up with an organization that does widespread good across the U.S. and offers our associates the opportunity to volunteer," Bean says. "There are volunteer opportunities in each city where we have a presence for our associates to be directly engaged in helping alleviate human suffering and assist in building resilient communities."
Duke Realty has participated in the Red Cross's "Sound the Alarm" campaign by installing home smoke detectors in more than a dozen communities, donated blood for the "Sleeves Up" campaign, mapped 18,000 buildings to help locate vulnerable individuals around the world, and prepared 3,000 kits for military troops overseas.
Both Duke Realty and AvalonBay have witnessed the positive impact their involvement with the Red Cross has in communities and within the organizations. "At Duke Realty, encouraging associates to give back has positively impacted satisfaction, engagement, and pride," Bean explains.
For AvalonBay, "the biggest reward has been seeing the impact it has had on individuals," McElhinney says. "Whether it's supporting those who have lost everything to a disaster, installing smoke alarms in local neighborhoods, or providing blood donations for those in need, this partnership is not only building strong communities, it's helping save lives," she adds.