Federal Realty's Pike & Rose mixed-use development confirms the REIT's innovative approach to neighborhood creation.
09/24/2020 | by
The completion this summer of 909 Rose, Federal Realty Investment Trust's (NYSE: FRT) latest addition to its transit-oriented Pike & Rose mixed-use development, highlights the REIT's long-term sustainability track record and its commitment to creating communities that are aligned with the evolving needs of tenants and residents.
Situated in North Bethesda, Maryland, six miles north of Washington, D.C. and two blocks from a Red Line metro station, Pike & Rose achieved LEED for Neighborhood Development (LEED ND) v2009 Stage 3 Gold certification in late 2018—the first REIT-owned and developed project to receive the designation. The U.S. Green Building Council's LEED ND was created to inspire and help create better, more sustainable, well-connected neighborhoods.
Federal Realty, which has long called Montgomery County, Maryland home, became the class-A office building's first occupants, as it sought to unite its corporate teams under one roof. The move to 909 Rose places Federal Realty at the center of Pike & Rose's thriving sustainability-focused community, a decade in the making.
Jay Brinson, vice president of development at Federal Realty, says 909 Rose is well suited to meet the new demands for offices in the wake of the COVID-19 pandemic, "with progressive healthy building systems and a convenient location for firms looking to exit more dense urban environments or open satellite office locations to capitalize on the expected shift occurring in millennial housing trends."
Completing Pike & Rose with commercial office buildings solidifies its place as a 24/7 community, adds Mickey Papillon, vice president and regional general manager at Federal Realty. He expects 909 Rose to catalyze construction of hundreds of thousands of additional square footage of office space at Pike & Rose during the next decade, as demand increases. "From first thing in the morning when people grab coffee to their last drink of the night, our customers are using the neighborhood as their campus with an amenity base never before seen in the community," Papillon says. "There is an incredible amount of pride and ownership for our team to move to a 24-acre project that their company created, designed, and developed over the past decade," says Papillon.
Road to Pike & Rose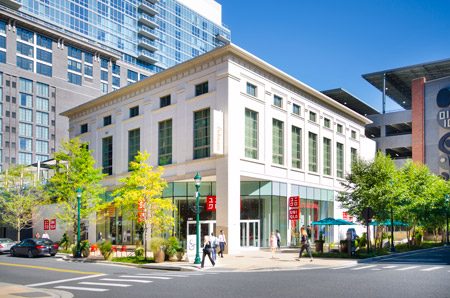 Federal Realty has had a base in Montgomery County for roughly 60 years, with properties up and down the busy Rockville Pike thoroughfare, as well as in surrounding neighborhoods. Projects include Rockville Town Square, Congressional Plaza, Federal Plaza, Wildwood Shopping Center, Montrose Crossing, and Bethesda Row.
Prior to Pike & Rose, the area was home to the Mid-Pike Plaza shopping center, which Federal Realty purchased in the 1980s. The 250,000 square-foot plaza boasted ample parking and established consumer interest.
Montgomery County's 2010 White Flint Sector Plan provided the catalyst for Pike & Rose's development. The plan prescribed the zoning, development guidelines, and overall vision for turning car-dependent shopping centers with large asphalt parking lots situated within a three-quarter mile radius of the Red Line metro station into vibrant, mixed-use communities.
"[Federal Realty] was very involved in the development of the plan, listening to and building support within the community and providing the blueprint for mixed-use communities going forward," Montgomery County District 1 Council member Andrew Friedson explains.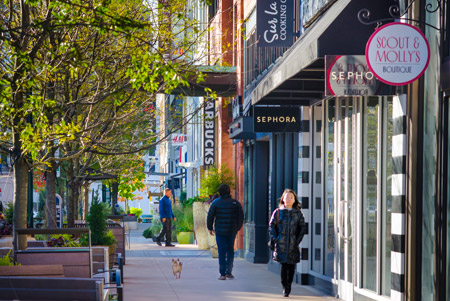 The plan enabled owners in the area to get entitlements for additional density and up-zoning, and "Federal seized this opportunity to redevelop Mid-Pike Plaza," Papillon says.
Federal Realty aimed for a smooth transition between the popular Mid-Pike Plaza and the new Pike & Rose, without cutting off the local income stream before a full-fledged replacement was ready.
"Federal implemented a detailed process by first closing half the center, walling it off and building the first phase of Pike & Rose, and once complete, closing, demolishing, and rebuilding the other half," explains James Milam, Federal Realty's senior vice president of regional finance & portfolio manager.
The REIT completed its master plan in 2012 and opened its first phase in 2014. Pike & Rose now comprises 379,000 square feet of retail, 864 apartments and condominium units, a 177-key hotel, and nearly 300,000 square feet of class-A office buildings.
"Federal Realty is an incredibly important private partner in the county's effort at building mixed-use, transit-oriented communities in order to meet our economic development, climate, and quality of life goals," Friedson says. "The reality is that the public sector alone cannot create a Pike & Rose," he adds.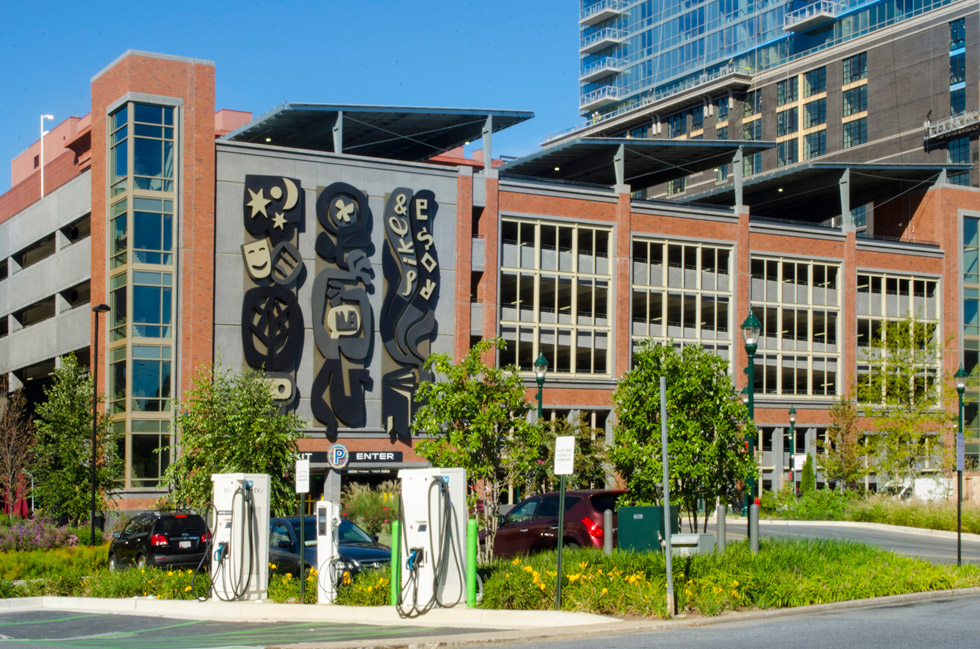 Incubator for Innovation
Federal Realty had already shifted to using sensible technology upgrades, and sustainability measures and contracting processes across its portfolio prior to Pike & Rose, which  presented a unique opportunity to experiment with further eco-minded innovations.  
"When we build mixed-use projects, they frequently become incubator sites for the rest of the company," Papillon explains. Advances include everything from energy efficiency, water conservation, renewable energy, recycling, waste diversion, and electric vehicle charging, to more complex issues like sustainable transportation, climate, weather and natural disaster resilience, submetering, property management training and guidelines, and green leasing initiatives.
"[These sites] are laboratories that allow us to experiment, to try different things that then benefit the rest of our portfolio," Milam says. He describes the REIT's flagship developments, Pike & Rose and Assembly Row in Somerville, Massachusetts, as "cornerstones of the overall portfolio."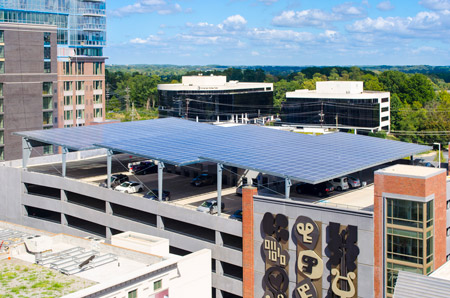 The Pike & Rose neighborhood features advanced stormwater management that starts at the top, with green roofs on the majority of its buildings, complemented with silva cells underneath the sidewalks to handle runoff. The solar panels on top of the garage generate most of the power for the structure, and there is a massive electric vehicle charging infrastructure.
"The LEED Neighborhood Development certification is rarely seen at other REIT investment projects, and there are only a few dozen in the world," Papillon says, in reference to garnering the sustainable design distinction.
Specific to Pike & Rose are solar installations, native and sustainable landscaping, bike sharing, electric vehicle stations, and access to multi-modal transportation. Another unique feature—one of the largest rooftop farms in the Mid-Atlantic region. The Farm at Pike & Rose premiered in 2018 and provides 17,000 square-feet of green space and garden area adjacent to one of Pike & Rose's residential buildings. The Farm cultivates a variety of crops to sell to residents and the community.
"All of these elements reflect what our community and our customers are looking for and help not only from an environmental standpoint but demonstrate that we care about the community where we live and work every day," Papillon says.
Pike & Rose's focus on sustainability has also inspired additional efforts in the surrounding community. "There's no question it has helped our ambitious sustainability goals by allowing more people to live and work near major transit," Friedson observes. "It's also led us to invest in 'complete streets' —bicycle lanes and sidewalks that are wide, safe and attractive, and roads where the priority is safety over vehicle throughput," he adds.
Community Flavors, Long-term Values
Sustainability is just one facet of Federal Realty's long-term approach to development; reflecting the needs of communities in which the REIT operates is another. "We took the values of this community and made sure they were incorporated into Pike & Rose," Papillon says.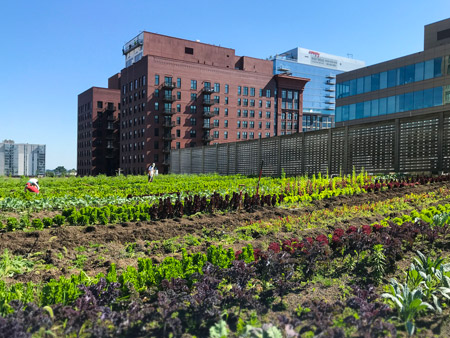 Having a long track record of developed assets in their base region gave the Federal Realty team a deeper understanding of the local market and community goals. "This has helped us both in terms of understanding what we thought would fit into the area when we embarked upon the redevelopment...and also helped us deliver the best mix of tenants with diverse products and services that fit into the community," Milam says.
The Pike & Rose neighborhood features a mix of luxury condominiums and apartments, a boutique hotel - Canopy by Hilton, Pinstripes and IPIC entertainment venues and restaurants and retailers such as West Elm, Summer House Santa Monica, Uniqlo and Fogo de Chao and the local small-batch bakery, Sunday Morning Bakehouse from Montgomery County native Caroline Yi.
One tenant they envisioned as another seamless fit: the team behind CAVA Group Inc. Ike Grigoropoulos, Ted Xenochristos and Dimitri Moshovitis are the founders of the successful restaurant group that includes the fast-casual chain CAVA and CAVA Mezze locations inspired by their Greek heritage. The CAVA owners had no plans to open another full-service restaurant until Federal Realty showed them an open site at Pike & Rose. It was full of potential.
"When I saw the glass-enclosed building, I loved it and the park's atmosphere," CAVA co-owner Ted Xenochristos says. The idea for Julii, a full-service restaurant at Pike & Rose was born. "We knew that this area and neighborhood would be a natural fit and we're excited to have the opportunity to bring customers the flavors of Julii," he says.
Xenochristos also notes that Federal Realty helped them obtain a liquor license, add valet parking, and help coordinate bands and cooking events in the park at Pike & Rose.
According to Milam, being structured as a REIT has supported this approach to thoughtful placemaking and community-oriented development over decades.
"There are several advantages to being a REIT that have helped us with a project like Pike & Rose. One of the main advantages is that we are a fully integrated owner, operator, developer, and leasing company," Milam explains. "We handle the entire project. We have all of the skill sets to create, design, and build a project that is this complex," he adds. The team also attributes its ability to execute large-scale projects to the support it receives from investors in the public markets who respond to a strong business plan.     
On-the-ground Insight
When Federal Realty outgrew its previous location, it temporarily separated the company offices between two locations while keeping an eye out for the right spot, at the right time.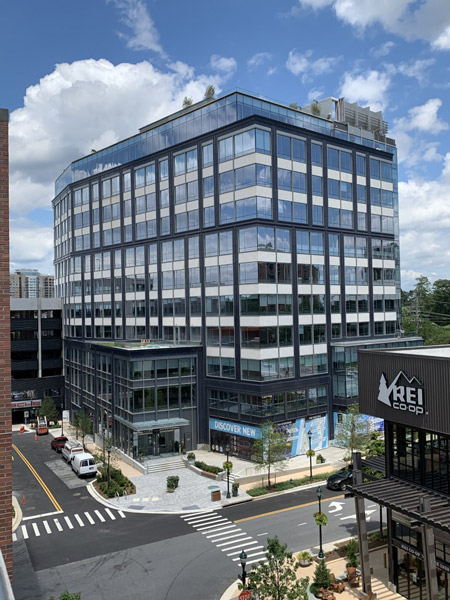 "As we started thinking about this next office building, one of the natural paths for Federal was to be in the building," Papillon says. The move from nearby offices in Rockville to Pike & Rose made perfect sense. "The timing was right, and our teams are ready to be together again," he says.
Federal Realty now occupies two floors, roughly 44,000 square-feet of office space at its new home. "There is synergy that only comes with being physically at the space and being part of a community you developed. It has a big impact on everything that we do," Papillon says.
Their team also sees the natural advantages to being part of the physical community they serve. "We are predominantly focused on the retail industry and sector, so we focus on creating a place at the street level that becomes an attraction for people who then want to work and live, or in the case of the hotel and our residential offerings, stay in the neighborhood," Milam adds.
Creating and designating areas for group gatherings and rotating events has helped foster a sense of place and community at Pike & Rose. During the 2018 and 2019 summers, Federal Realty introduced The Beach at Pike & Rose, bringing in roughly 252 tons of sand to create a summertime community beach.
"Pike & Rose has been tremendously beneficial. It has attracted new businesses and new residents while providing a community destination that is a true focal point and gathering spot," Friedson says.
The on-the-ground team also keeps a close eye on trends in the neighborhood and emerging residential needs. According to Federal Realty, about 25% of Pike & Rose residents own dogs. To cater to these residents, this fall Pike & Rose is premiering Bark Social, a dog park with a coffee bar and beer service. Patrons can bring their dogs on an ad-hoc basis or sign up for annual subscriptions.
"The response so far to Bark Social has been incredible," Papillon says. Organizers hit their target goal for memberships within the first few days. They've also seen memberships from the surrounding region as well. "Bark Social is something we'd been working on for many months and lined up serendipitously with what ultimately was happening in the world, people starting to re-emerge, but wanting to go to places where they feel safe and can socially distance," he adds.
Investing in the Future
Federal Realty says it hopes to build upon the community trust it has already established and is looking forward to future phases of Pike & Rose. As of 2020, the company has constructed half of Pike & Rose's total entitlements. "As you can see, we approach our projects as long-term investments," Milam notes.     
The completion of 909 Rose is the latest step in this overall trajectory for Pike & Rose, and for Federal Realty at large. "This office space is in a very nicely amenitized neighborhood. It should lead to greater employee satisfaction, higher retention rates among employees, and also give other tenants the ability to attract talent to their companies over time, which is obviously very important for their success as well," Milam says. He adds that there's more to come from the development.
"We still have more than a million-and-a-half square feet of entitlements that we will develop over the next decade, as demand warrants. About half will be office product and the other half residential. We look forward to continuing to add homes and places to work as well as density to this neighborhood as it grows and matures," Milam says.  
Federal Realty's team plans to keep a clear focus on sustainability at Pike & Rose, which they say can help raise both industry and community standards.
"As leaders in the industry, we have a responsibility and an opportunity to positively impact our communities, employees, investors, tenants, and the environment, which are all critical components to long-term success," Milam observes.
According to Friedson, the inspiration goes beyond the industry and has raised the bar at the regional level as well. "Walkable, attractive, vibrant and welcoming—Pike & Rose is a place that draws people in and a place that other communities around Montgomery County and the region point to when considering the future of their older, car-oriented places," he says. 
Read more from September/October issue of REIT magazine, available now in an interactive PDF.