Content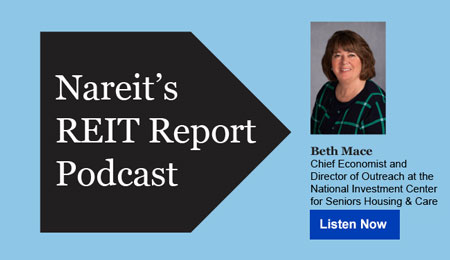 Beth Mace, chief economist and director of outreach at the National Investment Center for Seniors Housing & Care (NIC), was a guest on the latest edition of Nareit's REIT Report podcast.
While the senior housing sector faces some near-term challenges, including a decline in occupancy in broad aggregate terms and labor force wage pressure, Mace said the sector remains a compelling story for investors.
The sector continues to attract interest from public and private equity and debt investors both at home and abroad, Mace said, resulting in "significant" cap rate compression.
Looking ahead, demographic forces are "just getting better," Mace noted. The greatest growth right now is in the 75 to 82-year old cohort, which is expected to grow at about a 4.3 percent annual rate in the next three years, she pointed out.
As for near-term challenges, Mace observed that occupancy rates have slipped, rent growth has slowed and supply has picked up. "Demand is strong, it just hasn't been strong enough to prevent an occupancy decline." She stressed, however, that individual markets can vary quite widely.