5/19/2014 | By Michele Lerner
Published in the May/June 2014 issue of REIT magazine.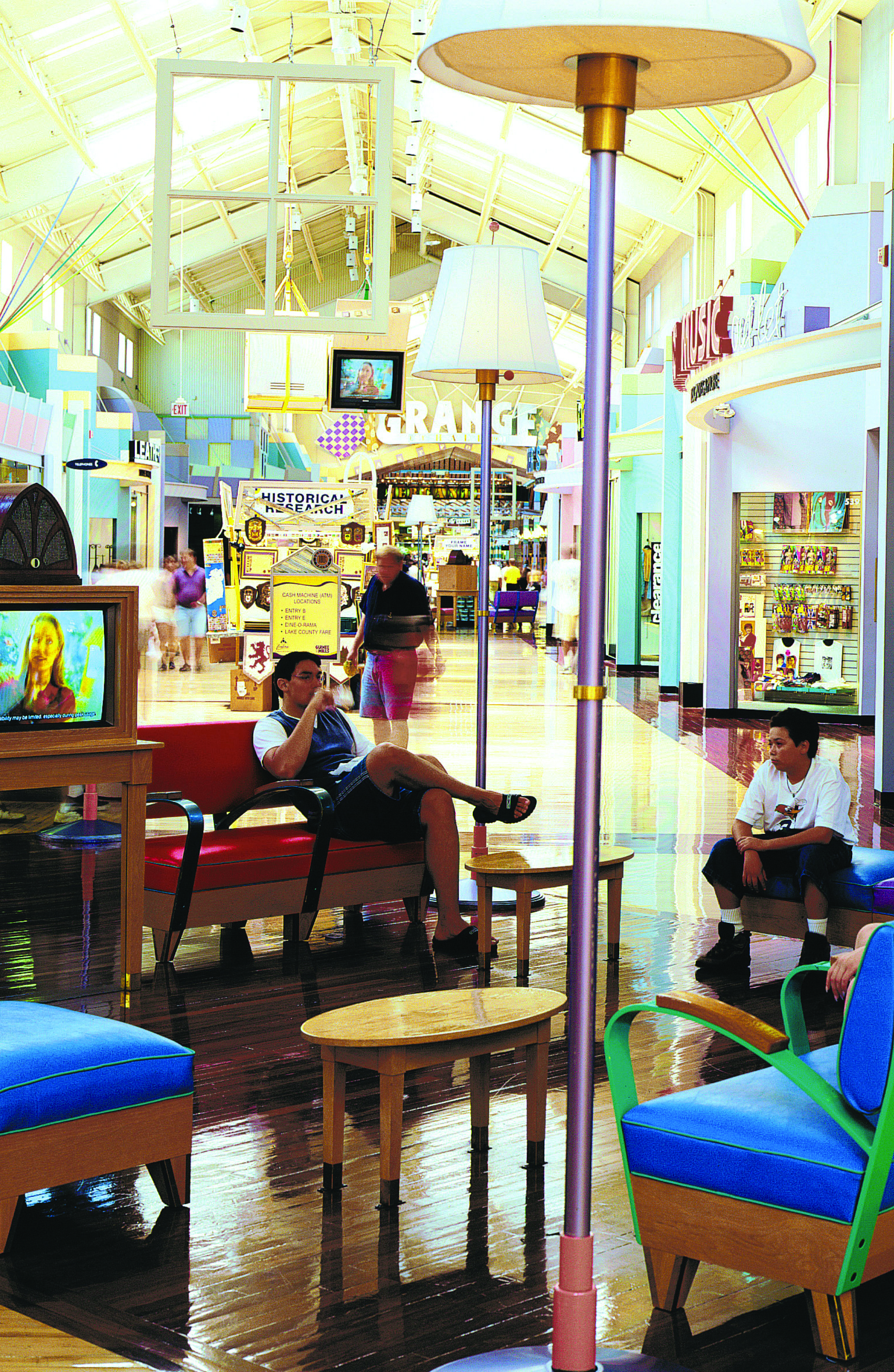 THE DAYS OF strip shopping centers where customers grab and go may be disappearing now that retail property owners recognize the importance of creating a destination to attract customers who will visit more often and stay longer. Shopping malls, too, are no longer the province of bored teens; retail REITs are developing centers with appeal to all demographics.

Retail property owners are now trying to make shopping centers and malls as holistic as possible—developing them into entertainment attractions with more restaurants and nightlife so that stores can stay open later and landlords can charge more rent, says Alexander Goldfarb, managing director and senior REIT analyst in the research department of Sandler O'Neill + Partners.

"We think about our customers a lot because we want our malls not just to be a place to shop, but a place that becomes an intersection of their lives, where they eat once or twice a week, workout every day, get their nails done and hang out with friends," says Michael Glimcher, chairman and CEO of Glimcher Realty Trust (NYSE: GRT).

Gary Edwards, chief customer officer for Mindshare Technologies, says shopping malls are moving past the traditional model of providing a collection of smaller stores along with an anchor store. Instead, they are shifting to focus on customer experience, according to Edwards.

Neighborhood shopping center owners, too, are ramping up their sites with new technology, new tenants and events that drive traffic to stores, says Conor Flynn, COO of Kimco Realty Corp. (NYSE: KIM).

These new strategies are partly a response to the pressures of e-commerce and the sluggish economy. However, they're also a play to build demand among tenants for retail REITs' space.

OMNI-CHANNEL MARKETING
Edwards says that retailers have gone beyond the idea of multiple channels of interaction with customers to "omni-channels," encouraging customers to simultaneously shop online and in person.

"We've partnered with [retail REITs] Macerich (NYSE: MAC) and Westfield (ASX: WDC) and with Deliv, a same-day delivery service, so that customers can order online and then have their order filled from the nearest store," says Mikael Thygesen, chief marketing officer of mall REIT Simon Property Group (NYSE: SPG). "We're also piloting a 'hands-free' shopping service so that people can shop during the day, have a meal or go to a movie and then do a curbside pick-up of their bags when they're finished or even have the purchases delivered to their home the same day."

One segment of the retail sector doesn't appear to be overly affected by the explosion of e-commerce: grocery-anchored shopping centers. Bruce Schanzer, president and CEO of Cedar Realty Trust, Inc. (NYSE: CDR), says the business has some ingrained protections against online competitors.

"We have not seen as much of an incursion of the e-grocer concept," he notes. "As a practical matter, grocery is a very thin-margin business, and inserting that incremental cost of delivery has so far not made it a viable strategy."

TECHNOLOGY AND SHOPPING CENTERS
Rather than bemoan the migration of consumers to shopping online, Ross Smotrich, managing director and REIT analyst for Barclays, says the trend among retailers is to take a holistic approach to their business to develop a multi-prong distribution system for merchandising, advertising, inventory and the delivery of goods.

At Kimco's shopping centers, the company is using analytical tools to understand the needs of local communities and tailoring its sites to fit their desires. For example, Kimco has added Ranch 99 markets, the dominant Asian grocery store chain in California, to many of its shopping centers. The fi rm is also testing electric car charging stations in 10 of its California shopping centers.

"We're expanding the availability of WiFi to more shopping centers because we know it increases dwell time when customers can stay personally and professionally connected," Flynn says. "It's still in the early stages, but we're partnering with Apple to develop ideas that we can spread nationally around technology."

At some Simon malls, consumers can access interactive digital concierge services for information and directions. Thygesen says Simon's websites are designed with a mobile-access mindset so that consumers can use them easily while they're shopping.

EXPERIENCE RETAIL
Mall owners are increasingly looking beyond which stores to bring in, Edward says. They're designing destinations—places people want to be even when they're not shopping. Glimcher Realty Trust's CEO says his company has embraced this new conception of the mall.

"Our emphasis on experience retail is driven by the understanding that people are social animals who want to interact with each other," Glimcher says.

Many Glimcher malls now have bike spinning classes, yoga studios and "affordable luxury" services, such as Drybar shops where visitors can have their hair blown dry and movie theaters with reserved seats.

Another focus for Glimcher is providing interesting food options at their malls, particularly with local or regional restaurants rather than national chains. The company tries to make sure its sites have unique stores, too. For example, the Arbor Hills mall in Ann Arbor, Mich., has the only Anthropologie and Madewell stores in the surrounding region.

At Kimco shopping centers, Flynn says the company has been partnering with emerging retail tenants to attract customers. These include Sprouts Farmer's Markets and Fairway, both regional specialty grocery stores that recently went public.

"Now we're partnering with Fresh Times Farmer's Markets, which is bringing specialty grocery stores to the Midwest," Flynn says. "We take pride in finding unique concepts that haven't gone mainstream yet in restaurants, too."

Experience retail isn't just about shops and restaurants, though. Simon, Kimco and Glimcher have all taken steps to attract customers to events and concerts. At the Westlake shopping center in San Francisco, Kimco partnered with Petco to bring in a snowmaking machine to create a temporary snow park for dogs last year.

"We're trying to make shopping a more pleasurable experience and increasing the services and amenities provided at our malls," Simon's Thygesen says. "Our focus for the past two or three years has been to 'surprise and delight' our customers with things like a coupon for free coff ee or sample packages of M&Ms to thank people for shopping there. We added greeters during the holidays, and in some locations, we've added a 'Simon Shuttle' to transport people between their cars and the mall."

Kimco is adding more seating areas to its centers, while Simon and Glimcher are upgrading malls with amenities such as outdoor fountains where kids can play.

"We know that 80 to 90 percent of our customers are female, so we're looking at five-star hotels and emulating them when we renovate our bathrooms with things like lounges and nursing stations," Glimcher says.

Individual stores, too, are focused on providing tactile experiences for customers, Edwards says.

"Lululemon does a great job of carrying a small inventory of each style so people will come back to the store every month or so," Glimcher notes. "Asics has a treadmill and a monitor in their store so you can try on shoes, and they'll help you figure out which shoes work best for your running style."

Exceptional customer service is another element of experience retail. Simon has hired a hospitality expert to coordinate the eff orts of its property management and marketing departments. Simon malls have concierges and guest services, and the company is testing out mall-wide personal shoppers who can give fashion advice to customers for all stores, not just one retailer.

DRIVING DEMAND
The drive for these enhancements comes at a time when the retail REIT sector is emerging from a down year.

Smotrich foresees the tide turning for the sector: "Last year retail REITs underperformed, as did all REITs, but this year I think REITs will do better overall and retail REITs will benefit from that."

While retail REITs try to create destination properties, Smotrich says it's important to keep in mind that it's not consumer demand that drives retail real estate in the near or intermediate term, but retailers' demand for space. "We're seeing strong occupancy and renewal rates that we think are sustainable," he says.
Michele Lerner is a regular contributor to REIT magazine.