LOS CERRITOS CENTER (CERRITOS, CALIF.)
Macerich, 2014 Retail Leader in the Light Award Winner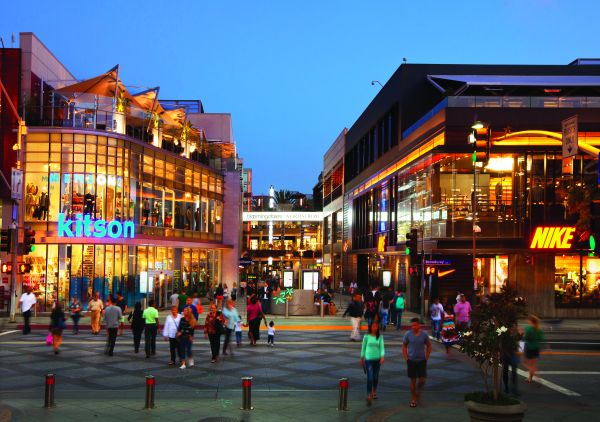 In the past six years, retail REIT Macerich (NYSE: MAC) has reduced its energy use by more than 29 percent and cut its carbon footprint by more than 150,000 metric tons. At Los Cerritos Center in Southern California, the firm focused on simple, low-cost improvements to better manage existing operations.
"In 2009, this meant resetting operating schedules for lighting, repairing HVAC economizers and controls, fixing irrigation system leaks and water run-off, and performing night-time property walks to ensure all systems were off during non-operating hours," says Ed Coppola, Macerich's president.
Since then, Macerich has added high-efficiency technologies throughout the property, such as waterless urinals and LED lighting. Los Cerritos Center now features a large-scale solar power system and customer-focused efforts that include onsite waste and recycling and charging stations for electric vehicles.
Green Gains: Implementation of sustainable operations and efficient technologies at the shopping center are reducing common area utility use by more than 30 percent from original levels.
333 BRANNAN ST. (SAN FRANCISCO)
Kilroy Realty Corp., 2014 Office Leader in the Light Award Winner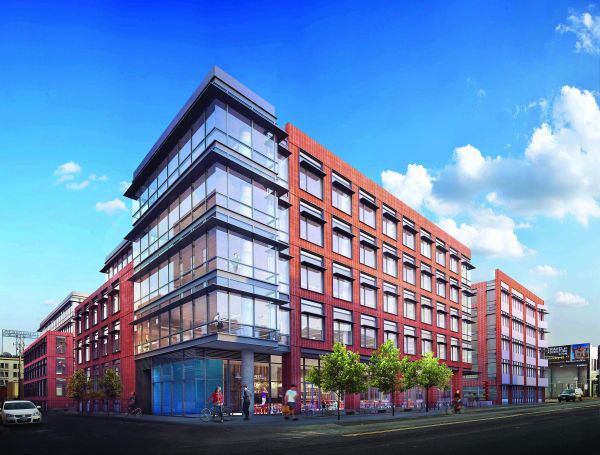 Going green is a competitive necessity for Kilroy Realty Corp. (NYSE: KRC), according to Sara Neff, the office REIT's vice president for sustainability. The company's growing number of tech industry tenants "care a lot about sustainability, so the product we supply to them needs to meet their high standards," she says.
There's also the reality of concentrating on the West Coast.
"In California, utility rates seem to be increasing exponentially, and in order to stay competitive, we need to be managing those costs," Neff states. Kilroy is currently developing 333 Brannan St., a 180,000-square-foot, six-story building in San Francisco that will offer retail space on the ground floor, six levels of office space leased to Dropbox, and a luscious roof garden. Neff says Kilroy is aiming for a LEED Platinum certification for the project.
Green Gains: Among its ecofriendly amenities, 333 Brannan St. is designed to allow for ample natural light and 100 percent outside air, ultimately providing a healthier work environment.
PORTS JERSEY CITY DISTRIBUTION CENTER (JERSEY CITY, N.J.)
Prologis, 2014 Industrial Leader in the Light Award Winner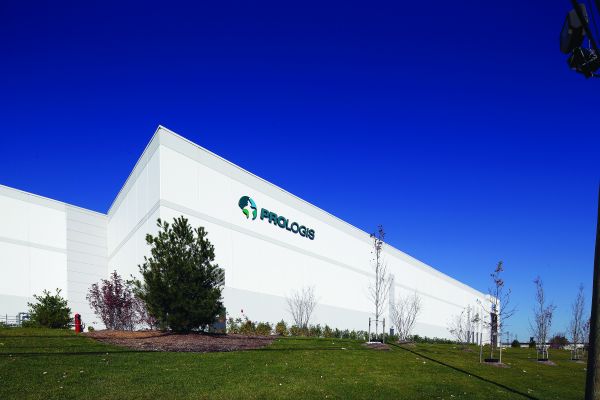 The site of the Ports Jersey City Distribution Center sits on a former industrial waste landfill that had been empty for more than 30 years when industrial REIT Prologis (NYSE: PLD) acquired the property in 2008. Prologis partnered with the New Jersey Department of Environmental Protection and the U.S. Environmental Protection Agency to redevelop the property and return it to productive use.
"The newly developed 878,254-squarefoot facility is fully leased, providing critical distribution space in a supplyconstrained market in the heart of the nation's largest population center, three miles from Manhattan and four miles from the Port of New York/New Jersey," says Jeannie Renné-Malone, vice president for sustainability with Prologis. She notes that the facility features LED lighting, windows that enhance natural lighting and environmental systems to mitigate any issues related to its previous use as a landfill.
Green Gains: Areas of the Ports Jersey City Distribution Center site have been restored to a natural waterfront habitat.
SUNRISE GREEN ENERGY (NATIONWIDE)
Ventas, Inc., 2014 Health Care Leader in the Light Award Winner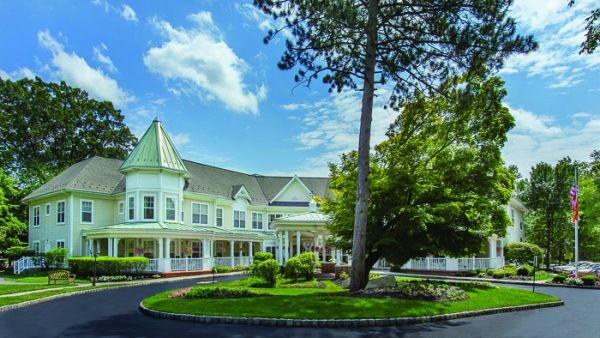 Ventas, Inc.'s (NYSE: VTR) Sunrise Green Energy focuses on investments in new mechanical, electrical and plumbing systems at senior housing properties owned by the health care REIT. Additionally, aging pieces of equipment are upgraded to new, more efficient models.
Brian Fry, director for asset management with Chicago-based Ventas, says sustainability is important to the REIT's tenants, operating partners, shareholders and communities.
"It's exciting to look at further opportunities for sustainability projects within the Ventas portfolio that might include investments in lighting, solar, wind, cogeneration, water, roofing, etcetera," Fry says. "Senior management is eager to hear about these new ideas, which provide opportunities to enhance shareholder returns, improve our buildings, and work with our tenant and operating partners."
Green Gains: Ventas has invested $3.4 million through its Sunrise Green Energy initiative in more than 20 senior housing properties in New York, New Jersey and Pennsylvania.
888 SEVENTH AVE. (NEW YORK CITY)
Vornado Realty Trust, 2014 Diversified Leader in the Light Award Winner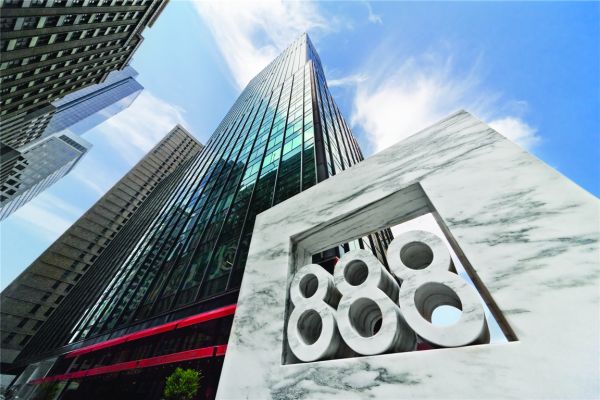 Sustainability starts at home for Vornado Realty Trust (NYSE: VNO).
"One example of how we deploy our energy efficiency [capital expenditures] strategically is the work we have done at our headquarters building at 888 Seventh Ave. in New York City," says Sukanya Paciorek, Vornado's senior vice president for corporate sustainability.
Vornado went "through a robust audit, retro-commissioning and energy efficiency capital allocation and project implementation process" for its home base that led to significant changes, according to Paciorek. Enhancements included green cleaning, improved water efficiency and better air quality.
Green Gains: Vornado boosted 888 Seventh Ave.'s ENERGY STAR score, which measures buildings' energy consumption versus similar facilities nationwide, from the national median of 50 up to 75 in a short span of time.
MEADOWHALL SHOPPING CENTRE (SHEFFIELD, ENGLAND)
British Land Company PLC, 2014 Global Leader in the Light Award Winner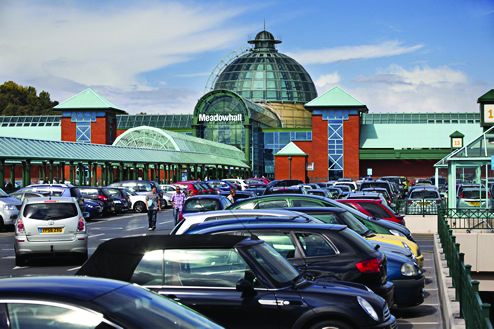 Helen Lo, sustainability communications adviser for British Land Company PLC (LSE: BLND), says it's important to the company to make its assets sustainable to protect their future value. The U.K. REIT managed to reduce energy usage by 42 percent at the Meadowhall Shopping Centre in Sheffield, England, through a combination of capital expenditures and behavior-based initiatives.
"As an example of their proactive approach in practice, they recently installed 15,000 energy efficient light fittings, as well as managing air handling units carefully on a daily basis, increasing natural ventilation and encouraging staff to be more energy conscious," Lo says. The property also has a borehole that accounts for part of its water supply.
Green Gains: At British Land Company's Exchange House at Broadgate, the fi rm has cut energy use by 44 percent in six years, reducing carbon emissions by 7,000 tons and generating savings of more than $1.4 million.
888 BOYLSTON ST. (BOSTON)
Boston Properties, 2014 Special Recognition Leader in the Light Award Winner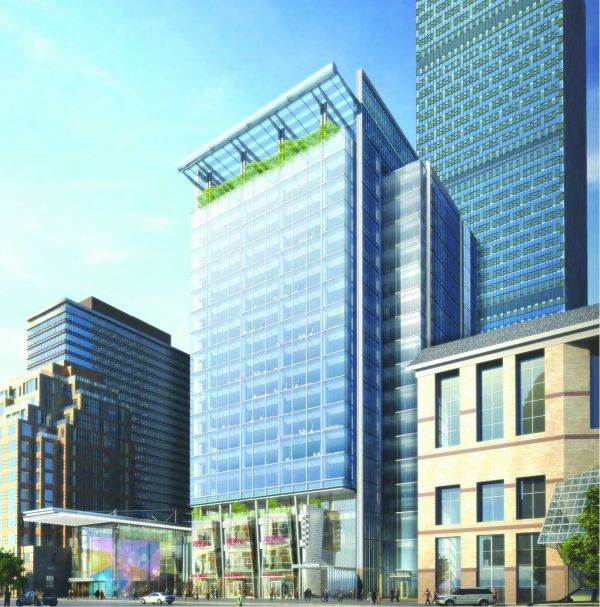 Ben Myer, sustainability manager for Boston Properties (NYSE: BXP), says the REIT has advanced its program to elevate awareness and focus on the economic, environmental and social aspects of its business practices.
"We are seeing a growing body of evidence that indicates a correlation between green-labeled buildings and increased asset value, higher net rents, reduced vacancy, and increased occupant productivity, health, and wellness," he says. "Today, more than ever, our tenants and shareholders are connecting the dots between sustainability and financial performance."
Once complete, Boston Properties' 888 Boylston St. development in Boston will be the most sustainable building in the Hub, according to Myer. He says the glass-exterior Back Bay tower will operate on 45 percent less energy and 37 percent less potable water than an average office building.
Green Gains: 888 Boylston St.'s design will allow daylight to serve as the primary interior-light source, enabling tenants to keep the lights off 60 percent of the time.
HYATT REGENCY MAUI RESORT AND SPA
Host Hotels & Resorts, Inc., 2014 Lodging/Resorts Leader in the Light Award Winner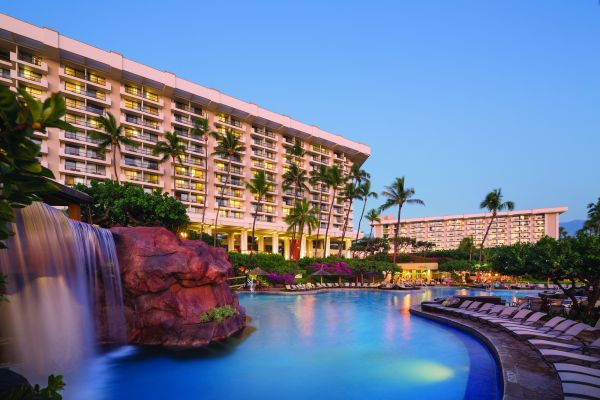 Host Hotels & Resorts, Inc. (NYSE: HST) teamed with management at the Hyatt Regency Maui Resort and Spa to turn the resort into the first in Hawaii to achieve LEED Silver status. The designation in 2014 also made it the first LEED-certified property in the Host Hotels portfolio.
"Host collaborated with hotel management and the operations teams to complete renovations throughout the resort, integrating innovative technologies and best-in-class sustainability practices to achieve LEED certification," says Joanne Hamilton, executive vice president for human resources and executive champion of corporate responsibility at Host Hotels. "Energy saving technologies include a stateof- the art guestroom energy management system and heat recovery equipment that takes waste heat from the HVAC system to heat the resort pool and domestic water."
Green Gains: The Hyatt Regency Maui Resort and Spa's sustainability program includes the donation and diversion of about 1,500 pounds of food waste per day to local farms for animal feed and compost.
---
GRESB SECTOR LEADERS
GRESB annually identifies Sector Leaders from the participants in its survey. They include the companies and investment funds with the highest overall GRESB score for their property type in their region.
Nine NAREIT Corporate Members were included in the latest group of Sector Leaders:
British Land Company Plc (Europe: Diversified (Office/ Retail) – Large Cap)
Equity Residential (North America: Residential - Large Cap)
General Growth Properties (North America: Retail - Large Cap)
HCP, Inc. (Global: Health Care)
Host Hotels & Resorts, Inc. (Global: Hotels)
Kilroy Realty Corp. (North America: Office - Large Cap)
Prologis (North America: Industrial - Large Cap)
Shaftesbury Plc (Europe: Other - Large Cap)
Ventas, Inc. (Global: Other)