Content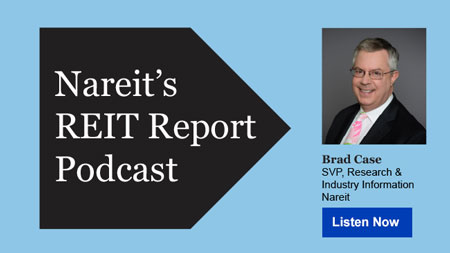 Brad Case, Nareit senior vice president for research and industry information, was a guest on the latest edition of Nareit's REIT report podcast.
Case discussed some of the latest REIT market trends – including valuation levels and volatility.
Case noted that REITs have been pulling ahead of the broader market since early March. Concern about valuations in the non-REIT portion of the stock market has meant that investors are looking around for undervalued assets, he said. "I think that's certainly where REITs have been for well over a year."
Underlying real estate operating fundamentals remain strong, so current REIT valuations "don't really make a whole lot of sense," according to Case.
Case said he expects to continue to see a change in REIT valuations going forward, such that REIT stock prices are more in keeping with the strong underlying fundamentals.
Meanwhile, Case noted that stock market volatility increased in March whereas REIT market volatility did not. "That's very telling. Volatility is a measure of uncertainty and I think there is increasing uncertainty about whether the stock prices for several non-REIT companies…can be justified by their earnings growth in the future," he said.
Case added that evidence is starting to emerge, both in terms of returns and volatility, "that maybe the bright lights that have been distracting investors away from REITs for the last couple of years, may be fading a little bit."