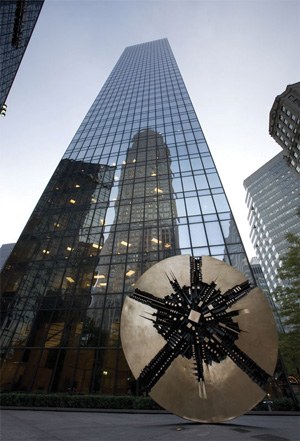 Withmuch of the hard work of rightsizing its office portfolio and bolstering its balance sheet now complete, Dallas-based TIER REIT, Inc. is looking ahead to listing on a national securities exchange later this year.
TIER REIT, a public non-listed REIT, has emerged from a multi-year rebranding process. It included a move to self-management in 2012, saving $12 million annually in operating expenses. The company also shed its old name, Behringer Harvard REIT I, Inc., in 2013.
TIER REIT President and CEO Scott Fordham says he anticipates a listing in the third quarter. "We think that's when everything comes together and the obstacles will be behind us," Fordham says.
Seeking Investment-Grade Rating
Other changes made by TIER REIT include moving from 32 markets in 2010 to 15 markets today and reducing leverage from approximately 70 percent of its net debt to estimated real estate value down to 40 percent during that same period.
Yet, there is more to be done, according to Fordham.
"We are still working to lower our weighted-average borrowing cost to position the company for future growth and an investment-grade rating," Fordham says. TIER REIT hopes to achieve that rating by 2017, but with ongoing efforts to reduce its exposure to interest rate and refinancing risks, "we could be in a position to do it beforehand," he adds.
VITAL STATISTICS:

Name: TIER REIT, Inc.

Address: 17300 Dallas Parkway, Suite 1010, Dallas, TX 75248

Phone: (972) 483-2400

Website: www.tierreit.com

Management Team:

Scott W. Fordham,
President & CEO

Dallas E. Lucas,
CFO

William J. Reister,
EVO & Chief Investment Officer

Telisa Webb Schelin,
SVP, Legal, General Counsel & Secretary

James E. Sharp,
Chief Accounting Officer
"We feel we're really set up to move forward and create value for shareholders," Fordham states.
Evidence of that: The company reinstated an 18 cent dividend in the second quarter. "That was a major objective for us in 2015," Fordham says.
Targeting Growth Markets
While currently active in 15 markets, TIER REIT has narrowed its target focus to seven where it expects the most growth potential: Atlanta, Austin, Charlotte, Dallas, Denver, Houston and Nashville. It also has assets in Washington, D.C. and Los Angeles, and two seen as short-term "value creation" markets, according to Fordham, in Louisville, Ky., and Tampa, Fla.
The remaining markets are ones that TIER REIT is seeking to exit over time. "They are quality assets, so we don't need to sell them all in short order," explains Fordham, adding that the properties will act as a "capital warehouse" allowing the company to redeploy funds in an accretive manner as it sees fit.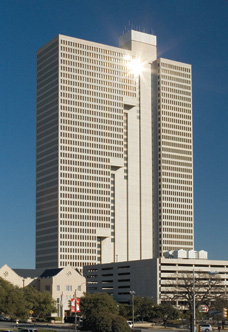 Opportunities to redeploy capital through acquisitions, however, are limited at this time, according to TIER REIT's CEO.
"It's certainly tough to buy assets because there's so much capital chasing quality real estate," Fordham observes. "You have to be creative." For example, earlier this year TIER REIT traded a building in Chicago for one in the Preston Center submarket of Dallas.
As a result of acquisition constraints, TIER REIT also will focus more on development, Fordham says: "We've got several projects that we are looking at and we could develop 400,000 to 600,000 square feet potentially over the next three to four years in one or more of our targeted growth markets."
Office In "Fun Part" of Cycle
Fordham points out that constrained supply and a dramatic drop in the vacancy rate within the geographic markets TIER REIT is targeting mean that "this is really the fun part of the cycle" in the office sector. "We're now in a position where landlords can hold firm on concessions and really raise the rates," he says.
Occupancy across TIER REIT's portfolio stood at 88.4 percent at the end of the first quarter. "We do think there's a lot of growth in that and more value opportunity as we build the portfolio," Fordham says. Th e company is targeting a 92 percent occupancy rate across its portfolio by 2017.
Fordham states that "we have a high-quality class-A portfolio and a focused investment strategy of acquiring and developing best-in-class office properties in our targeted growth markets."
"We've got significantly identifiable embedded growth through 2017, and our balance sheet is substantially more flexible and getting more flexible daily," he says.
Sustainability is becoming a box that larger corporations and government entities want to check when they are looking at space.

Scott Fordham, President & CEO
Sustainability Commitment Hasn't Faltered
While TIER REIT has been actively evolving in recent years, one aspect of the company that hasn't undergone any modification is its commitment to sustainability.
More than 90 percent of TIER REIT's eligible office space is ENERGY STAR-certified by the Environmental Protection Agency (EPA), with energy efficiency in the top 25 percent of buildings nationwide. TIER REIT also has 11 LEED-certified properties to go along with two other office properties developed to LEED certifications.
"Sustainability is absolutely a core value for us. It's something that our executive team sets out as a priority every year," Fordham says. "Th e tone at the top is very important. Our property management team embraces sustainability, and that goes all the way down to the field personnel."
Because of TIER REIT's non-listed status, "we've had to be very smart about how we allocated capital to sustainability," Fordham observed. "We've found the capital because we felt it was the right thing to do and that it would pay off in the long run."
Accolades for Management, Buildings
In September 2013, TIER REIT's management team was recognized with two awards by the Association of Energy Engineers (AEE) for its leadership in portfolio-wide energy management and conservation.
One of the highlights of TIER REIT's sustainability program is the Burnett Plaza building in the Dallas-Fort Worth area. It received the 2014 TOBY Award, an international recognition for excellence in commercial real estate management, by the Building Owners and Managers Association International (BOMA).
"Sustainability is becoming a box that larger corporations and government entities want to check when they are looking at space. Th ere is the ability for payback through higher occupancy because more and more tenants want it," Fordham says. "Putting our portfolio in position early as sustainable will pay dividends in the long run."