Healthcare Realty Trust is a REIT that integrates owning, managing, financing, and developing income-producing real estate properties associated primarily with the delivery of outpatient health care services throughout the U.S.
Performance Details
Previous trading day's Close
$30.26
Current high for the day
$31.01
Current low for the day
$30.59
Last paid dividend value
$0.30
Previous quarter FFO
$470.94mil
Last updated: Apr. 9 2021
Camden Property Trust (NYSE: CPT) announced the promotion of Laurie Baker to executive vice president of operations. She previously served as senior vice president of fund and asset management. Camden also promoted Allison Dunavant to vice president of business initiatives. She previously served as the director of learning and development at Camden.
Community Development Trust elected Andrew Ditton as chairman of its board. Ditton is currently managing director and head of CRA strategy and business execution at Citi. Prior to that role, he served as managing director and co-head of Citi Community Capital. In addition, he previously served as managing member of Davis/Ditton LLC, an affordable housing development and syndication business in Chicago.
Steven Schnur has been promoted to executive vice president and COO at Duke Realty Corp. (NYSE: DRE). He has been with Duke Realty since 2003 when he joined the company's Chicago office as vice president of leasing.
Essex Property Trust, Inc. (NYSE: ESS) announced the planned retirement of Craig Zimmerman, its executive vice president and co-chief investment officer, effective Dec. 31. Adam Berry, who is currently co-chief investment officer, will succeed Zimmerman as chief investment officer. Berry joined Essex in 2003 in its acquisitions department.
Healthcare Realty Trust Inc. (NYSE:HR)  announced that David Emery, chairman emeritus and director, died at the age of 75. Emery led the team that founded Healthcare Realty in 1992 and oversaw its initial public offering on the New York Stock Exchange in 1993.
Daniel Goodwin, chairman of the Inland Real Estate Group of Companies, was honored at Nareit's Public Non-Listed REIT (PNLR) Council meeting for being the founding chair of the council's executive committee from its council's creation in 2011 through the end of 2018. Nareit President and CEO Steve Wechsler presented the award.
New Senior Investment Group Inc. (NYSEMKT: SNR) appointed Lori Marino as executive vice president, general counsel, and secretary. Most recently, she was vice president, deputy general counsel and corporate secretary for ITT Inc., a global multi-industrial manufacturer. The company also said that David Smith resigned as executive vice president and CFO to accept another business opportunity.
Phillips Edison & Company, Inc. hired Brian Gibson as senior vice president of finance. Gibson joins PECO from WORLDPAY (now Fidelity National Information Services, Inc.). PECO also announced the promotion of K.C. Bills to vice president of portfolio management and development.
Michele Tyler was named vice president, general counsel, and corporate secretary at PotlatchDeltic Corp. (NASDAQ: PCH). Tyler was most recently the senior vice president, chief legal officer, and corporate secretary at Vectrus, Inc.
Saul Centers, Inc. (NYSE: BFS) said J. Page Lansdale resigned as president and COO. B. F. Saul II was named president. In addition, the company promoted Christopher Netter, Scott Schneider and D. Todd Pearson to the position of executive vice president.
Sam Landy, president and CEO of UMH Properties, Inc. (NYSE: UMH) received the Manufactured Housing Institute's Chairman's Award, presented each year to a member who exhibits exceptional leadership and works to promote and advance the manufactured housing industry.
Welltower Inc. (NYSE: WELL) named Tim McHugh senior vice president and CFO. McHugh has been with the company since 2016 and most recently served as senior vice president, corporate finance.
A Good Prognosis for Medical Office Buildings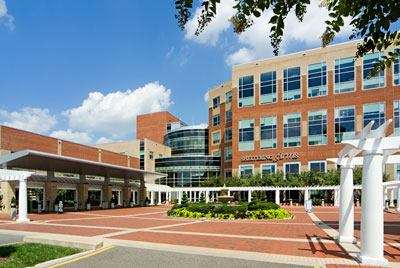 Shifting dynamics in health care services are driving health care REITs to the doctor – or the doctor's office, at least.
Hospitals and health care providers own roughly 80 percent of the $315 billion worth of medical office buildings (MOBs) in the United States, according to real estate services firm JLL. However, health care REITs are looking to capture more of the market share in the property sector as they search for stable assets.
"Health care REITs were under a bit of duress in 2015 because of concern about oversupply in the senior housing sector, reimbursement for Medicare and Medicaid patients, and a reduced ability to raise capital," says Jordan Sadler, managing director at KeyBanc Capital Markets. In effect, MOBs provide a safety valve for health care REITs.
"Health care is evolving from a hospital-centric model to a lower-cost, value-based care model," says Scott Estes, CFO of Welltower Inc. (NYSE: HCN). "Outpatient medical facilities, specifically those located conveniently nearby residential centers, are intimately aligned with this evolution. The baby boomer consumer is demanding greater convenience and accessibility. Also, advances in medical technology allow providers to perform increasingly complex procedures in outpatient settings."
"Remarkably Stable"
Danny Prosky, founder and managing director of American Health Investors and president and COO of Griffin-American Healthcare REIT, says hospitals began selling off some of their buildings and leasing back the space to reinvest in their core businesses back in the 1990s. The move resulted from new laws passed that limited the ability of hospitals to pay relocation bonuses to doctors to get them to move into on-campus offices.
Healthcare Realty Trust (NYSE: HR), whose portfolio is 90 percent invested in MOBs, has focused on those assets since it went public in 1993 because of the trend of delivering more patient care outside of a hospital setting, says Doug Whitman, the company's executive vice president for corporate finance.
"Twenty or 30 years ago, we didn't have the technology to provide cancer care and surgery on an outpatient basis," Whitman says. "Not only are offices and ambulatory surgery centers a lower-cost setting than a hospital, they also provide greater patient satisfaction since most people prefer to avoid hospitals."
Thomas Klaritch, executive vice president for medical office properties at HCP Inc. (NYSE: HCP), says MOBs are a stable investment. He notes that in the past decade, the company's MOB business delivered an average same store-cash NOI growth of 2.8 percent.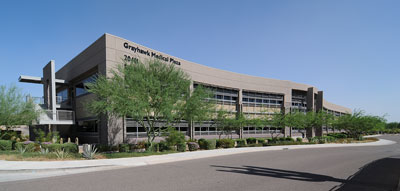 About 30 percent of HCP's portfolio is invested in its office platform, split evenly between life science research facilities and MOBs. Klaritch says HCP plans to grow these property types through acquisition and development.
 "As a property sector, medical office is a big part of HCP's investment strategy because of its remarkably stable organic growth profile and significant external growth opportunities," he says.
Part of that growth is coming from a wave of consolidation among smaller physician groups and hospitals, as well as the shift of hospital services to outpatient settings. That is driving increased demand for more MOB space, according to Klaritch. In addition, the hospital systems prefer larger spaces and longer-term leases.
"Only about 15 percent of hospital-based medical systems are for-profit," Klaritch says. "These systems have recognized the benefit of monetizing their MOBs to re-deploy the capital for other needs, such as technology upgrades. The not-for-profit systems have been slower to monetize, but they're beginning to do this as well."
As an example, Klaritch cites HCP's 2015 acquisition of 1.2 million square feet of MOBs from Memorial Hernann, the largest not-for-profit health system in Southeast Texas. More recently, Physicians Realty Trust (NYSE: DOC) announced an agreement in April to acquire more than 50 medical office facilities owned and anchored by Catholic Health Initiatives for $725 million.
Location Dynamics
Unlike some property types that attract investors to particular geographic regions, MOBs are valued in every submarket. However, their location within a health system has an impact on their attractiveness to investors.
Prosky points out that MOBs located on the campus of a successful hospital tend to be more sought-after because there's a symbiotic relationship between the medical buildings and the anchor medical system. On the other hand, he says there are more development opportunities for MOBs in suburban outpatient facilities because they are cheaper to build.
"Even if you invest in off-campus facilities, though, you still want a relationship with a hospital to make sure you have long-term lease commitments," Prosky says.
Physicians, particularly cardiologists, obstetricians and others who need to be in the hospital often want their offices to be in close proximity to the hospital. Therefore, they are more likely to stick to an on-campus location even if the rents rise, according to Whitman.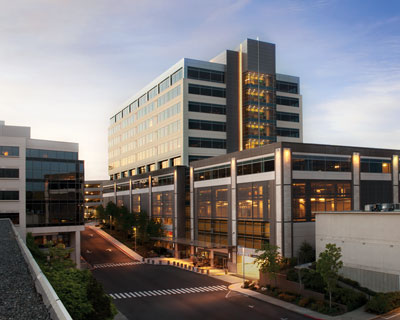 Even though some doctors want to be in suburban locations to be closer to their patients, landlords find that tenant retention is lower in those offices, according to Whitman. That makes it harder to raise the rent.
Not surprisingly, Sadler observes that "most of the health care REITs are buying on-campus MOBs, or at least those that are anchored by the local medical system."
Since the last recession, some aging retail and office spaces have been converted to medical offices. Klaritch says those spaces don't compete with specialty practices and diagnostic imaging offices that need purpose-built requirements such as the ability to hold additional weight for heavy equipment.
Welltower recently worked with Virtua Health, which is one of the leading health systems in Southern New Jersey, to build a state-of-the-art outpatient medical center that is connected to a new hospital in Voorhees, New Jersey.
"What made the project quite special is that we also built a new post-acute center and senior housing community within a mile," Estes says. "All three of our partners are thriving, and they're collaborating to deliver better care." 
New Reimbursement Rules Could Impact MOBs
Reimbursement for medical services by Medicare and Medicaid is based on where the services are performed. The highest reimbursement typically goes to hospital services because costs are highest in an acute-care facility. Typically, hospital outpatient departments in medical office buildings and ambulatory surgery centers have been labeled as part of the hospital and therefore receive reimbursement at hospital rates.
In late 2015, however, Congress enacted the Bipartisan Budget Act, which included a stipulation (Section 603) that reimbursement rates for care in off-campus hospital departments—defined as those 250 yards or more from the main hospital facility—will be at non-hospital rates beginning in 2017. Existing buildings have been grandfathered in at the hospital reimbursement rates, but future off-campus buildings will have to be reimbursed at lower rates.
There's some uncertainty as to what qualifies as "grandfathered," according to Sadler.
"The impact of the new rules is unknown so far, but I imagine there's less risk to REITs invested in on-campus MOBs since they will be in high demand," says Sadler. "It could mean even more of a pricing premium for on-campus MOBs or off-campus MOBs that have been grandfathered in."
Whitman says that the difference in reimbursement could be as much as 50 to 60 percent higher at the hospital rate.
"I know a couple of hospitals are already rethinking locating a cancer care center a mile away from the main building, so we think the ability to own property and develop new buildings on-campus could become even more important for investors," says Whitman.
Klaritch says HCP sees the recent change in reimbursement for off-campus hospital outpatient departments as an opportunity: The new rules are likely to drive demand and occupancy rates even higher for on-campus MOBs, which are the majority of HCP's portfolio.
Roberts anticipates a bigger impact on health care REITs from the reimbursement changes.
"If reimbursement rates for doctors are pulled down further, these physician groups will have less money to spend on office space," he notes.
Address
3310 West End Avenue
Suite 700
Nashville, TN 37203
United States