Office Properties Income Trust is a REIT focused on owning, operating, and leasing buildings primarily leased to single tenants and those with high credit quality characteristics like government entities.
Performance Details
Previous trading day's Close
$23.93
Current high for the day
$0.00
Current low for the day
$0.00
30 days average volume
0.23
Last paid dividend value
$0.55
Previous quarter FFO
$283.46mil
Last updated: Nov. 30 1999
CyrusOne Inc. (NASDAQ: CONE) has elected Katherine Motlagh as EVP and CFO. Prior to joining CyrusOne, Motlagh was CFO for the Europe, Africa, and Latin America regions at American Tower Corp. (NYSE: AMT). Motlagh replaces Diane Morefield, who announced her retirement earlier this year. Morefield will work with Motlagh to ensure a seamless transition, remaining full time until Dec. 31, and then part time through March 1, 2021. Meanwhile, Morefield has been appointed an independent director of UDR, Inc. (NYSE: UDR).
Equinix, Inc. (NASDAQ: EQIX) announced that Andrew Eppich, a six-year veteran of Equinix originally from Toronto, has been appointed managing director, Canada.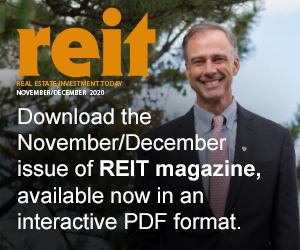 Host Hotels & Resorts, Inc. (NASDAQ: HST) said Joseph Ottinger, the company's assistant controller, has been appointed as SVP. Ottinger will succeed Brian Macnamara as SVP and corporate controller when Macnamara retires at year end. Host also announced that Sourav Ghosh has been appointed EVP, CFO and treasurer. He previously served as EVP, strategy & analytics. Meanwhile, Tejal Engman, VP, investor relations, was promoted to SVP, investor relations. Engman joined Host in 2019.
Mid-America Apartment Communities, Inc. (NYSE: MAA) appointed Edith Kelly-Green to the board of directors. Kelly-Green is a founding partner in The KGR Group.
Office Properties Income Trust (NASDAQ: OPI) said Christopher Bilotto has been appointed as president and COO of OPI, effective Jan. 1, 2021. Bilotto has been vice president of OPI since 2019 and COO since May 2020. He is also SVP of The RMR Group (NASDAQ: RMR). Bilotto succeeds David Blackman, who is retiring from RMR on June 30, 2021 and therefore resigning from his executive officer positions at OPI, RMR and other affiliated companies, effective Dec. 31.
Shirley Goza will retire as general counsel, secretary, and VP of QTS Realty Trust (NYSE: QTS) effective Dec. 31, following 14 years leading the company's legal and governance functions.
Realty Income Corp. (NYSE: O), announced that Christie Kelly will become EVP, CFO, and treasurer, effective Jan. 19, 2021. Kelly joined the company's board in November 2019 and currently serves as a member of the audit committee. Upon her appointment as CFO, Kelly will resign from her board position.
The RMR Group (NASDAQ: RMR) promoted Jennifer Francis to EVP. She is also president and COO of Diversified Healthcare Trust (NASDAQ: DHC), a client company of RMR.
Laura Clark was named as CFO of Rexford Industrial Realty, Inc. (NYSE: REXR). Clark will succeed Adeel Khan, who will continue to assist the company in a transitional role. Clark most recently served as SVP, capital markets, at Regency Centers Corp. (NASDAQ: REG).
Mary Fedewa, founding member, COO, and board member of STORE Capital Corp. (NYSE: STOR), was appointed president. The company also announced the promotions of Tyler Maertz to EVP of acquisitions and Craig Barnett to EVP of underwriting and portfolio management.
Welltower Inc. (NYSE: WELL) appointed Shankh Mitra as CEO and a member of the board. Mitra, who had been serving as vice chair, COO and CIO, succeeded Thomas DeRosa, who lledWelltower for more than six years. Mitra will retain his CIO title and will continue to lead Welltower's data analytics-driven capital allocation and operator relationships.
American Homes 4 Rent (NYSEMKT: AMH) named Megan Grabos to its new senior vice president of communications position. She joins American Homes 4 Rent from Delta Dental of California, where she was vice president of communications.
CyrusOne Inc. (NASDAQ: CONE) elected Bruce Duncan as president & CEO and as a member of the board of directors, effective July 6. He succeeds Tesh Durvasula, who has served as CyrusOne's interim president & CEO since February. Duncan has more than 40 years of diverse real estate management, development, and global investment experience across numerous property types. He currently serves as chair of First Industrial Realty Trust, Inc. (NYSE: FR).
Empire State Realty Trust, Inc. (NYSE: ESRT) said that President and COO John Kessler will leave the company after an orderly transition. The role of president will be assumed by Anthony Malkin, the current chairman and CEO. The company will not fill the position of COO. The company also announced the appointment of Christina Chiu as executive vice president and CFO, following an 18-year career at Morgan Stanley where she had been a managing director since 2014.
The National Housing Conference announced the appointment of Anne McCulloch as chair of the organization's Board of Governors. McCulloch is president and CEO of Housing Partnership Equity Trust, a social-purpose REIT.
The Howard Hughes Corp. (NYSE: HHC) announced that CFO David O'Reilly has been appointed president of the company. O'Reilly will also continue to serve as CFO, a position he has held since joining Howard Hughes in 2016.
Daniel Wagner, senior vice president of government relations for The Inland Real Estate Group of Companies, Inc., has been named secretary of the board of trustees of the Illinois Chamber of Commerce. Wagner will assist the Chamber with compliance and have an active role in all major Chamber decisions as an executive committee member.
Iron Mountain Inc. (NYSE: IRM) said Kimberly Anstett has been appointed executive vice president and chief technology officer. She joined Iron Mountain in May 2019 as chief information officer.
Kite Realty Group Trust (NYSE: KRG) named Caroline Young to its board of trustees. She will also serve as a member of the corporate governance and nominating committee.
LTC Properties Inc. (NYSE: LTC) announced the promotions of Pam Kessler and Clint Malin to the newly created positions of co‑presidents. Kessler will retain her role as LTC's CFO, and Malin will continue as the company's chief investment officer.
Mack-Cali Realty Corp. (NYSE: CLI) said MaryAnne Gilmartin has been elected chair of the board of directors. She has served as a director at Mack-Cali since June 2019. She is co-founder and CEO of L&L MAG and has over 30 years of real estate industry experience.
National Storage Affiliates Trust (NYSE: NSA) said Dave Cramer, previously president and CEO of SecurCare, was appointed executive vice president and COO.
Office Properties Income Trust (NASDAQ: OPI) said Chris Bilotto was promoted to the offices of vice president and COO. OPI is managed by the operating subsidiary of The RMR Group Inc. (NASDAQ: RMR). Industrial Logistics Properties Trust (NASDAQ: ILPT) promoted Yael Duffy to the offices of vice president and COO. ILPT is also managed by the operating subsidiary of RMR. The RMR Group also announced that Occidental College President Jonathan Veitch was elected to the company's board of directors as an independent director.
Melinda McLaughlin, vice president of research at Prologis, Inc. (NYSE: PLD), was named a San Francisco Business Times Most Influential Women in Business 2020 for her industry and community leadership.
Rayonier Inc. (NYSE: RYN) announced that Richard Kincaid, chairman of the board, passed away unexpectedly on March 20. Kincaid had served on the board since 2004 and was appointed chairman in June 2014 in connection with Rayonier's spin-off of its Performance Fibers business. The board appointed Dod Fraser to serve as chairman.
Address
Two Newton Place
255 Washington Street
Newton, MA 02458-1634
United States
Company Contacts
Matt Brown, Matthew Brown, Jeff Leer