UDR, Inc., an S&P 500 company, is a leading multifamily REIT with a demonstrated performance history of delivering superior and dependable returns by successfully managing, buying, selling, developing and redeveloping attractive real estate properties in targeted U.S. markets.
Performance Details
Previous trading day's Close
$39.67
Current high for the day
$0.00
Current low for the day
$0.00
Last paid dividend value
$0.36
Previous quarter FFO
$700.48mil
Last updated: Apr. 12 2021
CyrusOne Inc. (NASDAQ: CONE) has elected Katherine Motlagh as EVP and CFO. Prior to joining CyrusOne, Motlagh was CFO for the Europe, Africa, and Latin America regions at American Tower Corp. (NYSE: AMT). Motlagh replaces Diane Morefield, who announced her retirement earlier this year. Morefield will work with Motlagh to ensure a seamless transition, remaining full time until Dec. 31, and then part time through March 1, 2021. Meanwhile, Morefield has been appointed an independent director of UDR, Inc. (NYSE: UDR).
Equinix, Inc. (NASDAQ: EQIX) announced that Andrew Eppich, a six-year veteran of Equinix originally from Toronto, has been appointed managing director, Canada.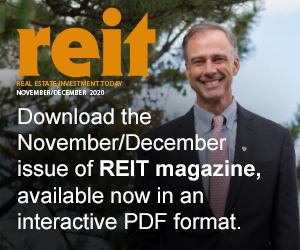 Host Hotels & Resorts, Inc. (NASDAQ: HST) said Joseph Ottinger, the company's assistant controller, has been appointed as SVP. Ottinger will succeed Brian Macnamara as SVP and corporate controller when Macnamara retires at year end. Host also announced that Sourav Ghosh has been appointed EVP, CFO and treasurer. He previously served as EVP, strategy & analytics. Meanwhile, Tejal Engman, VP, investor relations, was promoted to SVP, investor relations. Engman joined Host in 2019.
Mid-America Apartment Communities, Inc. (NYSE: MAA) appointed Edith Kelly-Green to the board of directors. Kelly-Green is a founding partner in The KGR Group.
Office Properties Income Trust (NASDAQ: OPI) said Christopher Bilotto has been appointed as president and COO of OPI, effective Jan. 1, 2021. Bilotto has been vice president of OPI since 2019 and COO since May 2020. He is also SVP of The RMR Group (NASDAQ: RMR). Bilotto succeeds David Blackman, who is retiring from RMR on June 30, 2021 and therefore resigning from his executive officer positions at OPI, RMR and other affiliated companies, effective Dec. 31.
Shirley Goza will retire as general counsel, secretary, and VP of QTS Realty Trust (NYSE: QTS) effective Dec. 31, following 14 years leading the company's legal and governance functions.
Realty Income Corp. (NYSE: O), announced that Christie Kelly will become EVP, CFO, and treasurer, effective Jan. 19, 2021. Kelly joined the company's board in November 2019 and currently serves as a member of the audit committee. Upon her appointment as CFO, Kelly will resign from her board position.
The RMR Group (NASDAQ: RMR) promoted Jennifer Francis to EVP. She is also president and COO of Diversified Healthcare Trust (NASDAQ: DHC), a client company of RMR.
Laura Clark was named as CFO of Rexford Industrial Realty, Inc. (NYSE: REXR). Clark will succeed Adeel Khan, who will continue to assist the company in a transitional role. Clark most recently served as SVP, capital markets, at Regency Centers Corp. (NASDAQ: REG).
Mary Fedewa, founding member, COO, and board member of STORE Capital Corp. (NYSE: STOR), was appointed president. The company also announced the promotions of Tyler Maertz to EVP of acquisitions and Craig Barnett to EVP of underwriting and portfolio management.
Welltower Inc. (NYSE: WELL) appointed Shankh Mitra as CEO and a member of the board. Mitra, who had been serving as vice chair, COO and CIO, succeeded Thomas DeRosa, who lledWelltower for more than six years. Mitra will retain his CIO title and will continue to lead Welltower's data analytics-driven capital allocation and operator relationships.
Robert Chambers joined Americold Realty Trust (NYSE: COLD) as executive vice president and chief commercial officer, with responsibility for global business development and account revenue growth. He most recently held the title of CFO for a publicly traded transportation logistics company. Previously, he was vice president of commercial finance at Americold.
Duke Realty (NYSE: DRE) promoted Art Makris to regional senior vice president of its Northeast operations. Duke also announced that Ben Struewing, who previously worked for the company in Columbus, Ohio, has returned to lead its leasing and development efforts in the market. Struewing has been named vice president, leasing and development.
Green Street Advisors appointed Jeff Stuek Jr. as CEO. Stuek succeeds Craig Leupold, who stepped down after 12 years as president and CEO and more than 26 years with Green Street. Prior to joining Green Street, Stuek served as president, North America of TravelClick, an Amadeus Company. Leupold will continue to serve as a strategic advisor to Green Street.
Highwoods Properties, Inc. (NYSE: HIW) tapped Thomas Anderson to join the company's board. He retired in June 2019 after 18 years as CEO of the Medical University of South Carolina Foundation.
Hudson Pacific Properties, Inc. (NYSE: HPP) announced the promotion of three executives within the company. Mark Lammas, who most recently served as CFO and COO, has been promoted to president; CIO Alex Vouvalides is taking on the additional role of COO; and Harout Diramerian is being promoted from chief accounting officer to CFO.
Monmouth Real Estate Investment Corp. (NYSE: MNR) announced the retirement of Allison Nagelberg, the company's general counsel, after two decades of service with the REIT. The position has been filled by Michael Prashad, who had been serving as the company's in-house counsel.
Park Hotels & Resorts Inc. (NYSE: PK) named Thomas Morey as executive vice president & CIO. He most recently served as Park's executive vice president & general counsel and joined the company in 2016.
Phillips Edison & Co. has hired information technology executive Kevin McCann to serve as chief information officer. He joins Phillips Edison from IRC Retail Centers, an owner and manager of neighborhood retail centers located primarily in the Midwest and Southeast, where he held the position of chief information officer and vice president since 2015.
Realty Income Corp. (NYSE: O) said its executive vice president, CFO and treasurer Paul Meurer is leaving the company. To ensure a smooth transition, he will serve as a senior advisor through March 31. Until a successor is found, Sean Nugent, the company's senior vice president and controller, will serve as principal financial officer and treasurer.
UDR, Inc. (NYSE: UDR) announced that Warren Troupe, senior executive vice president, will transition to the newly created role of senior advisor to the office of the chairman effective April 1, 2020.
UMH Properties, Inc. (NYSE: UMH) promoted Brett Taft from vice president to COO. The company also promoted Daniel Landy from assistant to the president to vice president. UMH also announced that its board approved an increase from 10 to 11 directors and appointed Dr. Amy Lynn Butewicz as a director. Butewicz is a pharmacist and realtor licensed in New Jersey.
Ventas, Inc. (NYSE: VTR) said Carey Shea Roberts will join the company as executive vice president, general counsel and ethics and compliance officer, during the first quarter of 2020. Roberts joins Ventas from Assurant, Inc., where she served as executive vice president, chief legal officer, and corporate secretary.
Address
1745 Shea Center Drive
Suite 200
Highlands Ranch, CO 80129
United States
Company Contacts
Jerry A. Davis, Thomas W. Toomey
Trent Trujillo, Christopher Van Ens