REITs of all types own more than $3 trillion in gross real estate assets across the U.S. Public REITs own approximately $2 trillion in assets and stock exchange-listed REITs have an equity market capitalization of more than $1 trillion. The U.S. REIT industry plays a meaningful role and looks to play an even greater role in moving the needle forward for ESG best practices. Nareit's REIT ESG Dashboard helps quantify that impact.
Nareit's REIT ESG Dashboard reflects publicly reported data from 2017 as reported in 2018 for the 100 largest U.S. REITs by market capitalization, representing more than 92 percent of the listed equity REIT market capitalization. The REITs included in this dashboard own 484,064 assets including 38,207 buildings totaling nearly 7 billion square feet of real estate.
Charts within the dashboard either reflect REITs by number or the percentage of the REIT Industry by market cap.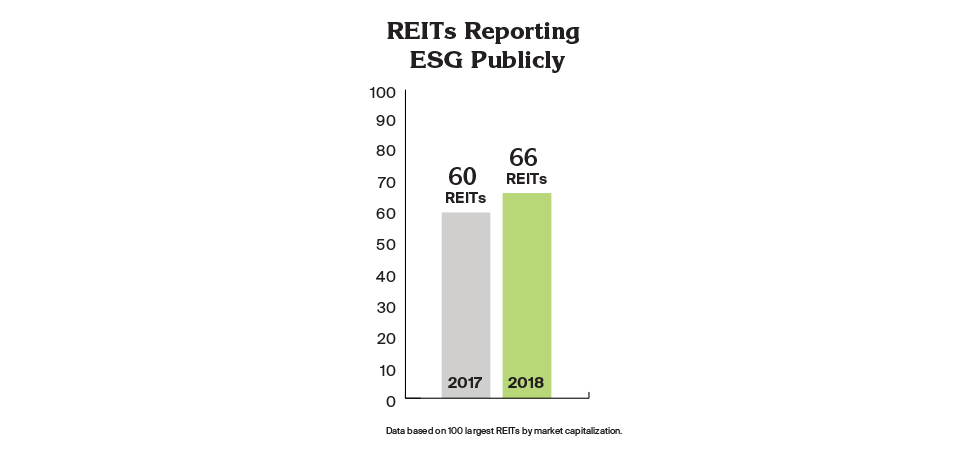 Most REITs are now reporting their sustainability efforts publicly, with the percentage growing year-over-year. In 2018, 66 of the top 100 REITs (representing 79 percent of the total market capitalization) reported publicly on their ESG efforts, including on their company websites, annual reports, and/or stand-alone sustainability reports.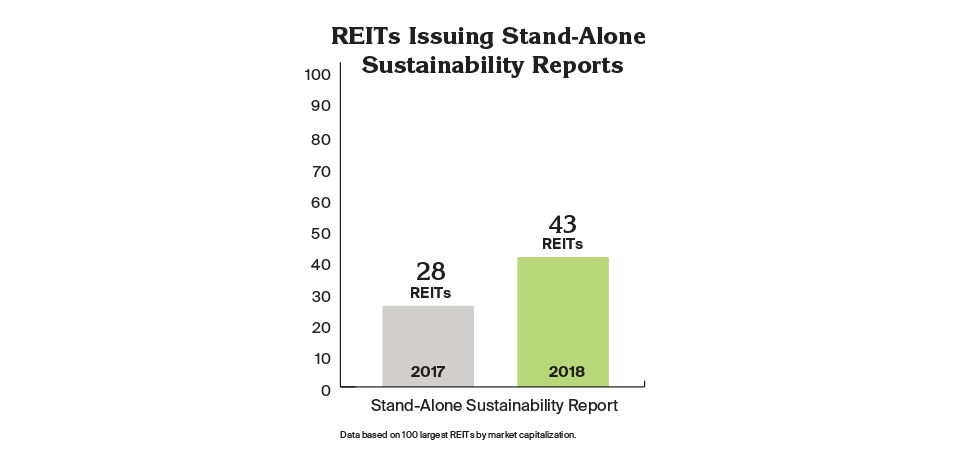 An increasing number of REITs are issuing stand-alone sustainability reports. In the last year, there has been a significant increase in the number of REITs issuing a stand-alone sustainability report.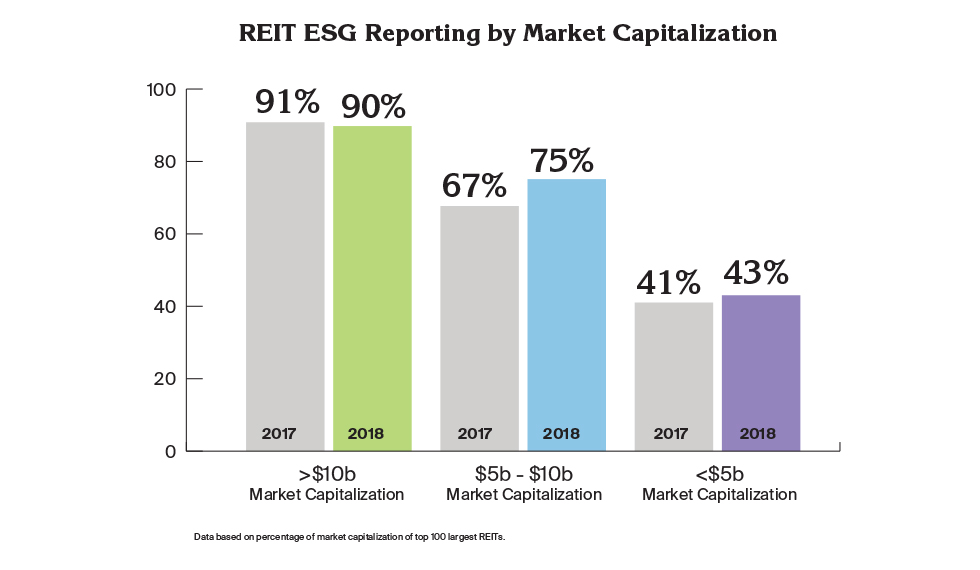 ESG reporting continues to be more common for larger REITs, with 90 percent of REITs with a market capitalization greater than $10 billion reporting, while smaller REITs are catching up. Nareit helps member companies of all sizes looking to advance their ESG initiatives through its JumpStart Program and annual ESG Forum.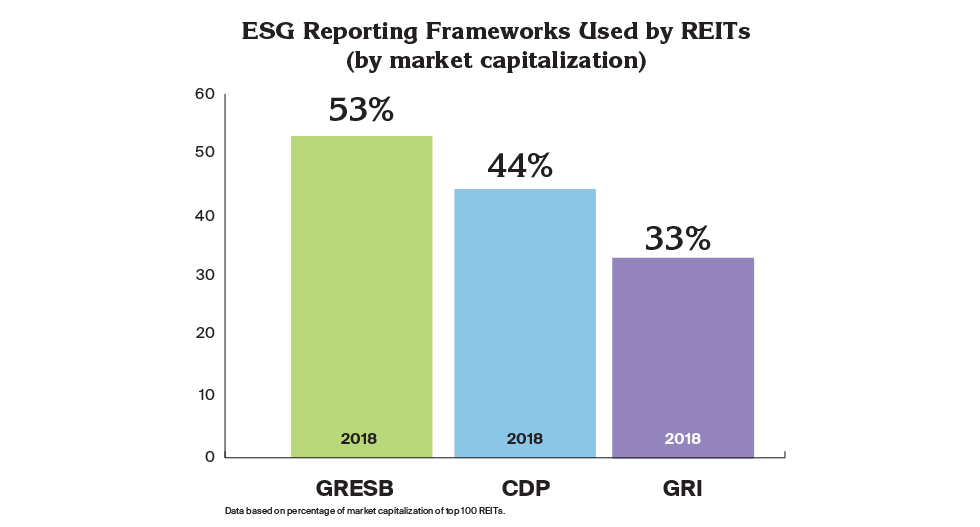 Of the three most widely used voluntary ESG reporting frameworks by REITs (GRESB, CDP, and GRI), GRESB had the highest participation rate within the companies included in the ESG Dashboard, with 37 of the top 100 REITs participating, representing 53 percent of the market cap of the top 100 REITs.
Nareit analyzed the various reporting frameworks and published a separate report, the Nareit Guide to ESG Reporting Frameworks, looking at commonalities between them.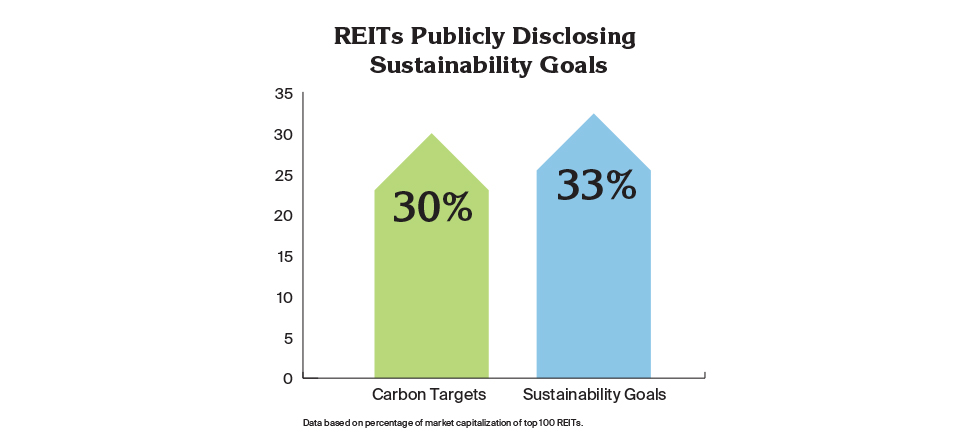 In addition to reporting sustainability performance, a third of REITs by market capitalization publicly disclose short- or long-term sustainability goals.

An impressive percentage of REITs are building and operating green certified buildings. In fact, REIT-owned properties are often at the forefront of sustainable building innovations.

As REITs expand their ESG initiatives, more companies are hiring staff dedicated to ESG. Between 2017 and 2018, nine of the top 100 REITs added a full-time dedicated ESG staff position for the first time. The 31 REITs with dedicated ESG staff account for more than half of the market capitalization of the top 100 REITs. In addition, many of those not reporting dedicated ESG staff implement ESG initiatives through sustainability committees as well as guidance from outside consultants.
Environmental
From retrofitting existing buildings to implementing new sustainability and energy conservation standards, the REIT industry is moving to reduce resource consumption.
REITs are generating energy savings, reducing water consumption, increasing usage of renewable energy, reducing carbon emissions, and reporting on those efforts. The two most commonly reported metrics relate to carbon emissions and energy use. The percentage of the REIT industry by market capitalization reporting on these individual metrics increased from 2017 to 2018 for each metric. In 2018, 25 REITs reported energy usage, up from 15 in 2017.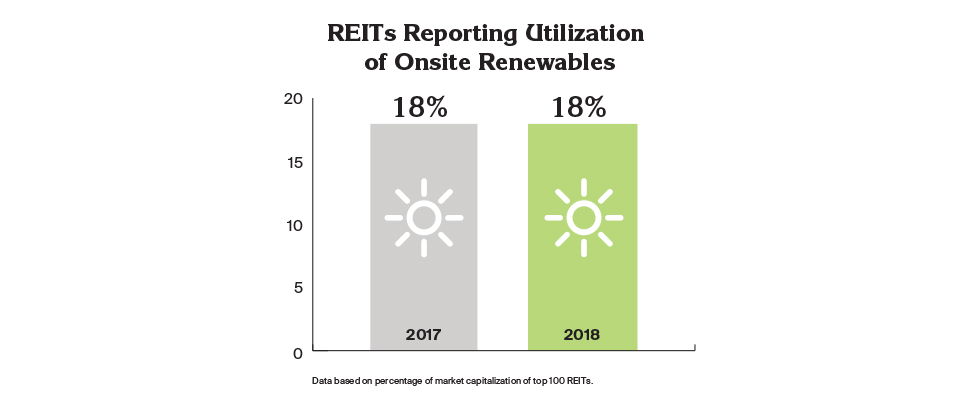 From wind to solar to hydropower, REITs are increasingly integrating renewable energy into their operations.
Social
REITs are incorporating social initiatives into their business models to make a positive impact on their employees as well as the people who live and work in and around their properties. This may include providing human resources training or revitalizing neighborhoods within their communities and supporting tenant needs. Social programs are inherently more difficult to track than other components of ESG initiatives. What one company does to contribute to the specific needs of its surrounding community may not be easily compared to the efforts of another company, where the needs are entirely different.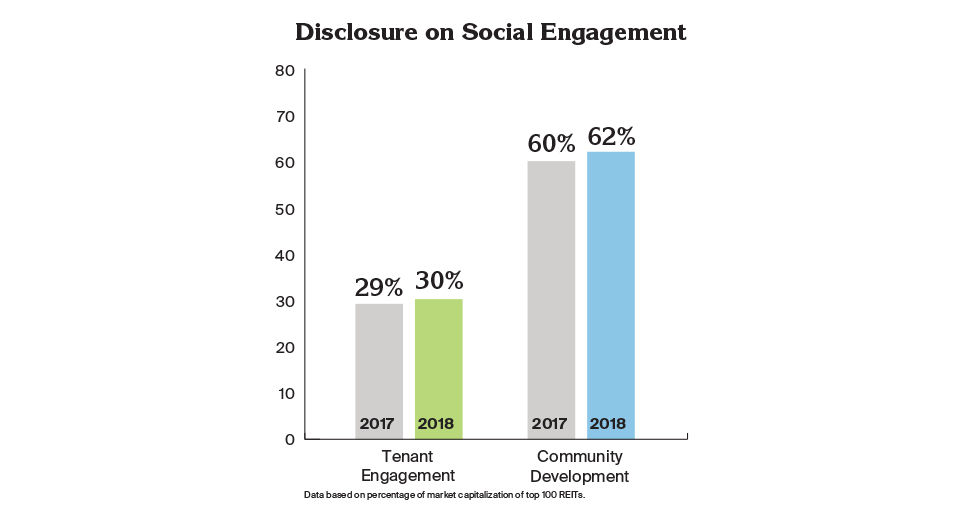 For those REITs that do report on a social initiative, it is most often regarding a tenant engagement or community development program.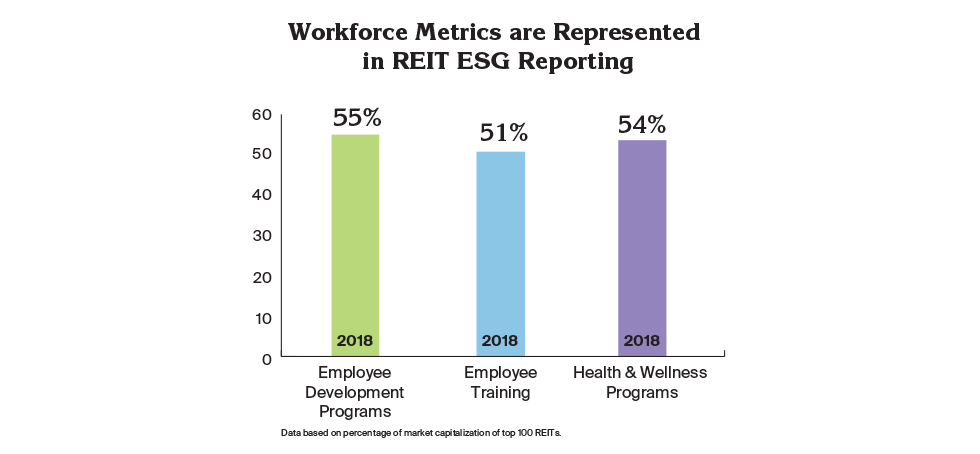 Reporting on a variety of workforce metrics is important for many companies. REITs are more actively reporting their employee training programs.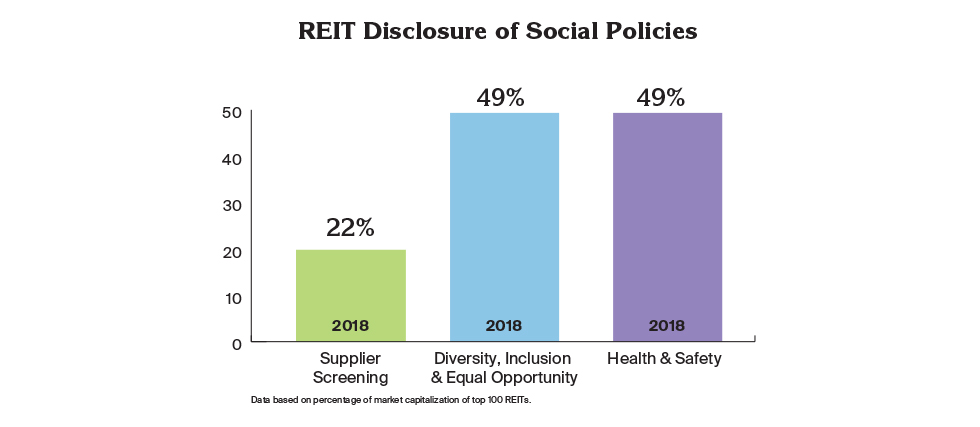 Social policies related to supplier/vendor screening, diversity, inclusion, and equal opportunity initiatives, and health and safety practices are often disclosed by REITs. In 2018, 30 of the top 100 REITs publicly disclosed their diversity, inclusion, and equal opportunity initiatives.
Governance
Governance policies reflect an organization's processes, policies, practices, and impact regarding its formalized governing infrastructure, transparency, roles and responsibilities, and accountability.

Diversity and inclusion are important objectives for all public companies. REITs are showing progress in reporting in this area, particularly as it relates to gender diversity on boards of directors.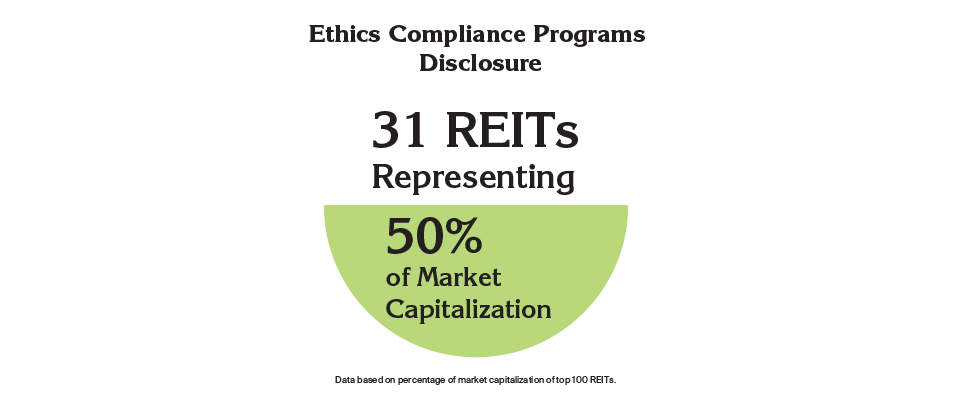 Thirty-one of the top 100 REITs disclose the existence of a formal ethics compliance program.
Advancing REIT ESG Reporting
Data show that the REIT industry is increasingly committed to implementing and disclosing its ESG-related initiatives and practices.
Nareit provides educational initiatives to aid members with the reporting process such as Nareit's JumpStart Program and Nareit's annual ESG Forum.
To Learn More
REITs and Publicly Traded Real Estate Companies
If you're looking to start a sustainability program or advance an existing one, check out Nareit's JumpStart Program and annual ESG Forum. Contact Fulya Kocak, Nareit Vice President, ESG Issues to learn more about these programs.
Data collection was performed by GeoPhy using publicly available information from listed U.S. equity REITs including websites, annual reports, sustainability reports, 10-Ks, direct feeds, and certification schemes. When the ESG Dashboard refers to 2018 results it is referring to data reported in 2018 related to fiscal year 2017. Similarly, references to 2017 results reflect data reported in 2017 from fiscal year 2016.
Disclaimer
This Dashboard is for informational purposes only and is provided with no representation or warranty as to the accuracy or completeness of the information contained therein. Neither Nareit nor GeoPhy is responsible for any damages or losses arising from any use of this information. Nothing contained herein should be construed or relied upon as investment, financial, legal or tax advice. Some of the standards of measurement and performance for ESG factors discussed herein are developing and are based on assumptions.