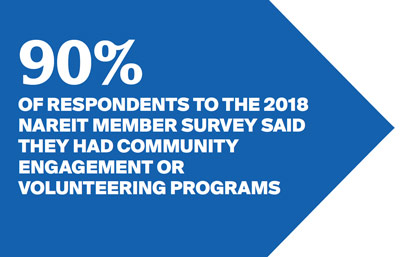 Publicly traded U.S. REITs incorporate social initiatives into their business models to create value for their own employees as well as the local communities where they own, operate, or finance real estate.
In addition to an earned track record of environmental stewardship, the U.S. REIT industry has elevated its reporting on social performance in recent years, demonstrating the far-reaching and long-lasting impact real estate can have in local communities.
Social Performance Gains Traction in REIT Reporting and Disclosure
REITs have demonstrated commitment to transparency and accountability through increasing rates of social engagement reporting and disclosure.
REITs report on a variety of social metrics, including social impact, workforce development, diversity and equal opportunity, and health and safety policies.
There was a 1% increase in the reporting and disclosure of tenant engagement initiatives and KPIs by REITs in 2018, and a 2% increase in the reporting and disclosure of community development initiatives and KPIs.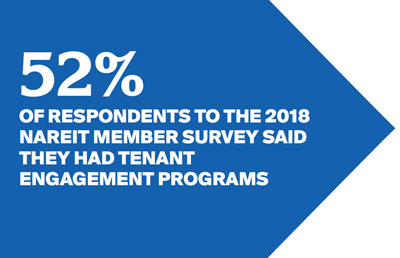 To better communicate the positive social impact generated by the real estate industry, REITs and publicly listed real estate companies will need to report and disclose core social KPIs and performance metrics in future years.
Real Estate Unites Communities
As the foundation of many communities, the social actions of the U.S. REIT industry have a far-reaching and long-lasting impact.
Through initiatives such as community outreach, tenant engagement programs, volunteering, and giving, REITs create lasting value for the communities in which they own properties.
REITs Invest in Employee Development and Wellbeing
Nearly 90% of all Nareit member survey respondents reported having an employe training program.
Additionally, more than half of Nareit members offer a combination of employee training, health and wellness, and worker development programs.
Download the 2019 REIT Industry ESG report
Social Case Studies
Hersha Hospitality Trust: Achieving the Triple Bottom Line
JBG Smith: Placemaking as a Strategy for Tenant Engagement and Community Wellbeing
AvalonBay Communities: Investing in Employees at All Levels
Prologis: Community Workforce Initiative Enhances Pipeline of Skilled Labor and Supports Local Communities
Equity Residential: Customized and Progressive Employee Development
American Tower Corporation: Hire Good People and Empower Them
Extra Space Storage: Workforce-Relevant Education for Employees
Ventas Donates Nearly $9 Million to Support Philadelphia Middle School Education
Hudson Pacific Properties Helping to Fight Homelessness on the West Coast