How Are REITs Helping to Build Sustainable Communities?
Social refers to an organization's processes, policies, practices, and impact with regard to the people—both internal and external—with whom it interacts.
As owners and operators of the physical environments where people work, reside, and build community, the REIT industry is well-positioned to create lasting social impact by directly addressing social considerations most relevant to their employees, tenants, and neighborhoods. Social initiatives across the industry range from training around employee health, safety, and diversity and inclusion, to innovative employee wellness programs and strategic community partnerships.
While REITs have long invested in social impact programs, in 2019, the industry exhibited a marked improvement in rates of reporting and disclosure around critical social policies, performance, and impact. In 2019, all of the Nareit members surveyed reported having a policy on social issues.
Some of the most widely reported areas of focus include:
tenant engagement
community development
employee development programs
health, safety, and wellness programs
Along with increased reporting and engagement around social initiatives, REITs have experienced improved employee retention, reputational benefits, and growing internal support to continue investing in and expanding programs to increase their social impact.
The concerted effort to increase formalized ESG reporting across the REIT industry demonstrates an evolving recognition and understanding of how the many initiatives that REITs have long undertaken to build thriving communities drive good business and fit within larger strategic efforts and support global sustainability goals.
As is the case with environmental sustainability, REITs are increasingly setting social goals and targets aligned with UN SDGs relevant to the real estate industry.
In What Ways Can REITs Create Value Through Engagement?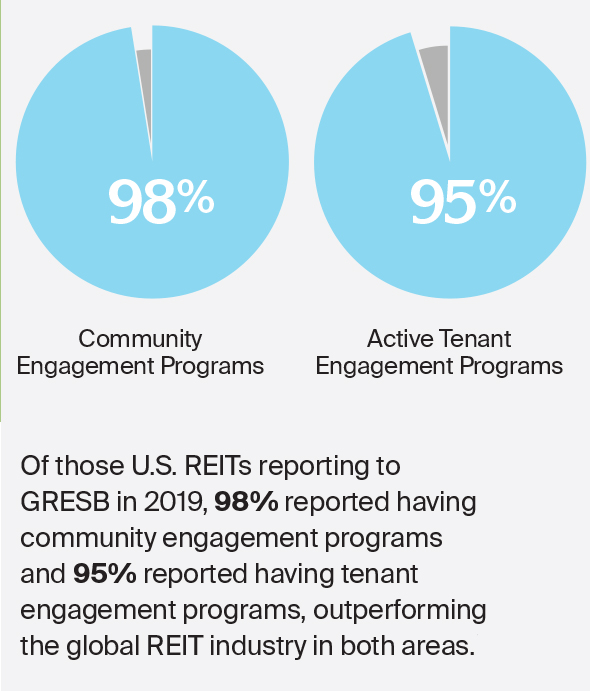 REITs have prioritized stakeholder engagement as a crucial mechanism for identifying, understanding, and responding to ESG-related concerns and opportunities. Through formal employee, tenant, and community engagement programs, REITs are committed to being good neighbors and active participants in the communities where they operate.
One emerging theme among REITs has been the increased focus on engaging in meaningful partnerships that further the mission of each organization, meet the practical needs of tenants
and community members, and improve business performance. Some have partnered with vendors and service providers to provide amenities and educational opportunities that contribute to tenant satisfaction and retention as well as improve the environmental sustainability of both partner organizations.
Others are working with community partners to address affordable housing and homelessness. Still others have partnered with established education nonprofits to support local educational initiatives, including efforts to help members of underserved communities to obtain the skills needed to fill today's most in-demand jobs.
REITs have leveraged employee engagement inspire meaningful social initiatives, and to better ensure employee health, well-being, and satisfaction where they work.
According to the 2019 Nareit Member Survey, 96% of responding REITs give employees opportunities to participate in company-sponsored community engagement and volunteer activities in their communities60 ranging from community blood drives and tutoring programs, to individual initiatives to educate tenants on waste and water management.
Case Study:
AvalonBay Communities, Inc.: Building Strong Communities
American Tower Corp.: Partnerships to Bridge the Digital Divide
Prologis, Inc.: Creating Pathways to Opportunity
What Opportunities Exist Related to Supply Chain Management?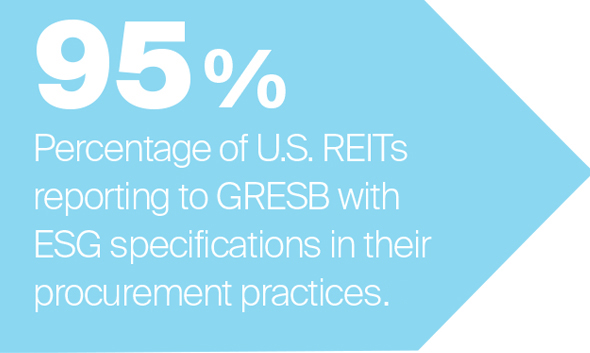 Management and oversight of supply chains is a subject of growing interest among REITs, with more entities establishing ESG requirements in their procurement processes. An increasing number of REITs report having a publicly disclosed screening policy or procedure to evaluate compliance with human rights standards and social practices among suppliers.
REITs on the leading edge of ESG-related supply chain management have written and implemented supplier codes of conduct, and incorporated them into procurement mandates. In 2019, 84% of REITs reporting to GRESB indicated they monitored sustainability requirements for external suppliers and/or service providers.
Managing supply chain ESG efforts can be complex, as supply chains can extend through multiple tiers and across multiple continents. In an effort to improve global supply chain management and transparency, 58% of the top 100 REITs by equity market cap reported on their supplier screening policies, up from 22% in just the past year.
Nareit members are also working to integrate company diversity efforts into their supply chains, with 7% reporting having formal initiatives to track and promote the use of diverse suppliers and 25% indicating plans to formally implement initiatives in 2020.
Case Study:
Where Does ESG Rank as a Priority to Build Supply Chain Resilience?
In recent years there has been growing demand for greater transparency across global supply chains, with natural disasters, public health crises such as COVID-19, and media spotlights on labor practices underscoring the extensive need to effectively manage supply chain risks.
While vendors throughout the value chain differ for each REIT sector and based on the operating and business model of each individual REIT, the industry has prioritized several overarching leading practices to help move the needle toward greater sustainability across its supply chains. High-impact initiatives include:
Ongoing supplier engagement around ESG topics, to better understand supplier commitments, practices, and areas for improvement;
Inclusion of ESG screening criteria into vendor evaluation processes;
Offering or sponsoring supplier training around priority ESG topics, such as GHG emissions management and reporting, labor and human rights policies, diversity and inclusion, and corporate responsibility programs; and,.
Integration of supply chain resiliency KPIs into corporate success measures.
How Are Companies Prioritizing Health & Safety?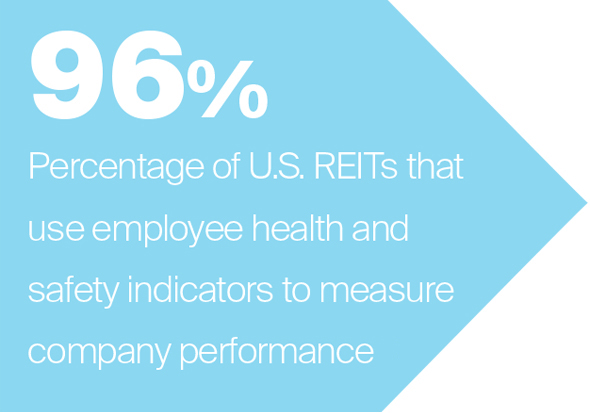 REITs are committed to creating healthy and safe working environments for their employees. A large majority of REITs surveyed reported having active health and safety programs, and a growing number have begun extending such programs to tenants as well. The COVID-19 pandemic has illustrated the strength of these programs as well as opportunities to adapt current practices to meet evolving health and safety standards for employees, tenants, and their communities.
A critical aspect of developing successful health and safety initiatives is instituting good governance practices. With 96% of Nareit Member Survey respondents reporting that their organization identifies and/or assesses work-related employee health and safety risks8 REITs have demonstrated their commitment to exercising strong governance of health and safety issues. Furthermore, of the top 100 REITs by equity market cap, 64% disclosed information on established occupational health and safety policies, an improvement of 30% over 2018 figures.
These programs range from the standard fire and emergency training one might expect in an office environment, to highly technical and complex protocols necessary in industrial or health care settings. REITs are working to ensure that these critical health and safety protocols are in place not only for existing buildings but for new construction and major renovation projects. In 2019, 77% of Nareit members reporting to GRESB stated that their company had an on-site health and safety coordinator during the construction phase, compared to the global GRESB average of 38%.
Case Study:
Ventas, Inc.: Investing in Employee Health and Safety
What is the Value of Investing in Employee Development & Well-Being?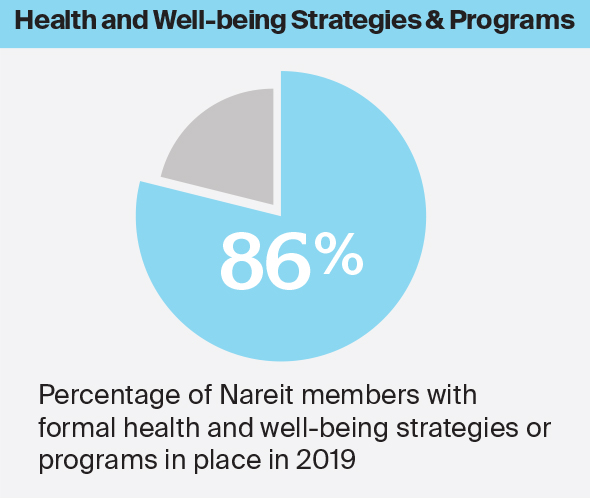 As part of a growing trend toward greater transparency in the REIT industry, the top 100 REITs by equity market cap have demonstrated increasing public commitments to, and disclosure of, employee engagement, development, and health and well-being programs.
A growing number of REITs report having programs to promote employee well-being and development, and are elevating oversight of, and accountability for, these important issues to the senior management level. For example, 63% of surveyed REITs offer flexible work programs, and 85% offer structured professional development opportunities. According to a 2020 Employee Industry Trends Report that surveyed corporate America more broadly, only 35% of surveyed employers reported that they will increase their investments in employee health and well-being programs in 2020.
Case Study:
Equity Residential: Healthy Employees Deliver Better Service
How Are REITs Building Diverse & Inclusive Environments?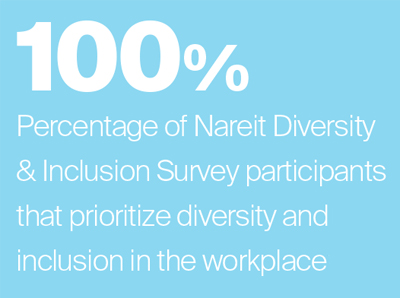 REITs recognize the value diverse teams bring to their business performance, including the opportunity to capture a greater breadth of perspectives, ideas, and expertise, and the ability to appeal to diverse clients, customers, and other stakeholders. Diversity, at both the board and employee levels, helps REITs gain access to previously untapped marketplaces, enhance "diversity of thought" on leadership teams, and improve employee satisfaction.
According to the 2019 GRESB survey, 91% of respondents in the global real estate industry monitor the diversity of both their governance bodies and employees.
REITs have made progress in this area by imple-menting holistic diversity and inclusion initiatives that improve gender representation and pay equity at the highest levels of the organization, while also training all employees in anti-harassment, diversity, and inclusion. According to a 2018 McKinsey study, companies with more gender-diverse executive teams were 21% more likely to have above-average profitability compared to their less diverse peers, and those with significantly more racial and ethnic diversity were more likely to outperform peers.
Case Study:
Brixmor Property Group, Inc.: Diversity Through Engagement
Duke Realty Corp.: Companywide Diversity Program Delivers Real Results
Download the 2020 REIT Industry ESG report
2019 Social Case Studies
Hersha Hospitality Trust: Achieving the Triple Bottom Line
JBG Smith: Placemaking as a Strategy for Tenant Engagement and Community Wellbeing
AvalonBay Communities: Investing in Employees at All Levels
Prologis: Community Workforce Initiative Enhances Pipeline of Skilled Labor and Supports Local Communities
Equity Residential: Customized and Progressive Employee Development
American Tower Corporation: Hire Good People and Empower Them
Extra Space Storage: Workforce-Relevant Education for Employees
Ventas Donates Nearly $9 Million to Support Philadelphia Middle School Education
Hudson Pacific Properties Helping to Fight Homelessness on the West Coast