Jonathan Gray, global head of real estate at private-equity firm The Blackstone Group, said he expects the company's single-family rental platform will be in a position to go public within the next one to two years.
Speaking April 23 at the Real Estate Luminaries Series at Georgetown University's Steers Center for Global Real Estate, Gray said Blackstone is in the process of "building something that will look like an apartment REIT."
Blackstone is the largest institutional owner of single-family homes in the country. Gray said Blackstone had made "an enormous bet on U.S. housing," and that "reaching scale in a defined number of markets" has been instrumental to the operation's success.
Blackstone's interest in housing is not confined to the U.S., however, as Gray noted that Blackstone is also moving into  Spain's housing market.
Gray emphasized that decisions made regarding the capital structure  of businesses  Blackstone acquired during the financial crisis allowed them to survive the downturn. "We could afford to ride through the storm. We also paid reasonable prices for those companies," he said.
At the same time, Blackstone's size has also been crucial to deal making, according to Gray. Blackstone recently announced it would pay approximately $2 billion to purchase retail REIT Excel Trust, Inc. (NYSE: EXL). Blackstone also partnered with Wells Fargo to purchase most of the assets of GE Capital Real Estate in a transaction valued at approximately $23 billion.
"These big deals tend to be our sweet spot because there are fewer players," he said.
Go Public Or Stay Private?
The Real Estate Luminaries Series also featured a panel discussion entitled "Go Public or Stay Private" that was moderated by W. Edward Walter, president and CEO of Host Hotels & Resorts, Inc. (NYSE: HST).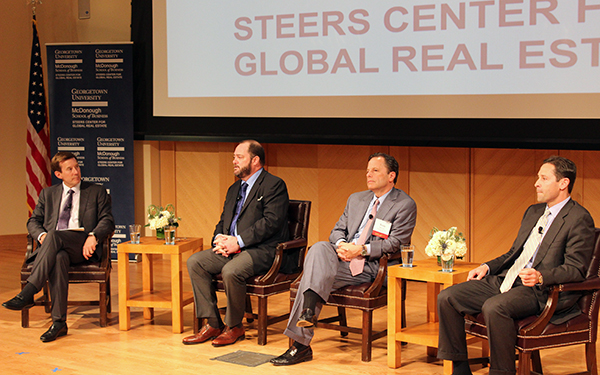 Michael Graziano, co-head of the real estate department at Goldman Sachs, noted that due to the proliferation of "well-seasoned real estate companies with great track records" that are already publicly traded, private companies considering going public face stiff competition. "There aren't that many companies out there  with the size, scale and scope to get over that hurdle," he said.
Terry Brown, chairman and CEO of EDENS, a private owner, operator and developer of retail real estate, said he did not envision the firm going public. "Our investors are very comfortable with us being a large private company," he said.