Financial markets have been troubled by a decline in corporate profits. Earnings per share of the S&P 500 fell 7.6 percent in the first quarter of 2016 compared to last year, prompting a drop in equity prices and concerns about the outlook. But trends are going the other direction in real estate.
Total Funds From Operations (FFO) of all equity REITs were $13.2 billion in the first quarter, a 19.5 percent gain over one year ago, according to the recently-released NAREIT T-Tracker®. There were solid increases across most sectors, with nearly all property types posting double-digit increases. For example, FFO of retail REITs was 22 percent higher than a year ago, and industrial posted a 19 percent gain, while FFO of office REITs increased 11 percent. The only sector with a decline in FFO over year ago was multifamily REITs, which reported FFO down less than a percentage point. Recent increases in construction of new apartments have tempered rent growth after several years of solid increases. The flat performance of FFO for the multifamily sector comes following a year with a 20 percent-plus increase, however, so performance was still quite good.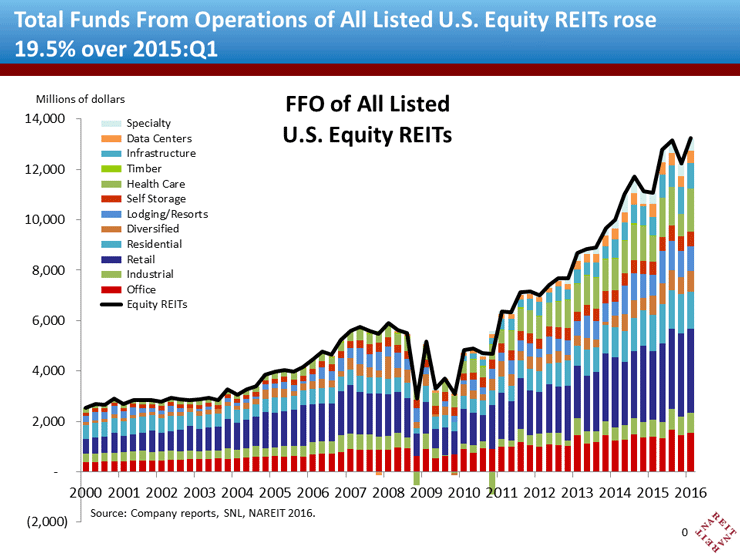 The contrast between REITs and the S&P 500 underscores the diversification benefits of including REITs in an investment portfolio. The declines in corporate earnings were concentrated in a few sectors, with energy firms posting a net loss in the quarter and financial firms showing earnings per share down 12.5 percent versus a year ago. Since equity REITs derive their income from leases on real estate, not from energy exploration or financial activities, REIT earnings respond to a different set of economic drivers—and often rise at times when other sectors may be struggling. S&P Dow Jones and MSCI have recognized the importance of listed equity real estate in investment portfolios, and later this year will include Real Estate as one of the top-line sectors in the S&P/MSCI GICS industry classification system.
For complete information on FFO, NOI and Dividends Paid by REITs, including downloadable spreadsheets, charts and tables, see the T-Tracker web page.
Get Nareit Market Commentary blog posts delivered straight to your inbox.
Subscribe