The 30+ day delinquency rate on securitized commercial mortgages fell 72 basis points in July, to 9.60%. Trepp reports that more than $8 billion in mortgages cured in July, as borrowers made up the missed payments that had been delinquent in June (for a discussion of the rise in delinquencies during the shutdown, see, CMBS Delinquencies Continued to Climb in June).
It is not clear how much of this improvement in credit resulted from loan modifications, from reserve relief that allows borrowers to apply reserves to keep the loan current, as borrowers received cash from PPP funding or other stimulus money, or from the borrower's own cash flows as the economy began reopening.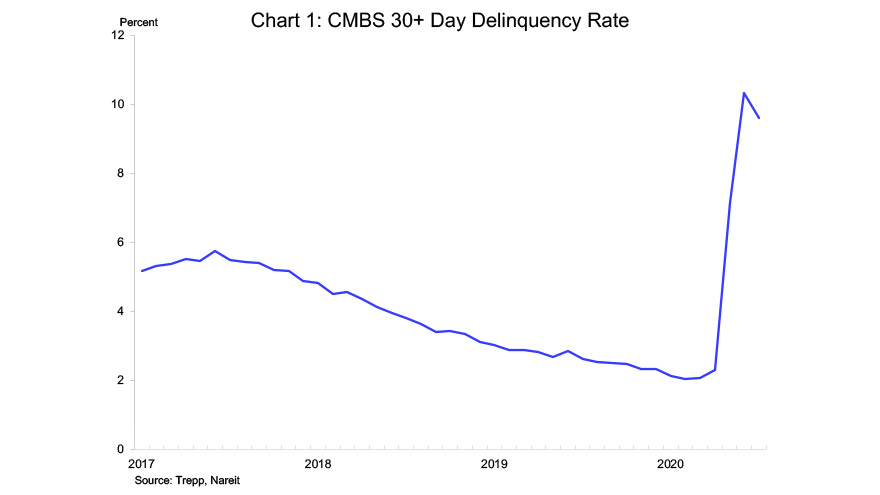 Nevertheless, the borrowers most in need of debt service relief likely were reflected in the initial wave of delinquencies in May and June. If the economy is able to proceed with its reopening, delinquencies may not rise much beyond current rates. That is, it is likely that the delinquency rate will rise further, but (one hopes) not at the steep pace experienced in May and June.
The decline in delinquency rates mainly reflects improvements in the retail sector. This should not be surprising, as much of the reopening involved shops, restaurants, and other retail establishments operating on at least a limited basis. Retail delinquencies fell nearly 200 basis points in July.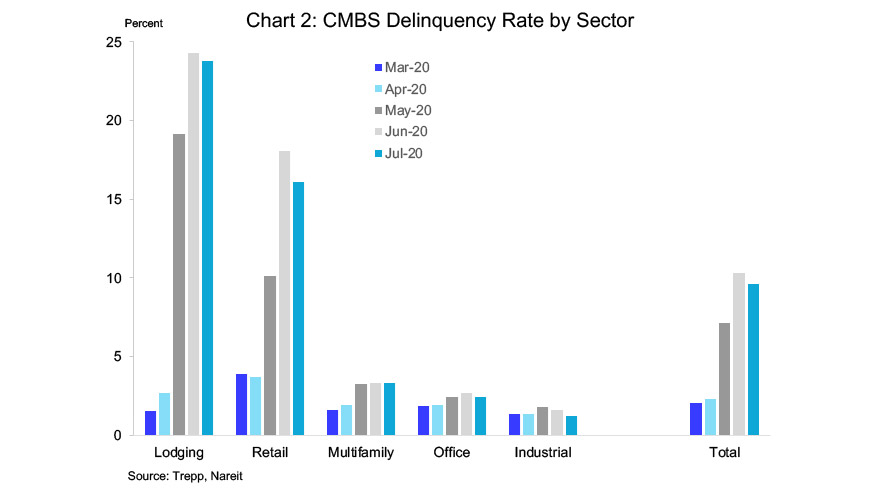 The Nareit rent survey shows a similar improvement in rent collections by retail REITs. In May, the shopping center and free standing subsectors reported to have collected 70.1% and 49.1%, respectively, of typical rents. The June and July editions of this survey showed substantial improvements in rent collections among these retail subsectors, to 91.4% and 69.5%, respectively, of typical rents.
In contrast, although retail has begun to reopen, travel volumes remain deeply depressed. The lodging sector saw only a slight reduction in delinquencies, which moved down 50 bps in July. The other main property types—multifamily, office, and industrial borrowers—had only modest increases in delinquencies in May and June, and similarly small declines in July.
Get Nareit Market Commentary blog posts delivered straight to your inbox.
Subscribe