CMBS delinquencies continued to climb in June, with the share of loans that are 30 days or more delinquent climbing 317 basis points, to 10.32%. This is still below the peak delinquency rate recorded in 2012, according to Trepp.
An additional 4.1% of loans (by loan balance) missed a payment in June, but are less than 30 days delinquent. If a significant share of these remain in arrears next month, the overall delinquency rate is likely to move into record territory.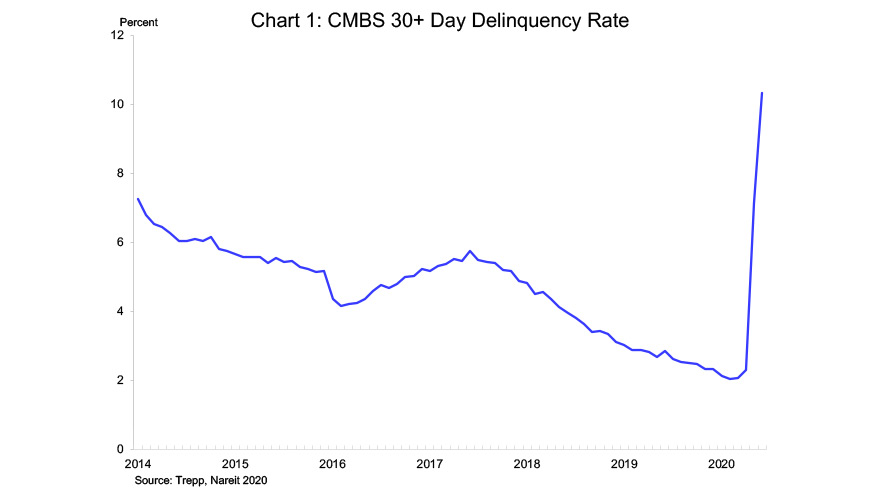 The impact of the COVID-19 pandemic and economic shutdown has not been spread evenly across the economy or across real estate sectors. As noted in our market commentary last month, delinquencies have been rising most sharply in mortgages backed by lodging and retail properties. In June the 30+ day delinquency rate in each of these sectors rose more than 500 bps, to 24.30% and 18.07%, respectively.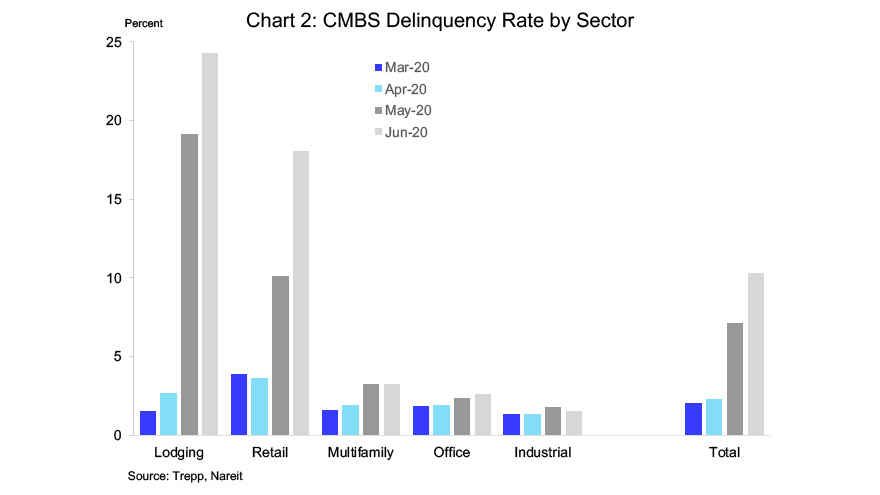 Other property sectors continued to make payments at a high rate in June. The 30+ day delinquency rate of loans to office properties rose 26 bps, to 2.66%, while the delinquency rate on multifamily loans was virtually unchanged at 3.29%. The industrial sector, which has had an increase in demand for logistics spaces used for shipping goods bought on the internet, had a 25 bp decline in delinquency rate, to 1.57%.
Get Nareit Market Commentary blog posts delivered straight to your inbox.
Subscribe