Commercial real estate markets appear to have settled in for the long haul. New supply and the growth of demand are roughly balanced in most property sectors, vacancy rates are stable and rents growing modestly. The latest data from CoStar on net absorption and completions during 2017:Q2 help alleviate earlier fears that a supply wave would flood the market. Instead, supply and demand appear closely matched—although the retail property and office markets did see a bit of an uptick in vacancy rates.
Vacancy rates in industrial, office, and retail markets are at or near their lows for the cycle, and are 15 to 30 basis points lower than a year ago. Apartment vacancy rates have turned back down in 2017, declining 27 basis points from Q1 and reversing a good portion of the increase that took place last year.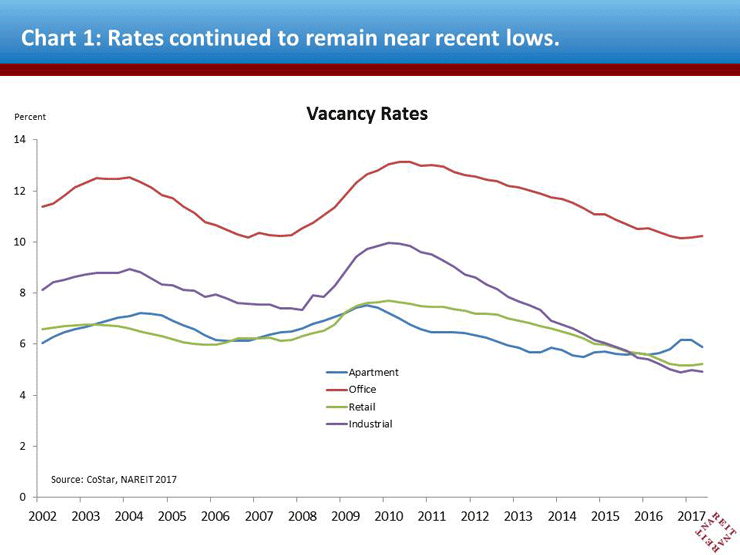 The dynamics affecting market conditions are different for each property sector: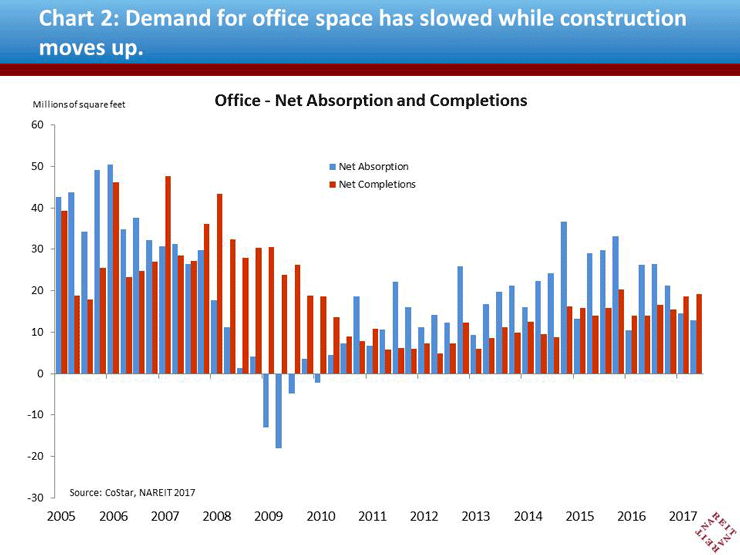 Office markets softened in the first half of this year, as net absorption eased even as new supply continued to rise. Job growth remains on track, however, and should support renewed demand for office space in the months ahead. Indeed, some of the recent weakness may have been seasonal, as there have been several quarters over the past four years where net absorption was even weaker than it was this spring. Most of these soft quarters also occurred  early in the year, but were followed by a higher-than-normal growth of demand later in the year.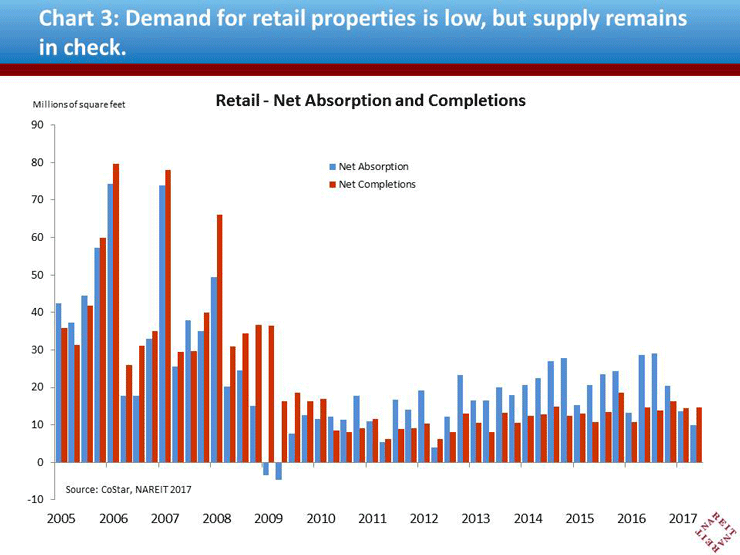 Retail property markets also experienced a drop-off in net absorption, as store closings continue among retailers. In contrast to the office sector, however, new construction of retail space remains in check, which limits the impact of store closings on vacancies and rents. Furthermore, there is a steady stream of new tenants seeking space in the higher quality malls and shopping centers, including many of the holdings of retail REITs. Indeed, occupancy rates among REIT-owned retail properties remain high, according to data from the NAREIT T-Tracker® .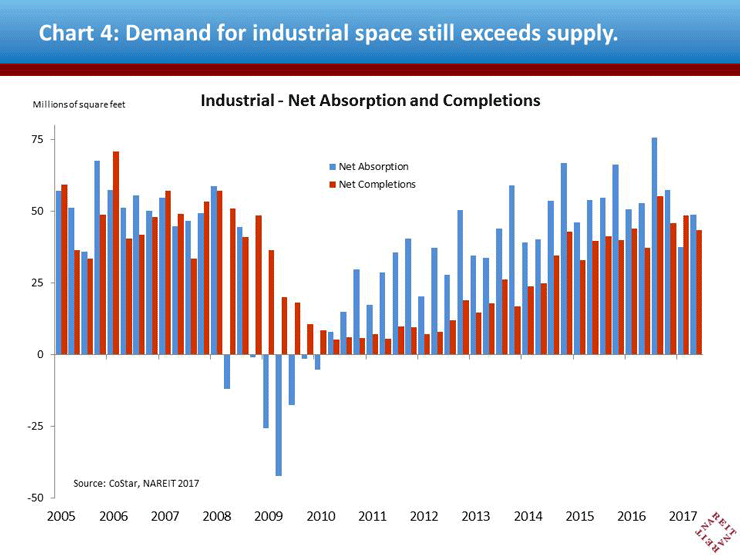 Industrial properties enjoyed a rebound in net absorption in Q2, causing markets to tighten further. New construction remains robust, but the fundamentals driving demand for industrial and logistics space for the delivery of E-Commerce purchases are a strong wind at the back of the industrial sector.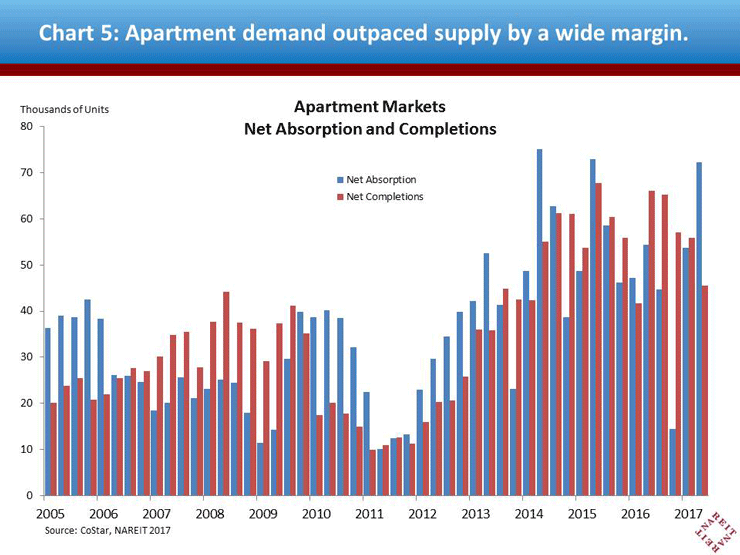 Apartment markets saw a spike during the spring leasing season, with the highest net absorption in two years, while deliveries of new units leveled off. It's important to keep in mind the long-term demographic forces supporting the apartment market. There are millions of people, including Millennials, Gen X and older adults, too, who doubled-up with family, roommates and others during the housing crisis. Many of these people live in Gateway cities where housing is still in scarce supply, like San Francisco and Seattle. There tends to be a period of several months while waves of new supply are absorbed, but recent experience shows that it doesn't take long before occupancy rates move back up.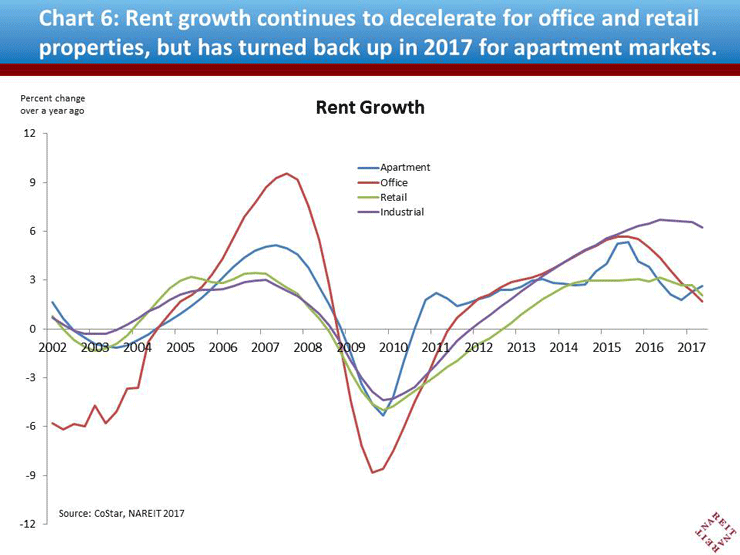 The proof of the pudding about conditions in these markets lies in the rents that property owners receive. Rent growth continues to decelerate for office and retail properties, although rents are still up 2 percent or so over the past year. Apartment rent growth has turned back up in 2017, as the wave of new supply that was delivered in mid-2016 is being leased. Industrial rents are still climbing rapidly, with increases of more than 6 percent over the past year.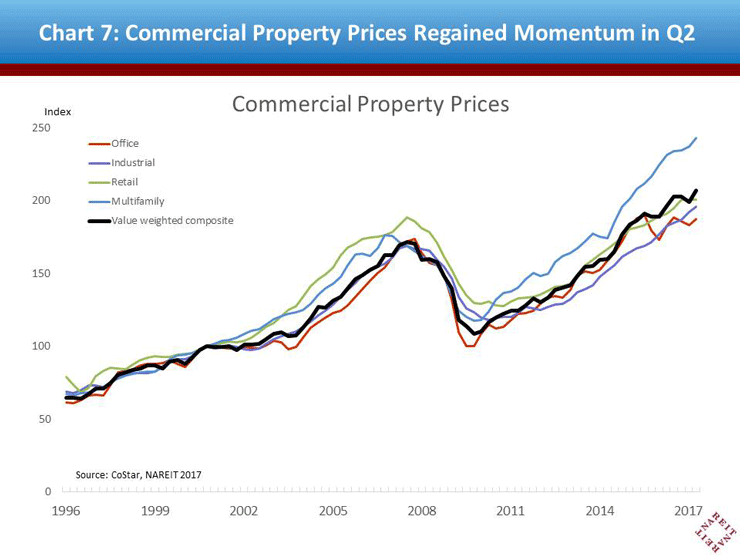 Property prices also reflect the firm fundamentals in the sector. Prices had been flat in the winter, causing some consternation about valuations and the ability of the market to digest the new supply. Prices retained some momentum in the second quarter, however. These increases appear to be well-supported by fundamentals, as supply is still limited in most markets and property types, demand continues to grow and as investors seek out high-quality income-producing assets.
[See the NAREIT Commercial Property Update for a brief quarterly summary of conditions in commercial real estate markets and the economic fundamentals that support them.]
Get Nareit Market Commentary blog posts delivered straight to your inbox.
Subscribe