The recovery in commercial real estate markets for the past several years has been uneven and often disappointing, much like the economy as a whole. More recent news, however, shows a turn for the better—and also signs that conditions may continue to improve.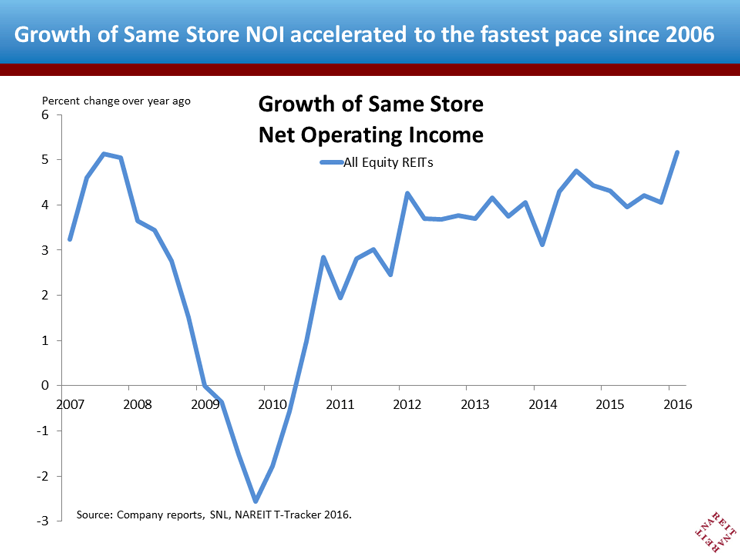 The growth of weighted average net operating income from properties owned for a year or more (same-store NOI) accelerated in the first quarter to the most rapid pace since 2006, rising 5.2 percent over one year ago, according to supplemental data from the NAREIT T-Tracker®. Rising occupancy rates contributed to this positive result. The weighted average occupancy rate of all properties owned by REITs in the first quarter was 93.2 percent, some 250 basis points higher than three years ago .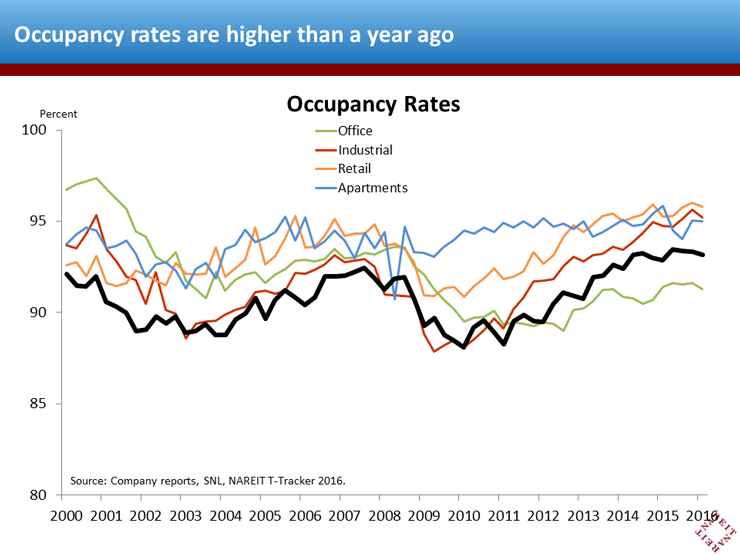 Pricing power has also shifted more in favor of property owners as real estate markets continue to firm. Across most major property types and in metro areas across the country, rent growth continues to move higher. In short, improving fundamentals continue to support commercial real estate markets in the first half of 2016.
What about the outlook for later this year, and 2017 and beyond, especially with construction increasing across all major property types? The most likely outcome is for further improvement, as increases in demand continue to outpace new supply. Net absorption over the past four quarters was 20 percent to 60 percent higher than completions for most major property sectors, according to data from CoStar. As long as net absorption exceeds new supply, conditions will remain firm and same-store NOI growth will be solid. And with net absorption exceeding supply by such a wide margin, construction can continue to rise at current rates for several years before new supply catches up to demand.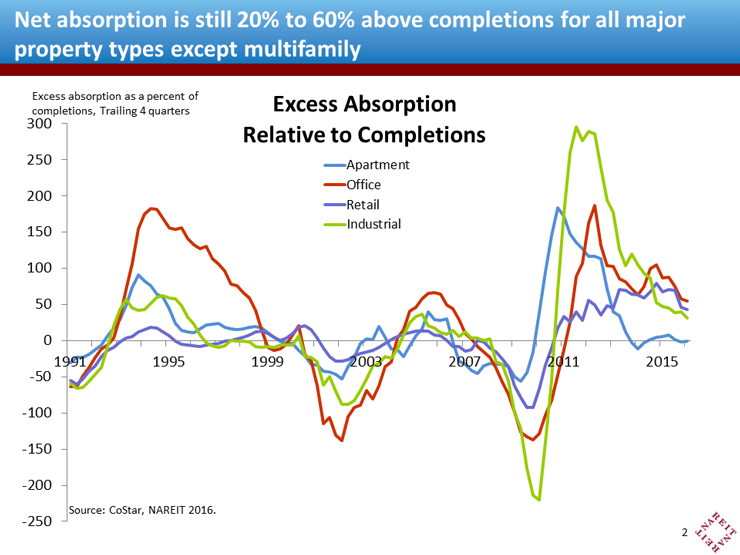 The one exception to the excess absorption story has been the apartment market, where absorption and completions have been roughly in balance for the past two years. This largely reflects the considerable pent-up demand for housing that built up during the Great Recession. With three to four million potential new renter households currently doubled-up with family and roommates, most new apartments are leased quickly as they come on the market. Indeed, the robust rent growth in the apartment sector confirms that conditions remain tight.
Rising NOI, high occupancy rates and demand still in excess of new supply all suggest there will be further gains in REITs' operating results in the quarters ahead.
For more, see the complete T-Tracker results and supplemental information, including downloadable charts and spreadsheets.
Get Nareit Market Commentary blog posts delivered straight to your inbox.
Subscribe