The NAREIT T-Tracker®, which includes data on operating and financial performance by all stock exchange-listed REITs, is now available on Bloomberg terminals, under Bloomberg Intelligence/Financials/REITs/NAREIT Data.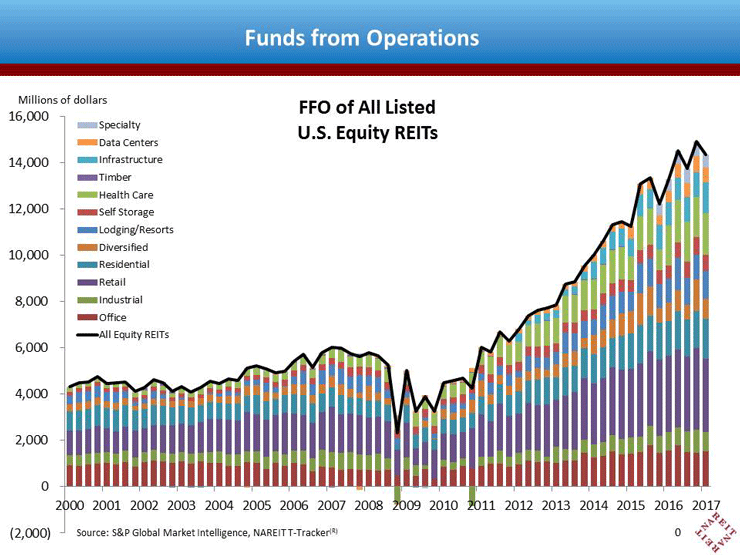 T-Tracker data for the first quarter of 2017 show some slowing, as total Funds From Operations (FFO) of U.S. stock exchange-listed Equity REITs was $14.3 billion, a 3.9 percent decline from the prior quarter. Results varied considerably across the different property sectors, with double-digit increases in Manufactured Homes, Infrastructure and Lodging and Resorts, but declines in Diversified, Industrial, Retail and others. This slowdown follows robust growth in three of the four previous quarters, and the level of FFO in the first quarter was 8.1 percent above one year earlier. 
It's not unusual for economic data, including the operating performance of REITs and real estate, to experience slower periods in the middle of long expansions.  Indeed, GDP growth in the first quarter slowed to 0.7 percent, well below recent trends, and nonfarm payrolls increased at an average monthly rate of 175,000, which was 45,000 below the average over the prior two years. History has shown, however, that not only are shortfalls such as these relatively common—nearly one-third of the quarterly GDP reports since 1980 have been below trend growth by an amount similar to what happened in the first quarter—but growth also typically rebounds to an above-trend pace in the subsequent quarter nearly half of the time.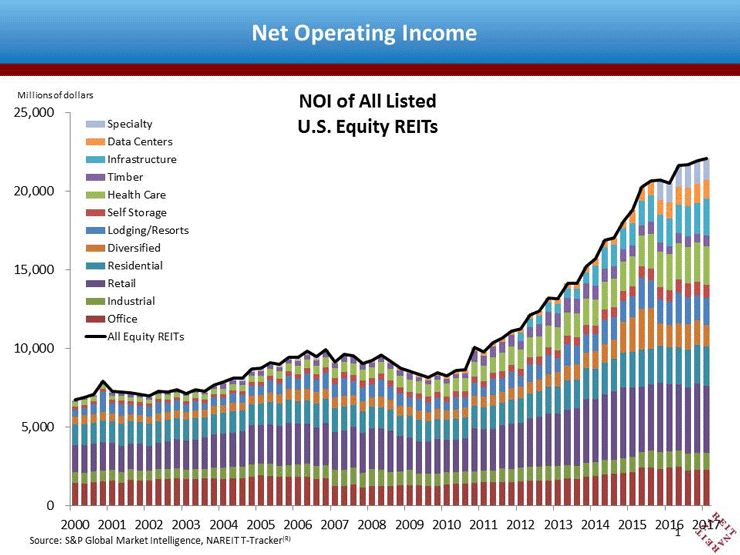 Other aspects of REIT operating performance are consistent with a steady improvement, and bode well for the year ahead. Net Operating Income (NOI) edged higher, increasing 0.7 percent, and was 7.7 percent above one year ago. Same store NOI (SS NOI), which measures the performance of properties held for one year or more to factor out the effects of acquisitions and dispositions of properties, increased 3.7 percent over the past four quarters. This was a slight improvement over the prior two quarters and suggests that underlying performance trends remain intact.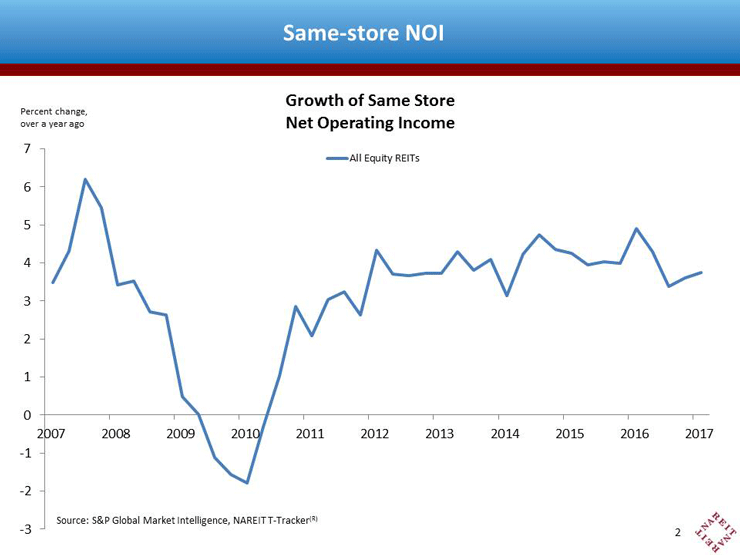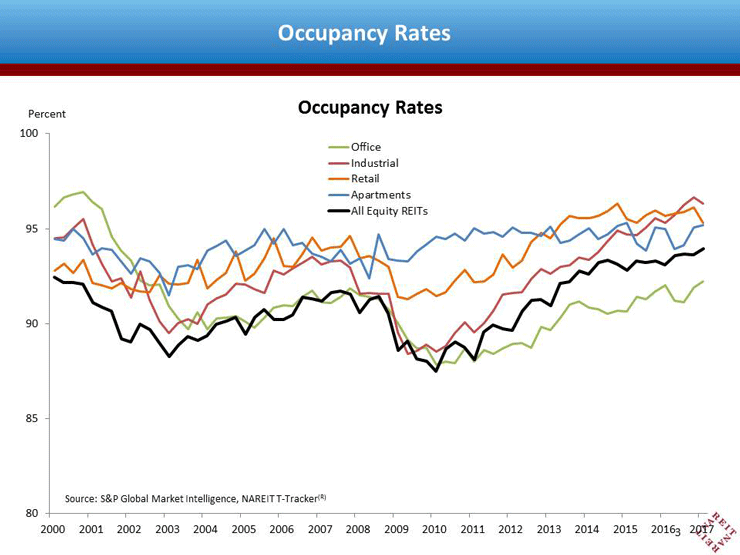 Occupancy rates provide a good perspective on how current supply and demand conditions are affecting the outlook for real estate markets for the rest of the year. New construction has risen considerably from its low points following the recession. Occupancy rates of REIT-owned properties, however, have continued to move higher, reaching 93.9 percent in the first quarter, the highest in the history of the T-Tracker series. The continued improvement in occupancy rates reflects the solid growth of demand for commercial real estate, which is likely to support rent growth, as well as FFO and NOI, over the remainder of this year.
Get Nareit Market Commentary blog posts delivered straight to your inbox.
Subscribe