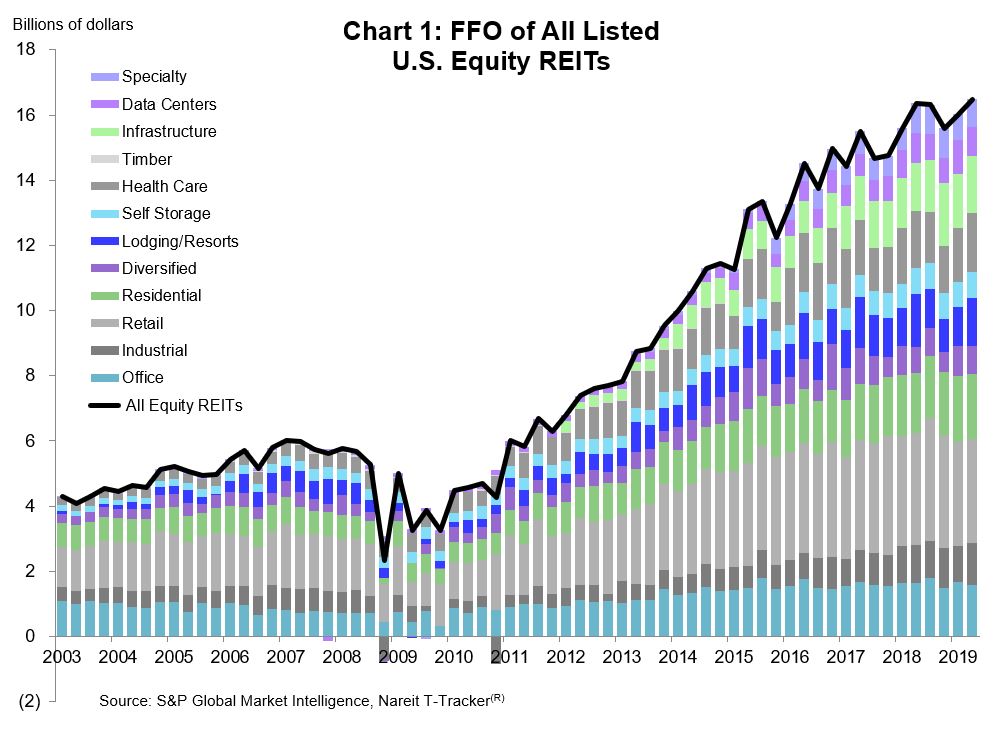 Earnings remained positive for REITs into 2019, with FFO totaling $16.5 billion in the second quarter. Quarterly FFO growth remained steady increasing 2.8% from Q1, and showing a modest increase over the prior year of 0.7%. Growth has softened in recent quarters in line with the economy returning to trend, after the boost from tax cuts in late 2017. Softer growth is also not surprising given the mixed results from commercial real estate markets in Q2. Underlying REIT fundamentals, however, remain solid, which helped REITs take on more opportunities in Q2 with increased net acquisitions and more development in the pipeline.
Growth of same store net operating income (NOI) accelerated in recent quarters, growing 2.6% over the prior year. Manufactured home (6.1%), single family (5.3%), and apartment REITs (3.7%) outperformed the industry due to strong demand for rental housing. Office and industrial property types also saw strong growth in same store NOI, posting 4.9% and 4.4% respectively. Demand for different sectors has kept occupancy rates high, standing near a cycle record at 94.1%. REITs also kept leverage and interest expense near historical lows. Strong fundamentals, in addition to the uptick in acquisition and development activity, reflect the sector's health and prospects for future returns.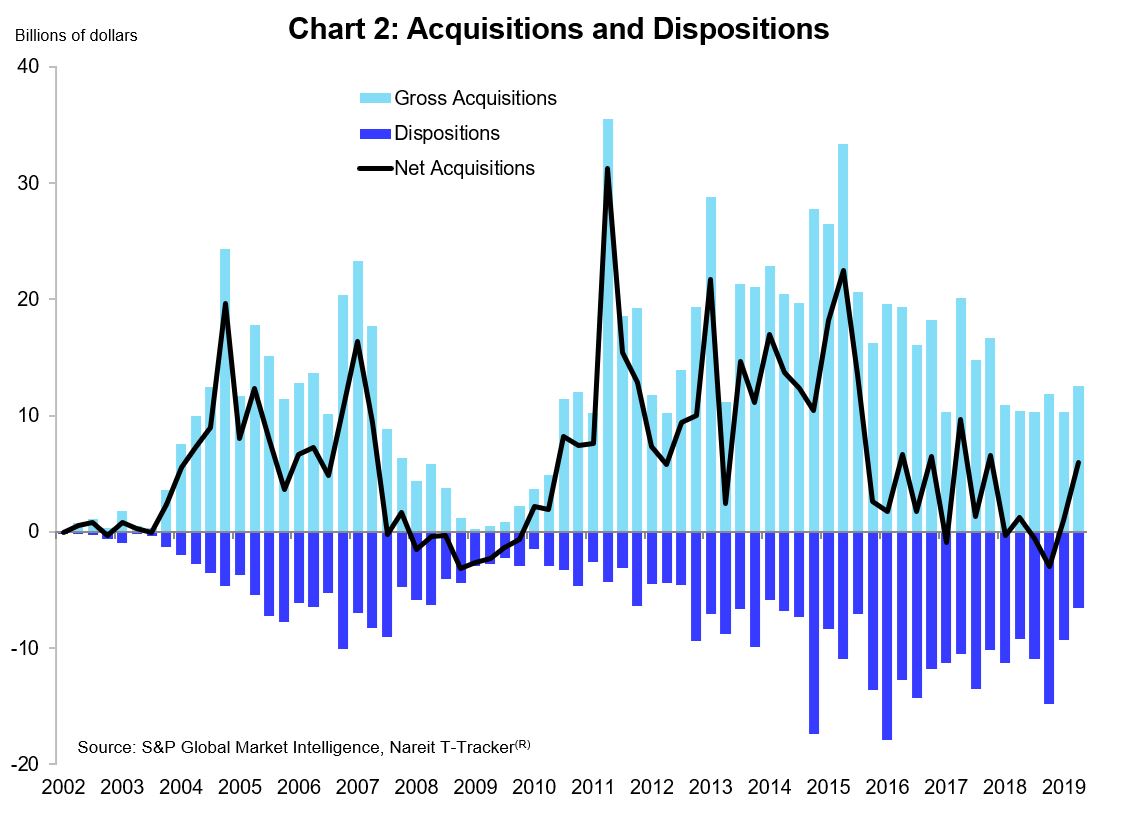 Both net acquisitions and the development pipeline saw increased activity in the second quarter. Net acquisitions turned positive with $12.5 billion in new acquisitions for a net total of $5.9 billion. Net acquisitions had previously been near zero for 5 straight quarters. The biggest gain was in the retail sector, entirely due to just over $2 billion of net acquisitions in the free standing subsector. Gains were also spread among most property types with 10 out of 12 sectors having positive net acquisitions in the second quarter.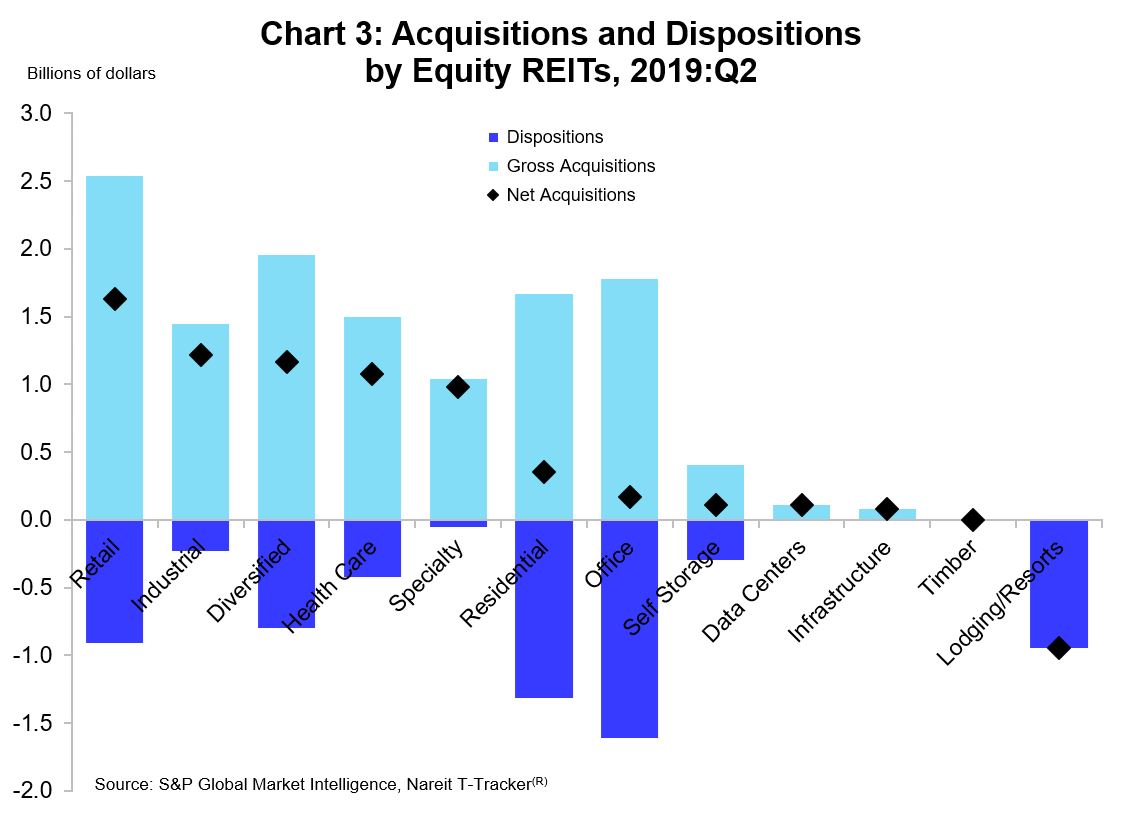 The property development pipeline is also up 7% from the last quarter with the diversified sector showing the biggest increase of 31%, with sizable gains in the office, residential, and health care sectors. The data underlying these charts, as well as a broad range of other information about REIT operating performance, are available for download at the Nareit T-Tracker®.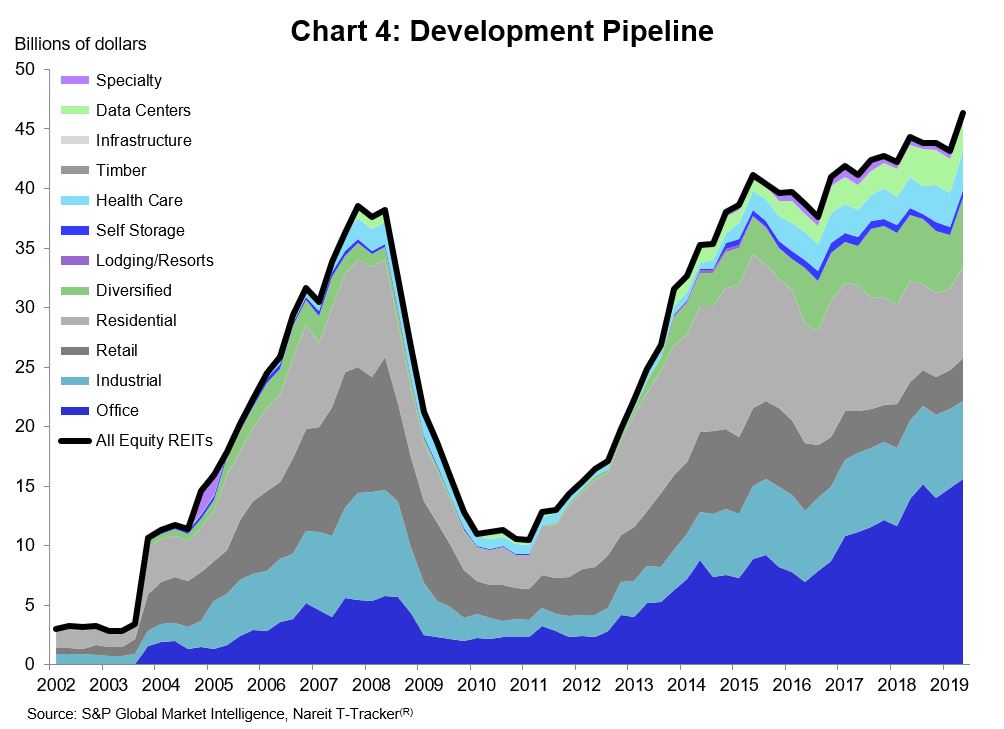 Get Nareit Market Commentary blog posts delivered straight to your inbox.
Subscribe