REIT earnings rose in the first quarter, with funds from operations (FFO) of all equity REITs increasing to $15.9 billion. FFO was 1.8% higher than the same quarter of last year, which is a bit of a slowing from the gains seen in recent years, when growth ranged from 5% to 20%. This performance is consistent with other indicators that showed commercial real estate markets softened in early 2019 (see the recent Market Commentary, Commercial Real Estate Markets: A Slow Start to 2019).
If you consider the market conditions at the beginning of the year, though, it's not surprising that demand weakened. After all, global stock markets were declining sharply on fears of an impending recession, and the Federal government shutdown added more uncertainty to the mix. In such an environment, it's reasonable that many businesses may have been hesitant to sign a new lease.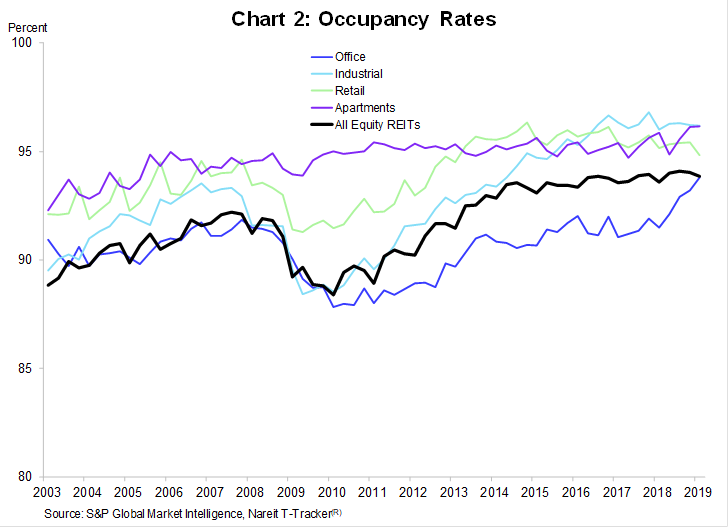 Economic news since then, though, has shown momentum, with positive surprises in GDP growth and the job market. The underlying fundamentals of the REIT sector are also firm. The occupancy rate of properties owned by REITs was 93.8%, near to the record high set of 94.1% in mid-2018. Same-store net operating income (SS NOI), which measures NOI generated by properties held for one year or more to factor out the effects of property acquisitions and dispositions, rose 2.7% over the past four quarters, accelerating from the 2.2% growth in fourth quarter 2018. Single family homes and manufactured homes had strong growth of SS NOI, at 6.7% and 6.0%, respectively, while SS NOI of industrial REITs accelerated to 5.1%. With such a solid footing in the fundamentals, the REIT sector has upside potential for the months ahead.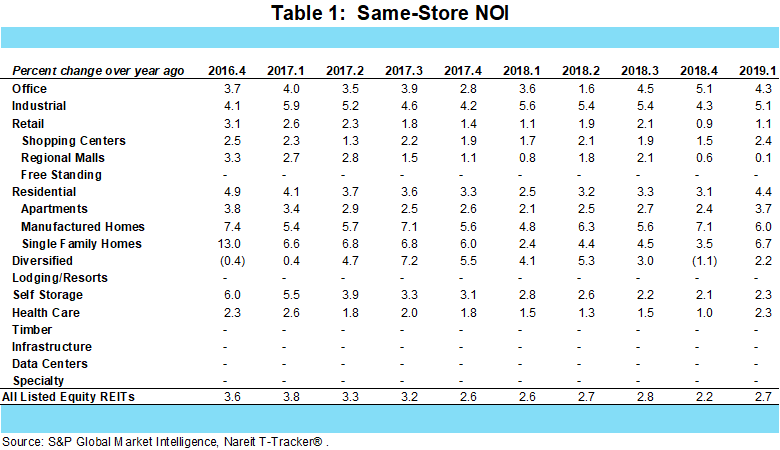 The data underlying these charts, as well as a broad range of other information about REIT operating performance, are available for download at the Nareit T-Tracker®.
Get Nareit Market Commentary blog posts delivered straight to your inbox.
Subscribe