REIT share prices were little changed last week. The FTSE Nareit All Equity REITs index was down 0.3% in terms of total return. Several sectors declined, including Lodging/Resorts (with a total return of -6.1%), Retail (-3.2%), as well as both Home Financing and Commercial Financing mREITs (total returns of -2.5% and -2.8%, respectively).
Other sectors rose last week. Timber REITs had a total return of 2.3%; Self Storage, 2.1%; and Data Centers, 1.9%.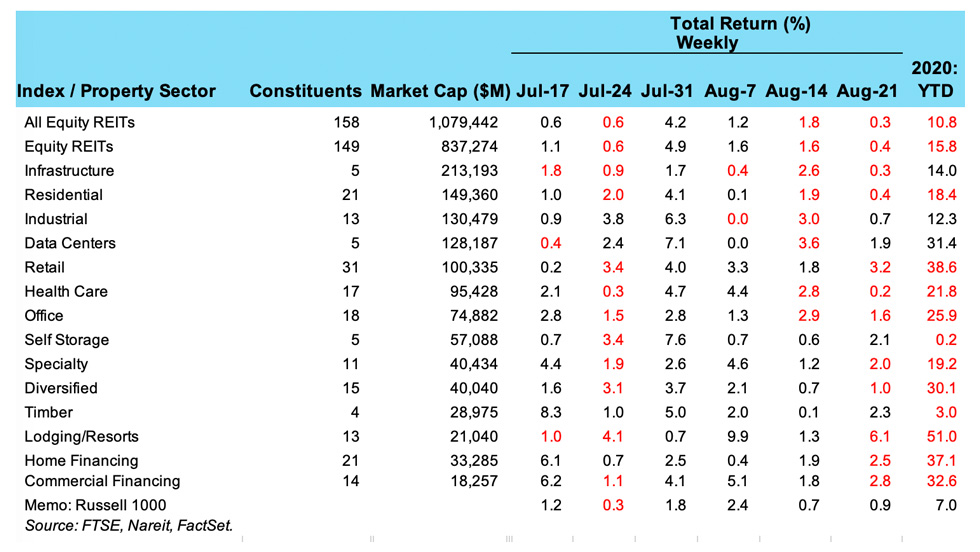 REITs have been treading water since June. After the initial shock of the shutdowns caused stock prices to plunge, the FTSE Nareit All Equity REITs index had a total return of 51.7% from its trough in March through June 8. Since then, however, REITs have remained within a relatively narrow range, and indeed are 5.7% below the June peak.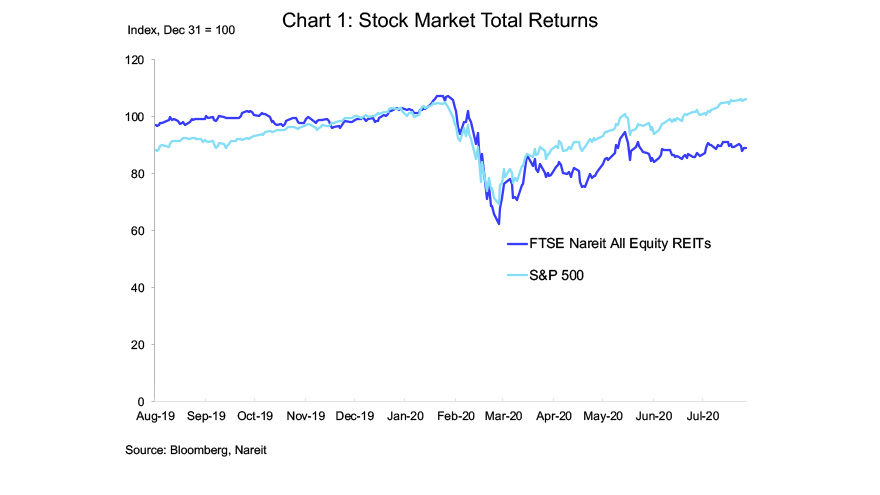 This has occurred, however, as the broader equity market has moved higher. Both the S&P 500 and the Russell 1000 hit record highs on Friday. Most REIT sectors remain well below prior peaks, suggesting that investors have concerns about the longer-term impact of the pandemic on the demand for many types of real estate.
Yet there are strong counterarguments why demand for many types of real estate should continue to recover. The need for apartments will be firm, as people must have a place to live and cities across the country still face housing shortages. For the office market, work-from-home may be sufficient for many firms during a crisis like today, but teams often perform better when they can meet face-to-face; and the rebound in retail sales in June and July to above pre-pandemic levels shows hope for the shopping centers and regional malls.
Indeed, the August edition of the Nareit rent survey shows that Apartment REITs continue to collect 96% of typical rents. Free Standing Retail REITs collected more than 90% of typical rents for the second consecutive month, while rent receipts of Shopping Center REITs improved to 80.1% in August, from 72.4% in July and less than 50% in May. The contrast between these longer-term economic trends and recent stock market performance suggests that there is upside potential for REIT investors.
Get Nareit Market Commentary blog posts delivered straight to your inbox.
Subscribe