Compared against broad market benchmarks, REITs outperformed the Dow Jones U.S. Total Stock Market by 1.4 percentage points, large cap S&P 500 by 1.3 percentage points, and the small cap Russell 2000 by 4.47 percentage points in January 2020.
Most property sectors in the FTSE Nareit U.S. Real Estate Index Series turned in positive total return performance led by self storage (+4.5%), specialty (+3.9%), and industrial (+3.7%). Notable underperformers were lodging/resorts (-10.9%), timberland (-4.4%), and retail (-3.4%). The FTSE Nareit All Equity REITs index was +1.3% for the month. Mortgage REITs posted total returns of 3.56% for the month, with a return of 4.20% for home financing mREITs and 2.17% for commercial financing mREITs.
In the retail sector, free standing (+6.5%) outperformed, while regional malls (-11.2%) and shopping centers (-5.2%), which represent 64% of retail market cap, dragged the sector lower. Regional mall performance is reflective of continuing concern about tenant performance highlighted by the ongoing Forever 21 bankruptcy. Through January 31st all sectors of the FTSE Nareit U.S. Real Estate Index Series have underperformed when compared against the same time period last year.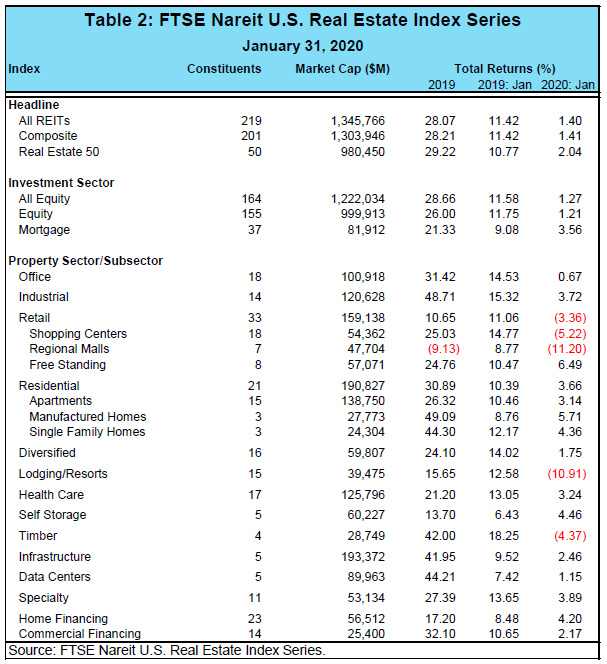 Get Nareit Market Commentary blog posts delivered straight to your inbox.
Subscribe