Single Family Home Rental REITs have established themselves as long-term players providing additional housing options at a time when the housing market continues to recover. With the recent news of a merger between two of the larger publicly traded REITs in the Single Family Rental (SFR) business, this Market Commentary provides some background on the growth and development of this important segment of the U.S. housing market, and the outlook for what may lay ahead.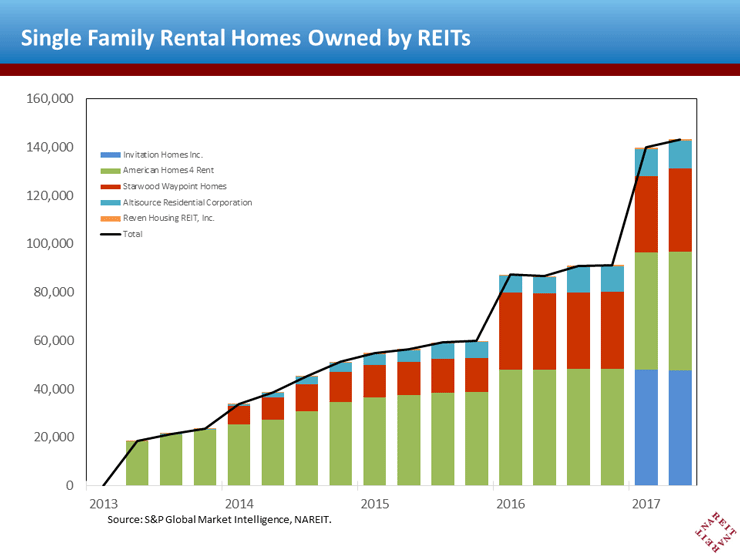 There are currently five publicly listed SFR REITs with a combined market capitalization of $17.7 billion as of July 31, 2017. These REITs hold a total portfolio of more than 140,000 single family homes for rent, with a net property value of $25.5 billion. While relatively small players in terms of the overall U.S. housing market, the SFR REITs have grown steadily in the half-decade or so during which they have been in existence.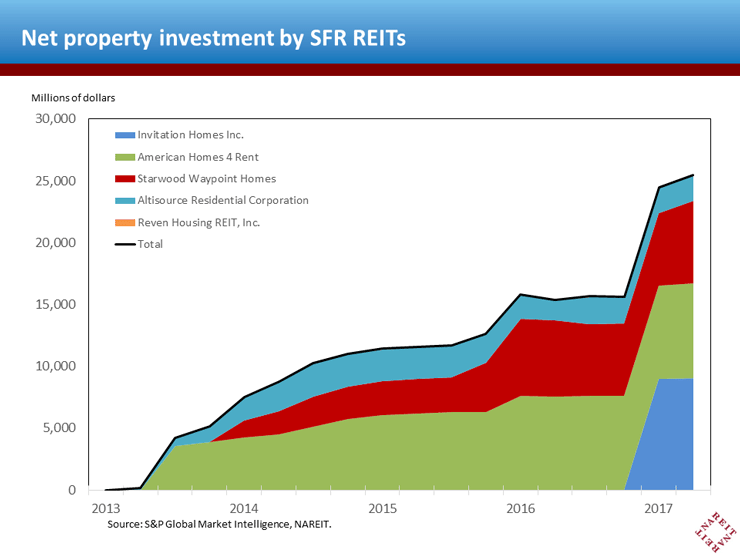 The entry of SFR REITs into the housing market during the first few years after the housing crisis prompted the question, is this a trade or a long-term business? Many argued at that time that the institutional investors were in for the short term—a trade—and would flip the tens of thousands of homes they were buying once prices recovered.
As I noted in research posted in 2014, however, the housing crisis and decline in the homeownership rate created a structural shift in the housing market that left a vacuum, and the SFR REITs stepped in to fill it ("Single Family Rentals: Demographic, Structural and Financial Forces Driving the New Business Model"). Specifically, as several million households transitioned from ownership to rental, the housing stock itself needed to convert owner-occupied homes to rental units on a scale not seen before. This required management expertise to operate large portfolios of rental homes, and raise the capital to purchase tens of thousands of homes to rent.
The simple intuition behind the need for a SFR business model is that a family with several school-age children and living in the suburbs would not find a two bedroom rental apartment downtown to be a good housing option—they still wanted a single family home in the same neighborhood where their children were in school, but one they could rent instead of own. Even as the housing crisis fades in the rear view mirror, there are millions of households that still prefer to rent, or maybe are unable to buy, but prefer the space and neighborhood characteristics that come with a single family home. Professionally managed rental homes provide flexibility and additional housing options for American families. For this reason, the SFR REITs are likely to enjoy strong demand for their homes well into the future.
The priorities of the SFR sector have changed as it went from creating a new business model to becoming an established segment of the housing market and expanding the business. The initial challenge for SFR REITs was to grow to a scale to be economically viable. During the early years, the focus was on acquiring homes and getting them leased. Many of these homes were purchased at foreclosure auctions, and needed capital investment to get them ready for rental occupancy. As the companies became more established and their portfolios grew from thousands of homes to tens of thousands and more, attention shifted to controlling the costs of maintaining homes spread throughout the community.
The SFR REITs have successfully met these challenges. The aggregate number of homes they own is measured not in thousands or tens of thousands, but is well over one hundred thousand. According to industry experts, a portfolio of a thousand or more homes is required in any cluster of neighborhoods or metro area to justify opening a local leasing office, and ten thousand or more homes are needed to cover the costs of a corporate organization. The SFR REIT sector has grown well beyond these thresholds, easily meeting the challenge of having sufficient scale to be economically viable. SFR REITs have successfully managed their operation and maintenance costs, which has contributed to the steady rise of the sector's Funds from Operations (FFO) and Net Operating Income (NOI).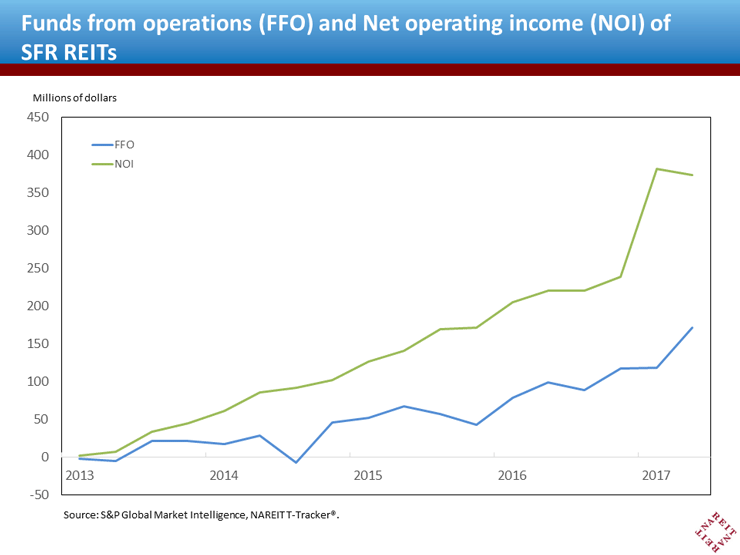 As their business model has become established, SFR REITs have turned their attention to rent growth of both renewals and new leases. The demand for rental housing remains strong and has supported these rent increases. For example, the SFR REITs have reported growth of same-store NOI (SS NOI) of 7 percent and higher in recent years, far higher than the average growth of SS NOI for other property types. SFR REITs are reporting occupancy rates of 95 percent and higher.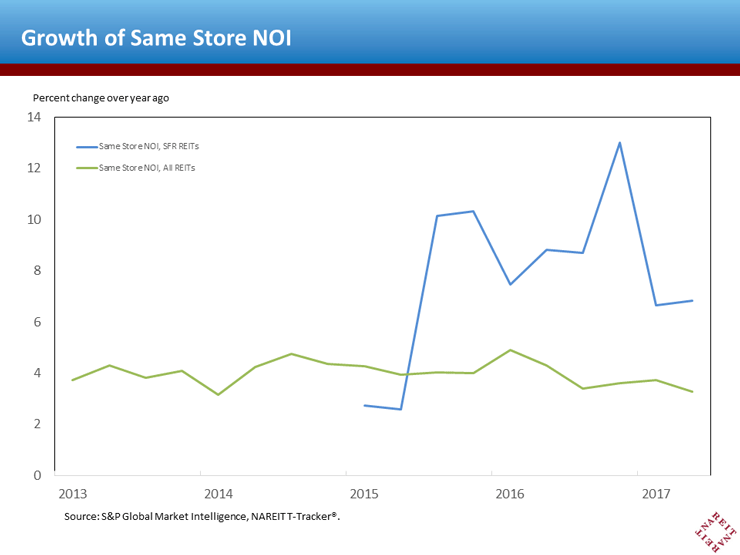 The SFR business has taken root as the housing market recovers from the financial crisis, and it remains to be seen what the future will hold for the SFR REITs once the housing market has recovered fully. There have long been rentals of single family homes, though, even during periods of stronger economic and housing market conditions. For example, there were more than 10 million single family rentals prior to the housing crisis, nearly all owned by individual investors, families and small partnerships. What is new in recent years is the large institutional management of these rentals on the scale of the SFR REITs.
There will still be many households that will desire a rental home, whether for financial reasons, because they plan to move again after a year or two, or because, unlike Baby Boomers and earlier generations, they were not steeped in the ethos of home ownership from an early age. In addition, with low levels of new construction, and prices that challenge affordability in many markets, renting may well be a preferred option for millions of households in the years ahead.
Only time will tell whether there will be further consolidation in the industry, or perhaps new entrants to expand into other markets. The main players in the business today are well above the minimum scale required for efficient operation, which lessens some of the impetus to merge. And the early years of the industry were in part fueled by large-scale auctions of foreclosed homes, often at a deep price discount, which made rapid expansion both easy and profitable. While these advantages are no longer present, there are still millions of rental homes owned by small players. This may allow further scope for expansion of the SFR REIT sector in the years ahead.
Complete data on operating performance of the SFR REIT segment, as well as the REIT industry overall, are available from the NAREIT T-Tracker®.
Get Nareit Market Commentary blog posts delivered straight to your inbox.
Subscribe