We decided to turn the tables and ask investors and other readers of the Nareit News Digest for their views on what will have the greatest impact on REIT share performance in 2018. The full list of issues they raised spanned a range of topics that have been in the news, and the responses reflect a mix of both caution and optimism about the year ahead.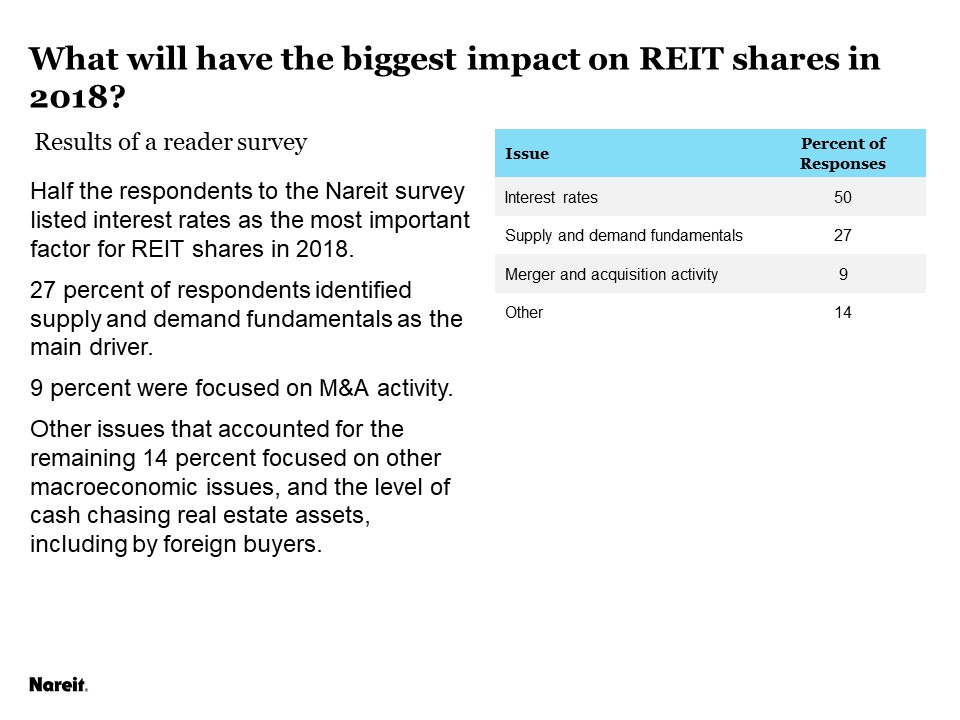 Half of the respondents to our short survey mentioned interest rates as the factor that would have the greatest impact on REIT performance in 2018. Indeed, share prices have often reacted negatively to rising interest rates over the past few years, as investors appear concerned that higher rates may impact REIT fundamentals, either through higher interest expenses or lower property valuations.
Despite investor concerns REITs appear to be well prepared for rising rates and historically have performed well during periods of rising interest rates. For example, interest expenses of REITs, relative to NOI, are the lowest on record, as REITs have fortified their balance sheets with higher shareholders' equity and lower leverage for a recent commentary analyzing REIT balance sheets and exposures to interest rates). Similarly, cap rates in the commercial property sector overall remain low, as property prices have been well supported by rising demand for commercial space (another Market Commentary examined cap rates and property prices as interest rates have moved higher). For more discussion of how interest rates may affect REIT investment performance, and an analysis of positive REIT performance during past episodes of rising interest rates, see Nareit's page on REITs and interest rates.
Economic fundamentals are also on the minds of investors. Over one-quarter of the respondents identified supply and demand fundamentals as the most important issue for REITs in the year ahead. Several other responses raised similar issues regarding the macro economy. Recent data on the performance of the economy show that there is considerable momentum in GDP growth, hiring and consumer spending. This bodes well for the year ahead.
Mergers and acquisitions were cited by just under 10 percent of respondents. The remainder of the responses dealt with related issues in macroeconomic conditions, political and regulatory developments and the flow of investment money into the real estate sector.
For my own list of the top issues to watch in the economy and real estate markets in 2018, see this recent post, including my own odds for the possible range of outcomes this year on these major issues.
Get Nareit Market Commentary blog posts delivered straight to your inbox.
Subscribe