The $64 million question in commercial real estate today is whether or not the sector is past its peak and headed for a slowdown. After all, the cycle is getting a bit old, compared to past real estate cycles, and construction projects started two to three years ago are now coming onto the market.
The pipeline of properties under development by REITs can give an indication of what real estate executives expect market conditions to be in the medium-term future. The news from spring 2015 through mid-2016 indicated a moderate pull-back in development activity, as construction pipelines became a bit lighter. The decreases were widely spread, with office, retail and residential all moving lower. Several factors could have contributed to the pullback of development activity, most notably concerns about new supply, but also higher costs of capital.
Recent data from the NAREIT T-Tracker® show, however, that total development activity by the REIT industry snapped back in the fourth quarter of 2016. The development pipeline for REITs rose 8.2 percent compared to the third quarter of 2016, reaching $40.8 billion, slightly above the mid-1015 peak (first chart). Apartment and Office REITs accounted for much of the rebound, but Data Center REITs have also steadily increased their development activity over the past two years.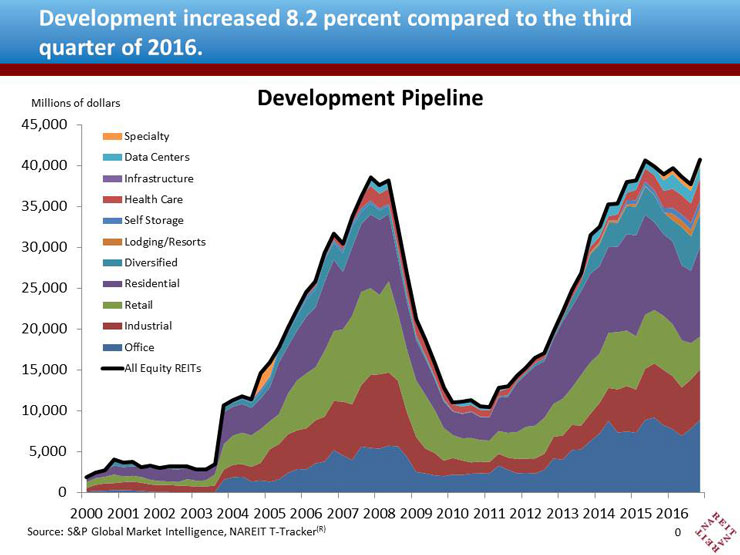 The rebound in development activity begs the question:  How solid are the fundamentals for new construction? The short answer is, still pretty solid. Conditions in commercial real estate markets nationally are firm and continue to improve (some metro areas may face temporary weakness due to a bunching of project completions, but the medium term trends generally look good). Net absorptions outpaced completions for a majority of property sectors in the fourth quarter, and NOI growth accelerated, according to data from CoStar. These recent trends in the net absorption of the new supply as it is completed bode well for the projects still in the development pipeline.
REIT property holdings have benefited from the growth of demand, as occupancy rates of all REIT-owned properties rose 81 basis points compared to Q3, to a record high of 94.5 percent (second chart). The Industrial, Office and Apartment sectors posted healthy increases in occupancy, while occupancy rates edged higher in the Retail sector. (Charts and spreadsheets with data on occupancy rates, as well as operating performance of all REITs, are available for download from the NAREIT T-Tracker®.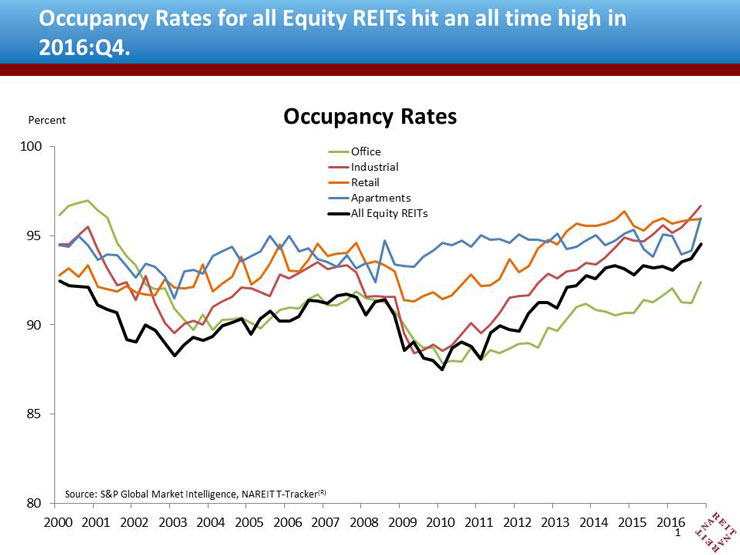 Growth in the development pipeline may signal the confidence REIT executives have in the outlook, and this growth is supported by positive market fundamentals. Rising occupancy rates, and demand outpacing supply, show that the market may be able to expect the current cycle to continue for some time.
Get Nareit Market Commentary blog posts delivered straight to your inbox.
Subscribe