In the first quarter of 2022, the FTSE Nareit All Equity REIT Index fell 5.29% after a 16.17% increase in the previous quarter. 
The top performing REIT sectors in Q1 included:
Lodging/Resorts – up 6.89% 
Health Care – up 5.23% 
Office – up 2.76%  
Specialty – up 0.17%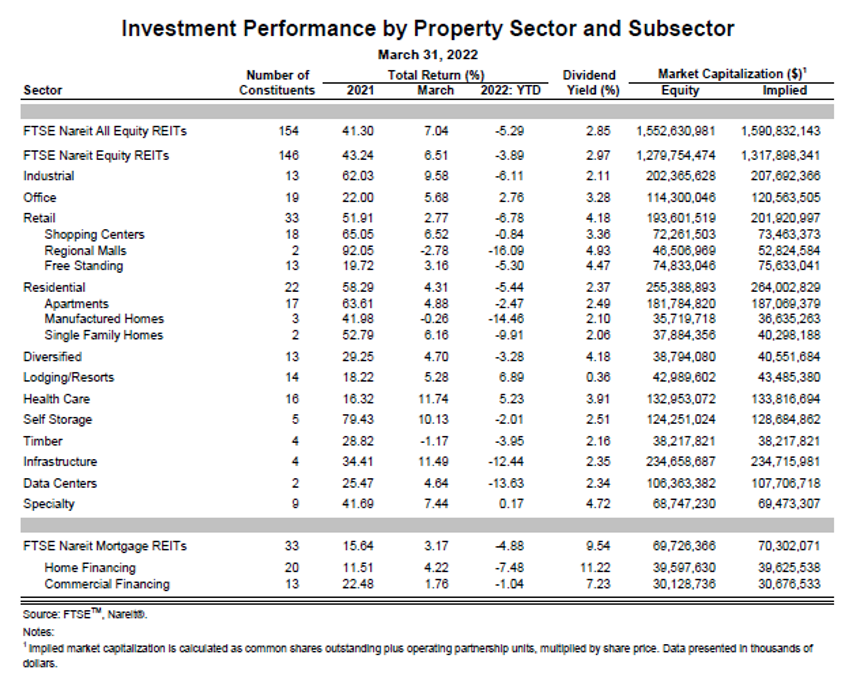 REITs conducted 64 equity and debt offerings in Q1 2022 raising $21.2 billion including 
$11.5 billion in common shares 
$545 million in preferred shares 
$9.2 in secondary debt offerings 
The FTSE Nareit All Equity REITs Index reported a dividend yield of 2.85%, more than double the 1.30% dividend yield paid by the S&P 500
Below is a quote that can be attributed to John Barwick, Nareit vice present of index management and industry information, on REIT performance in the first quarter of 2022:
"While REITs and the S&P 500 ended the quarter in the negative, both indexes rallied off their intra-quarter lows to mitigate total losses."
 
The All Equity REIT Index hit its low on February 23 and then rallied 9.7% to close out the quarter at -5.29%. The S&P 500 hit its low for the quarter on March 8 and then rallied 8.7% to end the quarter at -4.6%.
The entire report can be found here.
Get Nareit Media blog posts delivered straight to your inbox.
Subscribe