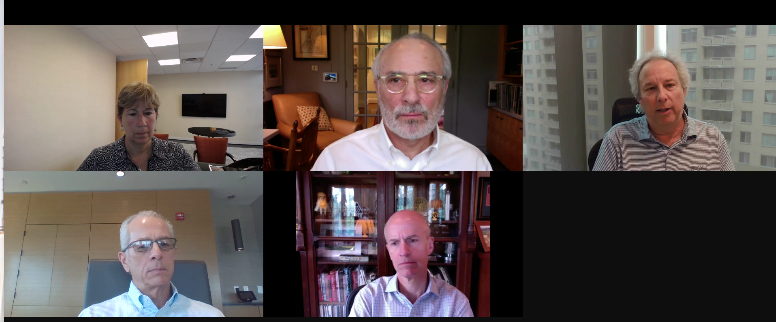 While pandemic closures have impacted REITs since March, CEOs representing the lodging and resort, retail, residential, and office sectors are optimistic about upcoming reopenings.
Nareit President and CEO Steve Wechsler moderated a conversation among CEOs at the June 3 general session of Nareit's REITweek: Virtual Investor Conference.
Jon Bortz, president and CEO of Pebblebrook Hotel Trust (NYSE: PEB), said that with travel dramatically reduced by government regulations, a significant number of hotels in urban and resort markets have closed, with some hotels in secondary and airport markets open but seeing reduced occupancy. Out of Pebblebrook's 54 hotels, Bortz said the REIT closed 46 beginning in mid- to late March.
"In lodging, I believe about 75% of several million employees have been furloughed," Bortz said. "Over 90% of the employees at our hotels...were furloughed."
Restrictions have been lifted though as states have begun to reopen. Bortz said Pebblebrook has reopened four hotels over the past few weeks, with two more to come later this week. He said the REIT is primarily reopening its drive-to resorts.
Lisa Palmer, president and CEO of Regency Centers Corp. (Nasdaq: REG), said that because essential retail has remained open, Regency has found it very difficult to cut costs. She said that throughout the pandemic, Regency maintained the cleanliness and safety of its centers, continued paying its utilities and taxes, and did not furlough employees. Although Regency maintained 100% of its operating costs, the REIT only collected 70% of its rent, about average for open-air shopping centers.
"The challenge has been supporting [our small business tenants] to the extent that we can while still having our own business to run," Palmer said.
She added that one month ago, Regency's rent collections were close to 60%, but now are closer to 70%. Many new collections have been a result of tenants that have received government relief loans, she added.
Eric Bolton, chairman and CEO of MAA (NYSE: MAA), said that apartment collections have been better than anticipated.
"We've collected over 99% of what we billed for April [and] we've collected over 97% of what we billed for May," Bolton said. Although he believes it's going to be a slow recovery overall, he's optimistic for the long-term. He added that in its 26-year history as a public company, MAA has never seen turnover as low as it has been in recent months.
Throughout the pandemic, MAA has been reaching out to residents regarding rent deferral options.
"We signed up about 5,700 residents for rent deferral assistance for April rent...out of 102,000 apartments, so a little over 5% of our resident base needed assistance," Bolton said. He noted that the trend was similar for May, but with people returning to work, June looks more favorable.
Owen Thomas, CEO of Boston Properties, Inc. (NYSE: BXP), said that as the office REIT has begun to see a return to work, it has been engaged with customers about health security, including how to safely get back into their buildings and what the workplace will look like.
"Most of our customers have not been allowed to work in their buildings," Thomas said. "There have been essential workers...but on average, [our offices have] been about 5% occupied during lockdown."
Collections have not been a major problem though, he said, noting that Boston Properties has collected 97% of its office rent for May.
With regard to the retail sector, Palmer said the "biggest question mark" for Regency was whether or not customers would return once stores reopened.
"Now we are actually getting to see real evidence of what is happening on the ground and we're really encouraged by it. The foot traffic has exceeded expectations," she said, adding that retailers are approaching reopenings in a responsible manner and that customers are trusting their efforts. Restaurants, gyms, and movie theaters, though, will have more difficulty reopening because they will have a harder time allowing social distancing, Palmer said.
Bortz said that lodging and resort guests are looking for a vacation from the virus and are trusting hotels to provide proper cleaning and safety measures. He said guests are willing to maintain six feet of social distance, but they want to do it in public areas like restaurants.
Thomas added that there are four elements to take into account regarding the shift to returning to the office: government regulation, employers, landlords, and individuals. He called much of the office building doom and gloom news "an overblown, misguided narrative."
"Clearly, work from home is going to be a bigger part of the worker experience going forward, but I do think our customers [are] trying to get back into the office," Thomas said. "They recognize the importance of a physical office and building culture." Thomas added that offices foster creativity and leadership, noting though that densification will decrease after the pandemic.
Bolton said that apartments will likely begin introducing work from home concepts like nooks within units. The quality and speed of at-home internet connectivity is also very important, so MAA is rolling out a new high-speed service throughout a number of its communities.
Wechsler asked the panelists about their companies' social responsibility with respect to their ESG structures. All four agreed that it was imperative to the fabric of their businesses.
"In our industry, I think it's been a critical part of what we are. We're in the hospitality business at the end of the day," Bortz said. He noted that roughly half of Pebblebrook's corporate employees are 35 years old and younger, and that social issues are very important to them.
Palmer said social responsibility is a reflection of Regency's values and "the main reason I've stayed at the company for 23-plus years." Bolton said MAA has also been focused on social issues for many years.
"I think the recent events that have played out in front of us over the past couple of weeks have [raised] an awareness that we need to...do more," Bolton said. "We're very committed to the agenda, and we certainly will continue to prioritize it as a company."
Thomas echoed his fellow panelists' sentiments and agreed there is more work to be done.
"Our fortunes are inextricably linked with the fortunes of the communities that we serve. For them to be vibrant and fair is...important to us," he said.
Get Nareit Developments blog posts delivered straight to your inbox.
Subscribe