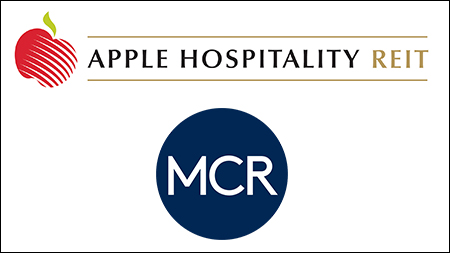 Apple Hospitality REIT, Inc. (NYSE: APLE) and MCR have been recognized with Top Performer Awards by Hilton in the large portfolio category for their outstanding achievement in guest experience and business performance.
Apple Hospitality was recognized for its Homewood Suites by Hilton properties and MCR received the award for its Hampton by Hilton properties.
"We are honored to be recognized by Hilton as a Top Performer," said Justin Knight, president and CEO of Apple Hospitality. "Homewood Suites is an industry-leading brand and in collaboration with our management teams, we work to exceed guest expectations and produce outstanding operational performance," he added.
Tyler Morse, CEO and managing partner of MCR, said the company's value add strategy is "focused on generating investor returns through superior operations and management, and we are thrilled that Hilton has recognized our efforts. We look forward to growing our partnership with Hilton."
The 2017 Top Performer Award winners were selected based on calculated performance metrics and were announced during the 40th Annual NYU International Hospitality Industry Investment Conference.
(Contact: Sarah Borchersen-Keto at sborchersen-keto@nareit.com )
Get Nareit Developments blog posts delivered straight to your inbox.
Subscribe