Properties owned by Duke Realty Corp. (NYSE: DRE) and EastGroup Properties, Inc. (NYSE: EGP) were named joint The Outstanding Building of the Year (TOBY) award winners for the industrial office building category at the 2019 Building Owners and Managers Association (BOMA) International Conference & Expo.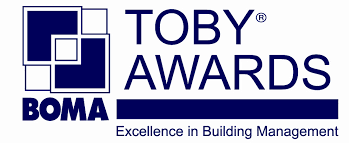 Waterford Innovation Center in Plymouth, Minnesota, owned and managed by Duke Realty, and Horizon Commerce Park in Orlando, Florida, owned and managed by EastGroup, were selected as winning properties. Waterford Innovation Center is also a BOMA 360 Performance Program building.
The TOBY awards recognize quality in commercial buildings and excellence in building management. During the competition, all facets of a building's operations are thoroughly evaluated. Buildings are judged on everything from community involvement, tenant relations and site management, to environmental policies and procedures.
(Contact: Sarah Borchersen-Keto at sborchersen-keto@nareit.com )
Get Nareit Developments blog posts delivered straight to your inbox.
Subscribe