Bloomberg Intelligence and Nareit hosted their ninth joint webinar on June 10, 2020. Titled "
Commercial Real Estate's Great Restart Brings Opportunity, Challenges
," with leaders from LaSalle Investment Management, Cohen & Steers, Inc., and Green Street Advisors discussed their perspectives on how REITs have navigated the challenges of the COVID-19 pandemic and steps they are taking as the economy reopens. The conversation was moderated by REIT analysts Jeffrey Langbaum and Lindsay Dutch from Bloomberg Intelligence, and more than 350 investors tuned in from around the globe attended. Key takeaways from the conversation are summarized below:
The REIT Value Opportunity
Mathew Kirschner, senior vice president and portfolio manager at Cohen & Steers made the point that REITs today offer investors of all types a significant value opportunity. He noted that, in spite of reduced cash flow estimates for the industry, he expects earnings declines for REITs to be lower than for the broader equity market, and REITs will continue to offer investors attractive dividend yields of approximately 4%.
Yet, he said, REITs are trading at large discounts to NAV, and REIT shares are underpriced compared to other stock and fixed income alternatives. For investors in private real estate, he added that the approximately 20% discount in listed REIT shares from their February prices, combined with still-high private property values, represents an arbitrage opportunity not seen in years.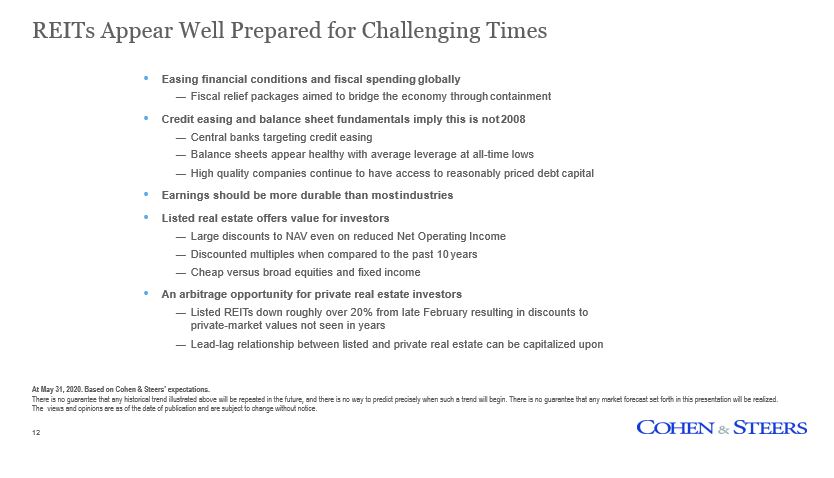 COVID-19 Impact on REITs
Kirschner also examined how COVID-19 has not hit all REIT sectors equally, saying, "We spent a lot of time talking about office and retail sectors, but the reality is the REIT market is incredibly different from a market cap perspective than just these sectors."
He spoke about how non-traditional sectors like industrial and data centers now make up a large percentage of the REIT market cap, and that when thinking about REITs overall it is important to note that some of these new sectors have either been positively impacted or not extremely negatively impacted by the pandemic.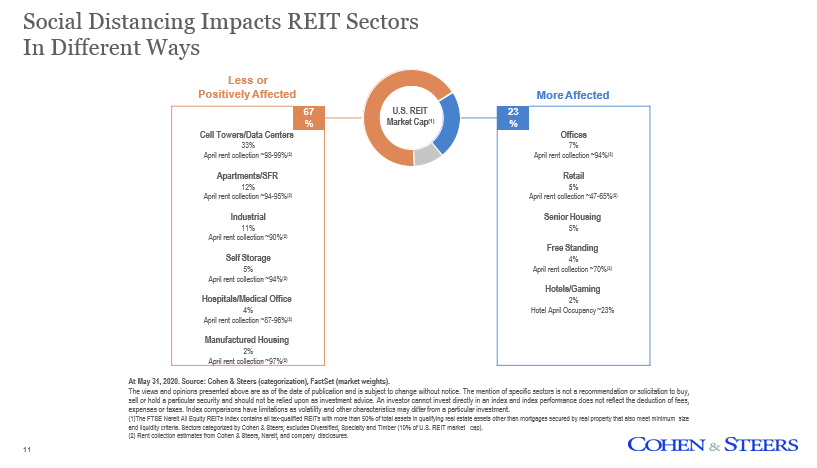 Rent Collection and Sector Specific Analysis
Cedrik Lachance, director of REIT research at Green Street Advisors, shared information on how the vast majority of REIT tenants paid their rent in April and May, and how retail – specifically malls and strip centers – saw the most significant impact on rent collection.
Nareit has also analyzed REIT rent collection via
recent surveys
, and the results point to a similar conclusion.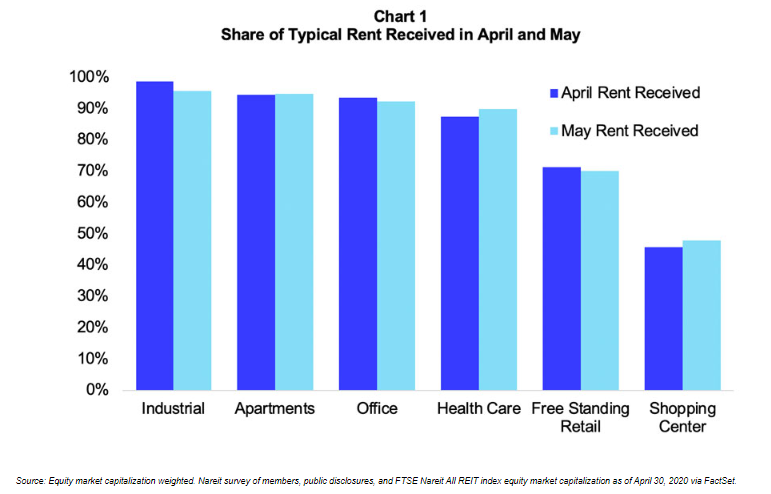 Big Data
Jacques Gordon, global strategist at LaSalle Investment Management, discussed the role big data will play in the recovery. "Access to big data will be important," he said, using the example of foot traffic showing that home improvement retail is outperforming grocery and wholesale, and that the fast casual restaurant sector is outperforming sit down, which he credits to their ability to more quickly pivot to pick up.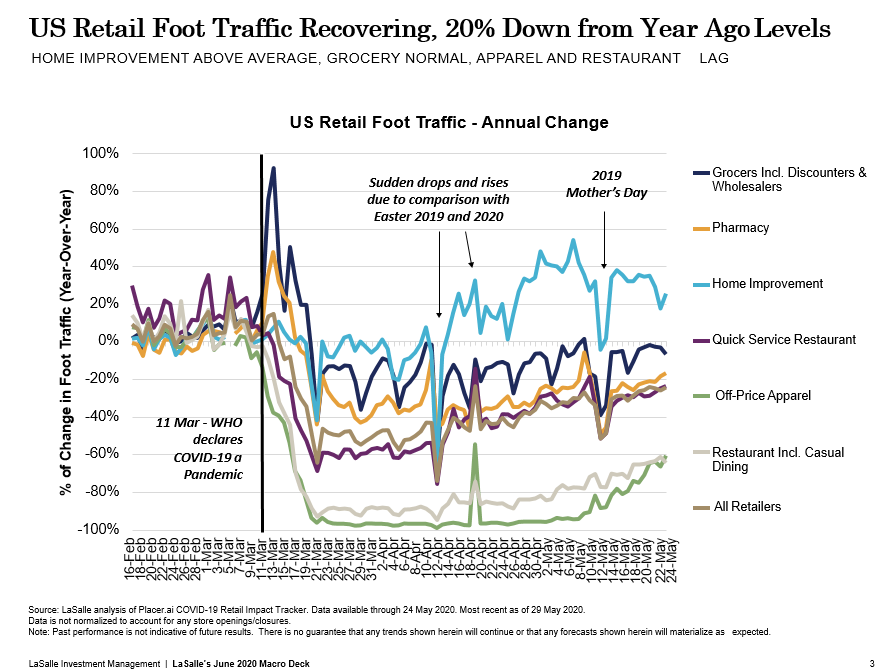 Overall, the panelists agreed that REITs went into this crisis with very strong balance sheets, which continue to look healthy. Additionally, they have access to reasonably priced debt capital. All expressed confidence that REITs are well prepared to weather the storm.
As Gordon said when discussing the economic crisis, "this too shall pass."
A replay of the Bloomberg Intelligence-Nareit webinar can be found by registering
here
.
Get Nareit Developments blog posts delivered straight to your inbox.
Subscribe