Content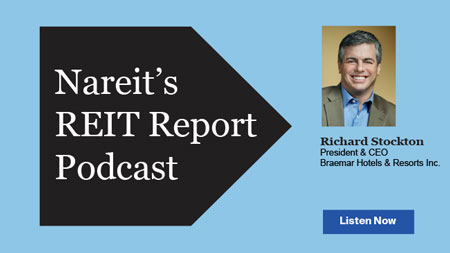 Richard Stockton, president and CEO of Braemar Hotels & Resorts (NYSE: BHR), discussed developments in the luxury hotel segment during the latest edition of the Nareit REIT Report podcast.
Braemar invests primarily in full-service luxury hotels and resorts. Stockton discussed steps Braemar has taken to realign its portfolio, while also commenting on some of the significant weather-related challenges the REIT has faced.
Stockton, meanwhile, touched on the benefits Braemar is accruing through its Enhanced Return Funding Program with external advisor Ashford Inc.
Turning to investment transaction and liquidity in the luxury resort sector, Stockton said major buyers, including other REITs, have moved into the space. "That has put some pressure on pricing…pricing has gotten richer. It's been a little bit more difficult for us to find deals that make sense financially, so we're finding ourselves sifting through more deals than we've had to do in the past to meet our return criteria."
Because seller expectations have risen so high, transaction activity is somewhat behind last year's elevated levels, Stockton noted.