Content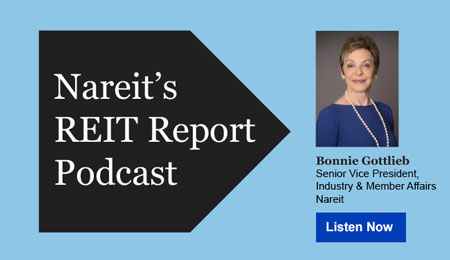 Bonnie Gottlieb, Nareit's senior vice president for industry and member affairs, was a guest on the latest edition of Nareit's REIT Report podcast.
Gottlieb is Nareit's liaison to its recently-launched Dividends Through Diversity initiative. She discussed the goals of the program, and why Nareit felt this was the right time to address the issue of diversity in REITs and the broader commercial real estate industry.
Gottlieb highlighted action already underway to address diversity, including research that shows that "REITs with two or more women on their boards of directors perform better over several years than REITs with fewer than two women on their boards."
Nareit will hold a general session on diversity at this week's REITwise forum in Hollywood, Florida. The panel will include several REITs that have robust diversity programs, Gottlieb said.
Other Dividends Through Diversity events scheduled for 2018 include a day-long meeting on Sept. 24 in conjunction with Nareit's HR Forum.