Nareit has recently created the Dividends Through Diversity Initiative to promote the recruitment, inclusion and advancement of women in REITs and the broader commercial real estate industry. This Initiative seeks to achieve this mission through:
Sharing information
Providing education and career development opportunities
Hosting networking events
Mentoring
Sponsoring attendance at Nareit's events
The Dividends Through Diversity Initiative's Steering Committee is made up of the following Nareit members:
Diane Morefield, CFO, CyrusOne Inc. and Chair of the Steering Committee
Angela Aman, CFO, Brixmor Property Group Inc
Kelly Cheng, Director, Barclays
William Ferguson, Chairman & Chief Executive Officer, Ferguson Partners Ltd.
Leslie Hale, CFO and COO, RLJ Lodging Trust
Mary Hogan-Preusse, Founder and Principal, Sturgis Partners LLC
Lisa Kaufman, Managing Director, LaSalle Investment Management
Sheila McGrath, Sr. Managing Director, Evercore ISI
Marguerite M. Nader, President & CEO, Equity Lifestyle Properties, Inc.
Sherry Rexroad, Managing Director-Global REITs, BlackRock
Martin (Hap) Stein, Jr., Chairman & CEO, Regency Centers Corporation
Tracy Ward, SVP, Investor Relations, Prologis, Inc.
Nareit's Senior Vice President, Industry & Member Affairs, Bonnie Gottlieb, is Nareit's liaison to this Initiative.
Inaugural Networking Reception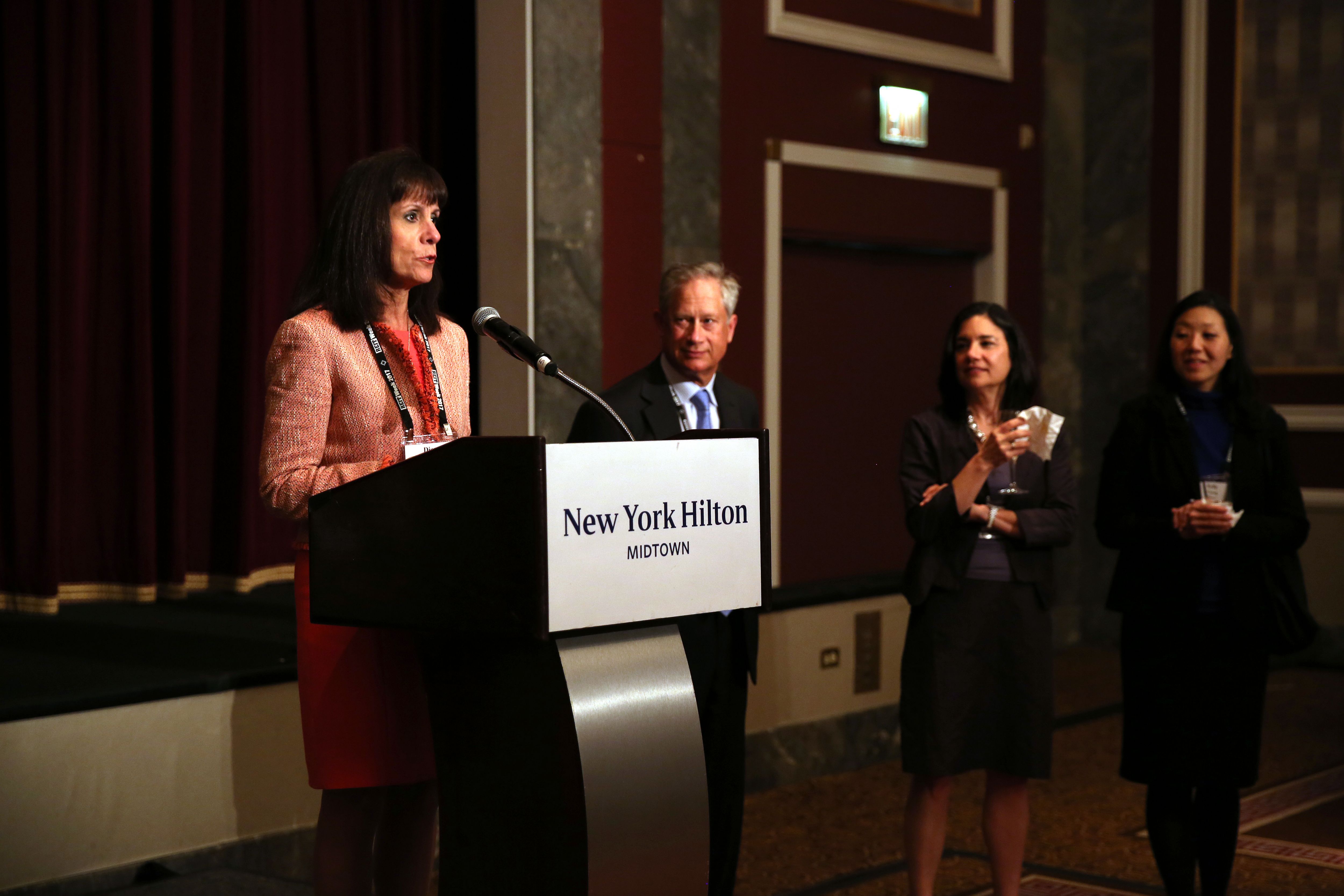 Steering Committee Chair Diane Morefield (at podium) addresses attendees at the Dividends Through Diversity Initiative kick-off in New York on June 7.
Nareit kicked off this Initiative with a Dividends Through Diversity reception during Nareit's REITweek on June 7. Members of the Steering Committee were on hand to explain the Initiative and its goals.
Short-Term Strategic Goals
Hold at least two half-day programs/networking receptions over the next 12 months in conjunction with Nareit meetings. These meetings will feature nationally-known speakers on diversity-related issues and career development, as well as Steering Committee and other Nareit members.  
Support the development of junior associates at REITs and other Nareit member companies who exemplify outstanding leadership characteristics through sponsorships. Those who are chosen for these sponsorships will be invited to attend one Nareit event with travel and hotel expenses covered and the opportunity to receive career mentoring by senior Nareit member mentors.
Curate and share studies and reports about women working in commercial real estate and on REIT boards of directors, as well as other relevant articles and studies about diversity in the U.S. and global commercial real estate industry.