Content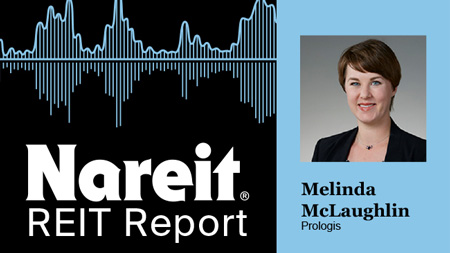 The latest edition of the Nareit REIT report podcast featured Melinda McLaughlin, vice president of research at Prologis, Inc. (NYSE: PLD), who discussed some of the highlights of Prologis' latest Industrial Business Indicator (IBI) index report, a quarterly survey of customer sentiment.
McLaughlin described industrial demand at mid-2019 as "healthy," with the IBI index currently at a level of around 60. Customers are continuing to grow at a "sustainable pace" following 2018, which was the second highest level for net absorption of industrial space seen in this cycle.
"The tailwinds to demand, which we've seen throughout this cycle, continue to play a large part in what we're seeing in terms of customer leasing activity," McLaughlin said.
She explained that the force of higher service level expectations by consumers continues to influence leasing decisions. "We see that some customers are further along in that evolution and are getting closer and closer to end consumers and are really building out their last touch distribution capabilities, while others are still focused on the high throughput consolidation of facilities to move goods through quickly."
Closer-in sites are a challenging place to bring on new product due to regulatory barriers, high building costs, and limited availability of land, McLaughlin said. However, given the length of this cycle and the current trends, "we do see more developers trying to make these projects happen in urban infill locations."
Meanwhile, McLaughlin noted that nationwide, replacement costs are rising as labor gets more costly, as do materials and land, which in turn has bolstered rent growth.
She pointed out that the level of rents being achieved in some of these urban infill locations are likely to support multi-level development, an area where Prologis has taken a leading role.
"As urbanization continues, customer service levels remain high and rising, and it remains very difficult and costly to bring products online, we'll start to see rents that continue to justify multi-level development," she said.
McLaughlin also touched on other areas she is focusing on, including risk management in supply chains, particularly as service levels rise and the "stakes get higher."